Rake wins Carlton mayor seat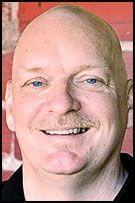 CARLTON — Brian Rake will be Carlton's next mayor.
Rake had 546 votes, or 62 percent, and Jody Ingham had 324 votes, or 36 percent, with the rest going to write-ins, in the final unofficial ballot count released Wednesday morning by the Yamhill County Clerk's Office.
Ingham and Rake were vying for the seat long held by Kathie Oriet, who is retiring from the volunteer job at the end of the year.
Rake served on the council for four years. He owns the Carlton Coffee Company.
In addition to the mayor's race, Carlton voters filled three council positions. Three people ran and were elected: Shirley Ward-Mullen, who was seeking to keep her position, and Linda Watkins and Kathy Rich.
They and Rake will be sworn in at the first meeting in January.