News-Register Subscriber Services
"Local news organizations are the glue that binds community, reminding us of our collective identity, the stake we have in one another, and the lessons of history." ... Ron Heifetz

Community Journalism chronicles people and their activities; reports process and consequences of public governance; and provides an independent forum for citizens.
The locally-owned News-Register needs your support – your subscriptions – to continue serving as the heart of Community Journalism in Yamhill County.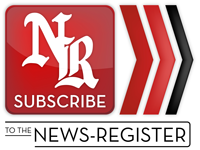 The News-Register publishes every Tuesday & Friday / Subscribers Have Early E-Edition Access
The News-Register is the Yamhill Valley's leading source of news and information about people, schools, government and more. Our family owned community newspaper delivers local news, local sports and local bargains to readers throughout the Yamhill Valley.
New Subscribers: Click your Subscription choice below
For Help: Circulation Department, (503) 472-1199, circulation@newsregister.com
Current Print Subscribers: Click below to set up free online account
---

Renew your News-Register Subscription
Pay your bill online - Convenient and Secure!
Save the cost of postage and the risk of interruption of your delivery by paying your bill here.
---

Give the Gift of the News-Register
Sharing information is a wonderful thing. Send someone the News-Register as a gift and they will receive both the newspaper and online access to local news. Order now!
---

Moving?
Change your address here!
Don't miss a single issue of the News-Register. Let us know where you've been and where you're moving and we'll make sure your newspaper moves there too.
---
Where can I Find the News-Register?
Racks and retail locations throughout Yamhill County.
Click here to find the nearest spot to pick up a copy.
---

Taking a Vacation or Trip?
---

Delivery issues or comments
Good or bad, let us know about it. We aim to please. Tell us how we're doing here.