Food service program in Sheridan, Willamina is all about the kids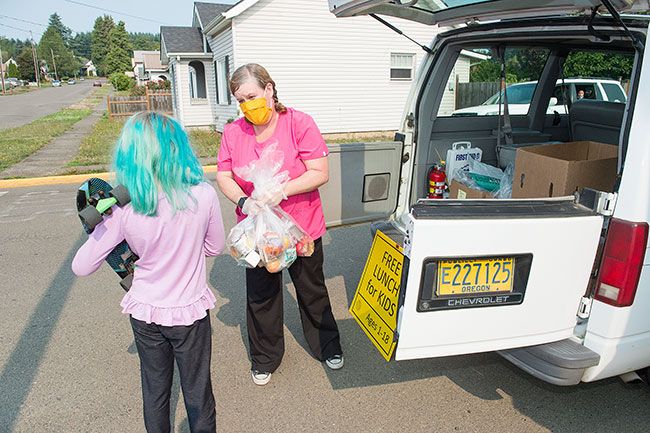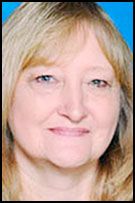 A van was parked near the corner of First and C streets, occupied by Willamina School District cooks Courtney Mendenhall and Becky Snowden, who had arrived a few minutes earlier to distribute free meals to any child between the ages of 1 to 18 who live in the district.
"Sloppy Joe's for lunch," Snowden announced. The breakfast offerings for the next morning included yogurt and granola.
Elliot and Ronan received their meals and soon were on their way down the street, mom and dad in tow.
Overeseeing Sheridan and Willamina districts' meal programs for the 2000-21 school year is Lynne Shore, now the Nutrition Services Director for both districts in a significant administrative change in the two West Valley district this year.
Shore previously managed Willamina's operation. Sheridan had no director, and food service responsibilities were shared by several staff members, including district secretary Penny Elliott.
Shore has more than 20 years of food service experience, primarily in Willamina, but she also spent a few years in the Marion County School District. She is based in Sheridan Monday and Tuesday and in Willamina the remainder of the week. She has offices at Faulconer-Chapman School in Sheridan and Willamina High School.
"Many years ago, this model was proposed to both districts but never got off the ground," Willamina Superintendent Carrie Zimbrick said. "With so many changes this school year, in every department, we thought this might be the perfect opportunity to create a shared service between the two districts."
Sheridan Superintendent Dorie Vickery and Business Manager DeAnn O'Neil met with Zimbrick to discuss how Shore might provide more support to Sheridan. She officially went to work in the Sheridan district in late August.
"She jumped in immediately to improve our food service program, in light of our move to comprehensive distance learning," Vickery said.
Sheridan can benefit from having someone like Shore oversee the program. She is familiar with state and federal regulations and is active at the School Nutrition Association national level as the current Northwest Regional Director.
"SNA is fortunate to have someone as talented and hardworking as Lynne serving as a national volunteer leader," Chief Executive Officer Patricia Montague wrote in a letter to Zimbrick that was shared with the Willamina School Board at its September meeting.
Zimbrick said Shore is recognized for her influence statewide in the area of food service.
Shore said her involvement with the School Nutrition Association helps her better understand "what's coming down the pike" in her quest to provide quality service to not only Willamina but the Sheridan district.
"I'm excited to work in both districts," Shore said. "It's going pretty well. It's the beginning of the year, and this year is so different, so there are kinks to work out."
Mendenhall and Snowden had 75 lunch and breakfast combinations to distribute Wednesday at the library location, where they stayed for about 30 minutes. They had come from Willamina Elementary School, where a limited number of students are attending classes each day on the Oaken Hills Drive campus.
After COVID-19 led to distance learning in the spring, Sheridan students received their meals based on bus route schedules and Willamina students went to various distribution sites. This year, Sheridan has six daily distribution locations and Willamina is on a bus route schedule.
"Talking to parents of Sheridan students, and looking at the demographics of the district, there are more parents who live in town, compared to Willamina, so we worked out sites around town with Wi-Fi hot spots," Shore said. "Sheridan does have a lot of hot spots."
Beginning Thursday of this week, Sheridan students started picking up meals at the River Crest Apartments complex playground, Open Door Church, Faulconer-Chapman, Trinity Lutheran Church, City Park and the high school. Meals are distributed between 11 a.m. and 12:45 p.m.
Those Wi-Fi hot spots are important to students, especially those who do not have internet access at home. They can join one of their classes and eat at the same time.
The bus route schedule works well for Willamina students because they are scattered over several counties and almost to Otis in Lincoln County.
"It's a bigger district real-estate-wise," Shore said.
There are seven bus routes, and depending on where a student boards the bus, if they were not engaged in distance learning, they go to the stop, wait for the bus to arrive and receive lunch for that day and breakfast for the following morning.
The bus routes are color coded. For example, the black route bus is scheduled to arrive in the 8500 block of Grand Ronde Road at 11:22 a.m. each day. The white route bus gets to Southwest Lamson and Maple streets at 11:12.
By 12:45 p.m., each of the buses has delivered meals and arrived back on the school district campus where they park adjacent to the school district office.
Mendenhall and Snowden said the best part of their day is seeing the students.
"Seeing their faces," Snowden said. "I can see them coming from a mile away. I know their names."
They both said the students and their parents are appreciative of the meals they receive. "It's truly heart-warming," Mendenhall said.
The two distribution locations in Willamina and the six in Sheridan are open sites, Shore said. That means any child can receive a meal, whether they are enrolled in a local school or not, as long as they're between the ages of 1 and 18.
While Mendenhall and Snowden were distributing meals at the library, a girl ran up to their vehicle, telling them a homeless family living in an RV a short distance away had children.
"Go feed 'em," Snowden said, handing her several plastic bags containing meals.
A portion of the fruits and vegetables the Willamina district has been providing to students come from the local Mama Tee's Farmstead on Willamina Creek Road.
The business has received a $14,436 grant to install caterpillar tunnels (crop covers) in an effort to extend their growing season. It was part of a $250,000 Oregon Department of Agriculture award in Farm to School equipment and infrastructure grants.