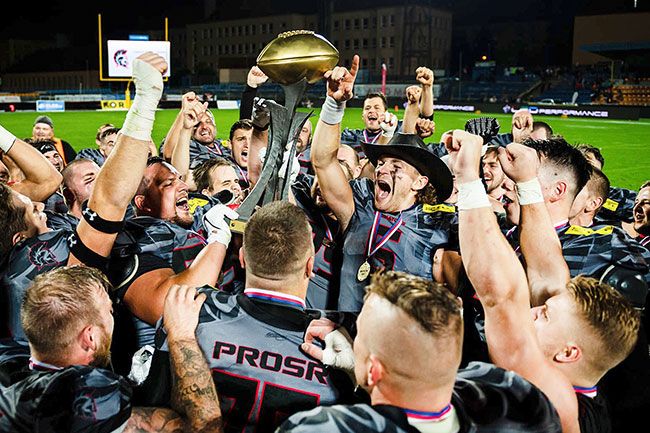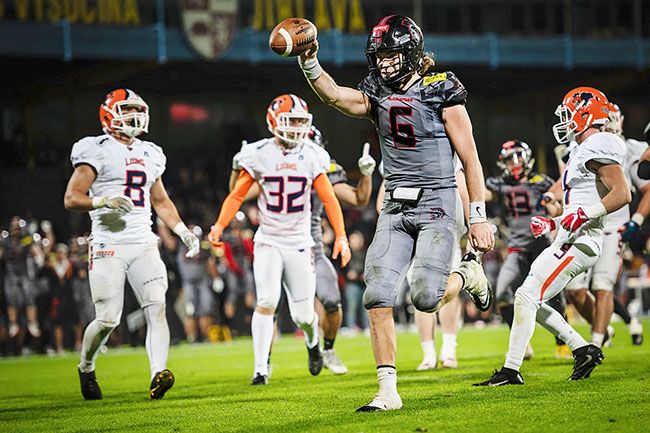 Hazlett's whirlwind football adventure
Former Linfield University quarterback Clark Hazlett has become quite the world traveler since his college graduation in 2019. In the past two years, Hazlett has found himself on the beaches of Cancun, playing football in the heart of France and singing country western music in the pubs of Jihlava, a city in the Czech Republic.
Of course, that last feat occurred only because Hazlett led his professional American football team, the Vysocina Gladiators to victory in the Czech Bowl a couple months ago. Hazlett and the Gladiators defeated the Prague Lions, 23-0, in the season finale of the Czech Republic's Kittfort Liga.
Hazlett's path to the Czech Republic was a roundabout one; it took him to four different countries and four American football leagues. Attempts to prolong his football career led Hazlett to Brazil, Mexico and France, but each time, the football seasons were shuttered because of the ongoing COVID-19 pandemic.
In the span of 18 months, Hazlett earned roster spots but watched in agony as his chances to play were cut abruptly short.
But Hazlett, the Most Interesting Man in the World, took it all in stride.
He always had his YouTube blogging to fall back on. Hazlett's channel – Adventure Athlete – currently boasts over 167,000 subscribers and his videos usually accrue tens of thousands of views. Hazlett's most popular recent video, titled "GAMEDAY VLOG: Football Helmet Cam POV", has 160,000 views.
Most of Hazlett's income comes from his video blogging, he said. But earning some extra cash from playing professional football isn't too bad, either.
And if pro sports or YouTube didn't work out, Hazlett is ready to become a country western superstar, too.
But, for now, football demands his attention.
__
In May, Hazlett was training in Cancun, Mexico. The year prior, he competed with Pionniers De Touraine in France's second division. That season was cut short, however, and Hazlett was without a football team.
While working out in Cancun, Hazlett received a call from the Czech Republic. The president of the Vysocina Gladiators wanted Hazlett to play quarterback for his team, and, if possible, also serve as the program's offensive coordinator.
Hazlett leapt at the opportunity, flying to Jihlava in June to meet his new Czech teammates. He was paid between 1,000 to 2,000 dollars a month and his living expenses were paid in full, Hazlett noted.
"When I got there, we had one month before the season started in July," said Hazlett. "My first goal was to implement the Linfield playbook."
Hazlett used the Wildcats' ultra-successful blueprint to transform the Gladiators into a bonafide Czech Bowl contender. He credited his experience with Linfield legend Brett Elliott for readying him for the dual role of quarterback and offensive coordinator.
"It was really beneficial to work with Coach Elliott during my senior season. He prepared me for this opportunity," noted Hazlett.
While Hazlett's new offensive line didn't understand English, most of the Gladiators could converse with their American teammate. As he taught Vysocina the Linfield plays, Hazlett would relay his instructions through skill players, who would then translate for the offensive line.
Only one American is allowed to play for each Czech team, because of COVID protocols. Hazlett said his entire team consisted of Czech-born players, ages ranged from 18 to 42, adding, "It's really cool to see how the sport of football has grown in places like the Czech Republic."
Once the season began, Hazlett began to experience the trials of calling offensive plays, and then executing them as the team's quarterback.
"After each play, I had to be ready to call the next one. It was the worst when I ran the ball out of bounds, because I'd then have to bust my ass back to the huddle, read the down and distance and call the appropriate play," explained Hazlett.
But the combination worked; Hazlett passed for 1,136 yards and 10 touchdowns while rushing for 332 yards and five more scores. The Gladiators won five of six regular season games, setting up a Czech Bowl showdown against the Prague Lions.
In the championship final, Hazlett passed for a TD and ran for two more, propelling his squad to a 23-0 victory. Following the match, Hazlett toured the local pubs and introduced his brand of country western music to the patrons.
"Czech folks are huge fans of country," he said.
__
With a Czech Bowl victory under his belt, the former Wildcat won't be returning to Europe next year. But not because he doesn't want to; no, Hazlett signed a contract to play professional arena football in Atlanta next year.
"It'll be weird playing arena, but I'm looking forward to it," said Hazlett.
His journey to the American south will only be yet another stop on Hazlett's whirlwind experience. He hopes his former teammates and friends from his Linfield days keep up with his football journey on his YouTube channel.
Adventure Athlete, indeed.