Care homes begin vaccinating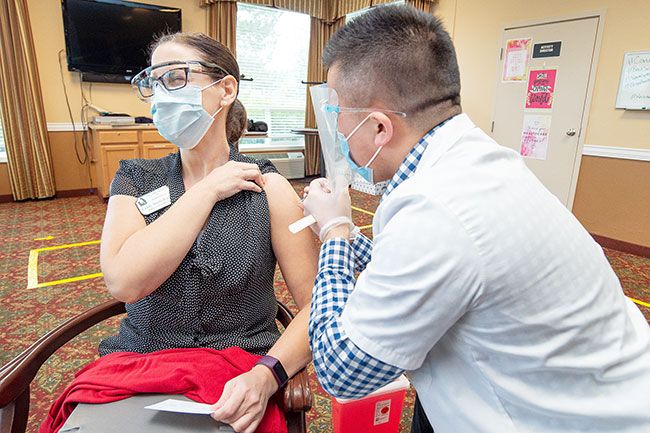 In addition to its own staff, Runge said, the center invited several of its care providers who must enter the facility, including staff from OmniCare Pharmacy and Brighton Hospice, which also sent some of its Salem staff for their shots, Runge said, along with the dietitian the center works with.
"The residents' population, over 90% said yes; most were all for it, wanted as soon as was available," Runge said. "We had a pretty good turnout; I was pretty pleased and being able to reach out to community people was helpful for a lot of our providers that come into building pretty often."
The second round of shots is scheduled for January 19. Runge said any residents or staff who elected not to receive the vaccine this week, but have changed their minds, may receive their first shots then as well, and that the center also has invited staff from Trident Healthcare, which provides X-rays and ultrasounds to residents.
Runge, who also received her shot, said it felt similar to a flu or tetanus shot.
Her arm was sore Monday, she said, "but today I don't even notice it was there."
Residents will be considered protected against the virus about one to three weeks after the second round of shots, according to CDC guidance, Runge said.
For families and residents weary of the long, difficult separation, she said, the shots are providing hope.
"After all these months of universal masking and social distancing and face shields, we're moving in a positive direction pretty quickly, and that's hopeful for our residents; they're ready to start being able to start interacting with each other and have family visits," she said.
Residents at Hillside Retirement Community were scheduled to begin receiving vaccinations today, but as of press time, a corporate spokeswoman was not yet sure whether the event was taking place.
However, spokeswoman Heather Hunter said, "We are grateful that the government has prioritized senior living in the distribution of COVID-19 vaccines. Seniors represent one of the nation's most vulnerable populations and this vaccine program has the potential to significantly improve outcomes for residents, a population who are at high risk if they contract COVID-19."
Vaccinations have begun at some Brookdale facilities across the country, she said.
"Our staff, especially nurses, have been eager to get the vaccine themselves to lead by example for our residents and other associates. We're also respecting individual choice. We understand not everyone is willing to take the vaccine at first and we'll work with those residents and their families to do what they feel is right for them," Hunter said.
She noted the vaccines won't end the center's safety precautions.
"Brookdale is taking a strong stance on the importance of continuing strict COVID-19 safety protocols well after the vaccine has been administered. Vaccination is a significant step forward in the fight against COVID-19, but even after the vaccine is administered, we will continue diligence with safety protocols, such as masks and social distancing in accordance with the direction of the CDC and local health officials," Hunter said.
Yamhill County reported 14 new cases of COVID-19 Tuesday and 18 on Wednesday, bringing the county to 2,611 cases to date.