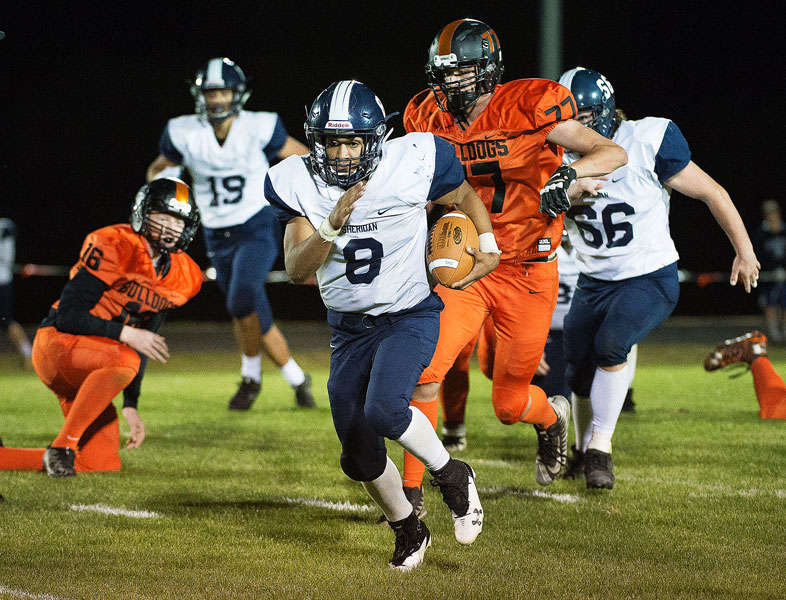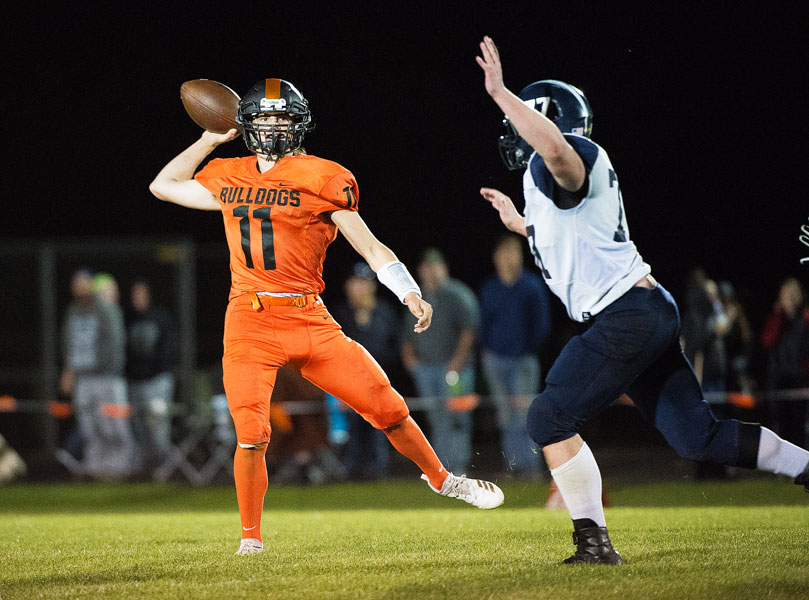 Sheridan prevails 28-20 over Willamina; Rogers rushes for 321 yards in win
WILLAMINA – Sheridan's football squad dominated the line of scrimmage during tonight's 28-20 rivalry victory over the Willamina Bulldogs. The Spartans utilized superior leverage and explosion off the ball to win the interior battle.
With the running lanes wide open for Spartan tail back Josh Rogers, he took full advantage. Rogers gashed the Bulldog defense and racked up an astounding 321 yards on 31 carries. He scored three times, on rushes of 85, 47 and 48 yards.
Though Sheridan ultimately prevailed in the rivalry shootout, the Bulldogs struck first in the non-league bout. Ruben Rizo took the opening kickoff 88 yards for an exhilarating touchdown. Rizo's magical return ignited his sideline and the home crowd, but Sheridan would retaliate quickly.
On the second play of the Spartans' first drive following Willamina's initial score, Rogers broke an 85-yard run on a sweep to the right side. Using his unique blend of speed and upper-body strength, Rogers broke through several tackles before turning on the jets up the sideline.
After the Bulldogs went three-and-out, Sheridan executed another scoring drive. Jacob DeBoff and Rogers moved their team to the Willamina 27-yard line with three running plays. Elliot Henley capped the series with a 27-yard rushing touchdown.
Sheridan tacked on another seven points with 4:49 left in the first half. Rogers again escaped the edge containment of the Bulldog defenders, scoring on a 47-yard sprint.
Moments before halftime, lighting strikes were witnessed to the northwest of the football field. A 40-minute delay accompanied the typical mid-game break as a precaution.
The Spartans appeared to seize ultimate control in the third quarter. A 12-play drive placed the ball at the Willamina eight-yard line. DeBoff scrambled toward the end zone, but on a dive attempt, the ball was dislodged and recovered by Willamina's Colton Doane.
DeBoff's fumble gave the Bulldogs new life. Three plays later, Kaleb Reid threw a 70-yard touchdown to Riley Bowman at the 2:48 mark of the third quarter. After the extra point, Willamina trailed only six.
Sheridan bounced back with another lengthy series. A seven-play sequence concluded with Rogers' third and final score, this time a 48-yard rush.
Reid tossed his second touchdown of the night with 3:01 remaining. He located Doane all alone in the end zone for a 34-yard score, trimming the 'Dog deficit to 28-20.
However, Sheridan used more Rogers' running and a 15-yard completion to Larry Hayes to bleed out the clock.
Sheridan (1-1, 0-0) next travels to Colton Friday at 7 p.m.
Willamina (1-1, 0-0) looks to rebound at home against Yamhill-Carlton; kickoff is next Friday at 7 p.m.