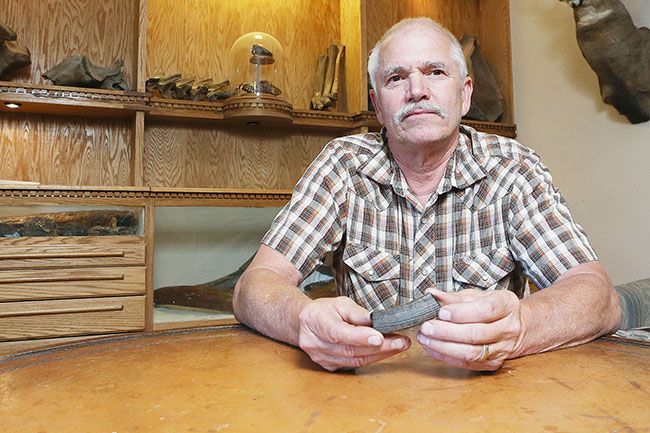 Beaver State lays claim to ancient beaver
After 30 years of excavating the Yamhill River for fossils, retired McMinnville police officer Mike Full has dredged up a fascinating new find — the remains of Castoroides, a giant beaver from the Pleistocene era.
Castoroides was the size of a black bear, and Full now has the evidence to prove it — a piece of incisor about 3 inches long, a fragment of a 10-inch original. The South Yamhill River find provides the first documented proof of the species in Oregon.
"Just looking at it, I thought it was a section of a rib, maybe just a bison rib," he said. After examining further, he noticed it consisted of enamel rather than bone.
"I thought, 'My God, that's a tooth.'"
One side of the incisor fragment features pronounced longitudinal grooves, a trait exclusive to Castoroides.
"You see that and you've got Castoroides," he said. "There's no doubt.
"After that, I thought, 'OK, I'm done for the day. I've been waiting 30 years to find something like this."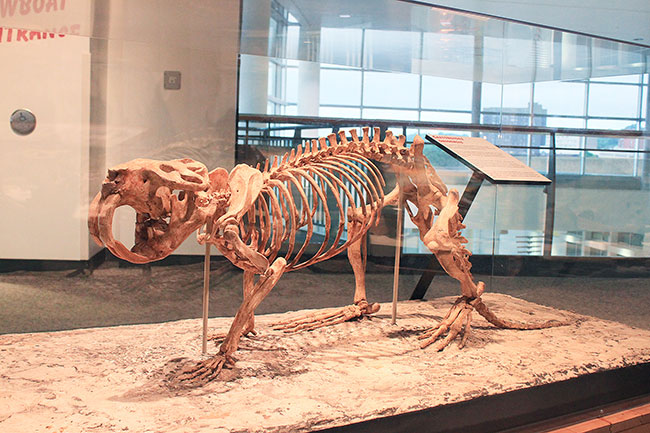 After conducting further research online, Full contacted William Orr, professor of geological sciences at the University of Oregon, to validate his find.
"I couldn't imagine not having these things in the Willamette Valley," Orr said. But proof was lacking previously.
"There's a saying in geology, 'If I hadn't believed it, I wouldn't have seen it,'" he said. "This is gratifying to us, because it means some of the things we believe are true."
Gregory McDonald, regional paleontologist for the Bureau of Land Management, reviewed pictures of the tooth fragment as well. He termed the find "the first definitive record of Castoroides in Oregon."
Orr said fossils of the species are scarce.
Due to a high demand for calcium in their diet, prehistoric beavers commonly mined the crucial nutrient from their own dead, he said, resulting in a scarcity of preserved skeletons.
Orr said the species likely became extinct due to disease resulting from human contact.
He said the fossil record indicates extinctions occurred in waves, ruling out the possibility of a massive volcanic explosion or asteroid collision as the proximate cause.
"Different animals get different diseases," he said. That helps explain the erratic pattern.
"It's a little piece of the puzzle," Orr said of Full's find. "It's a step forward, and I'm glad it was made.
"Scientifically, they have to really reconsider some of the distribution and extinction patterns that they had thought were pretty well worked," Full said of professional researchers like Orr, noting there is no extant record of the species for another 600 miles.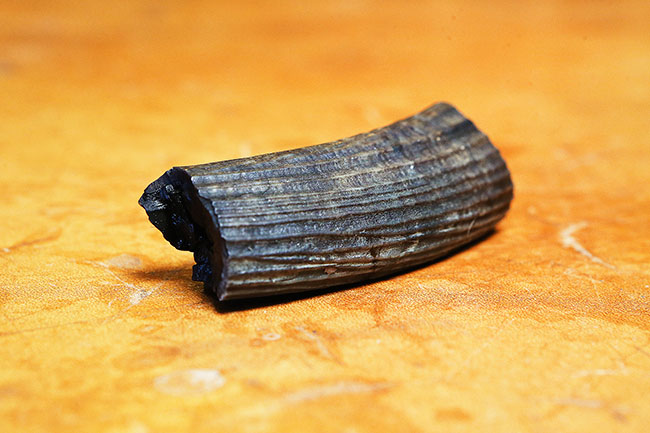 Though he would like to have the fossil radiocarbon dated, that could cost as much as $1,200. Currently, he's limited to speculating, based on the dating of other fossils from his riverbank hunting ground, ranging from 12,000 to 51,700 years, the latter established via a mammoth skull.
Full said his team of volunteers found the tooth fragment on the surface of a gravel bar formed on the inside bend of the river. If they can get an exact date on the fossil, he said, they will have a clearer idea of where to look for the rest of the skull, based on the age and location of other fossils they've found.
"It will probably take years of research to find out where this came from," he said. "The best thing we can do to start with is to get a radiocarbon date on it."
Since finding his first fossil at the age of 12, a massive mammoth tooth, Full has collected 440 elements of fossilized remains on a 26-mile stretch of river.
"The area is surprisingly abundant," he said, holding up a pair of mammoth bones. "No two of these bones belong to the same mammoth," he noted.
Full will be spending extensive time with his team searching the river for the skull that once housed the tooth.
"Just finding one more piece of it would be great," he said. "It's been a 30-year quest for one piece. I really want to give Oregon the giant beaver."