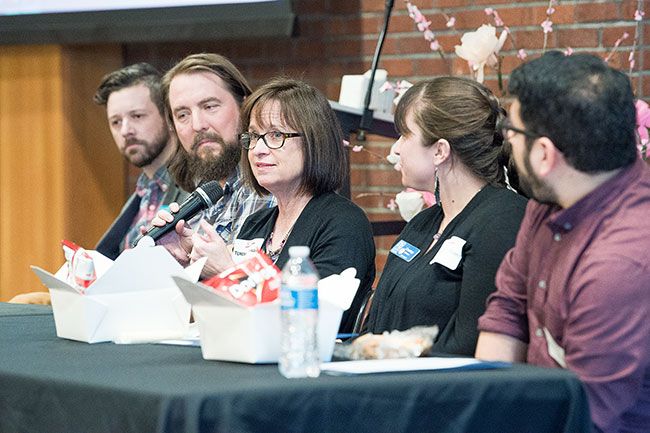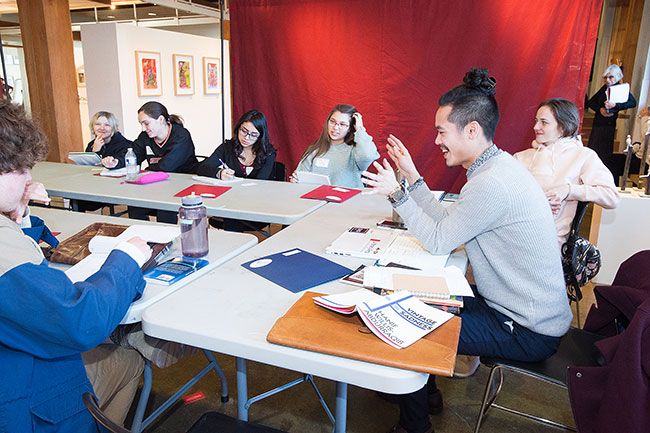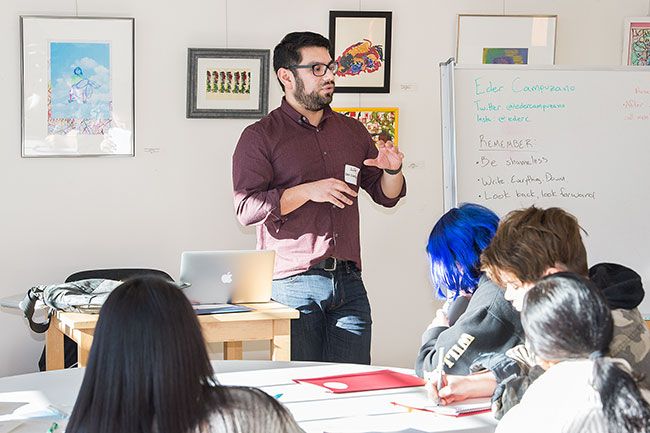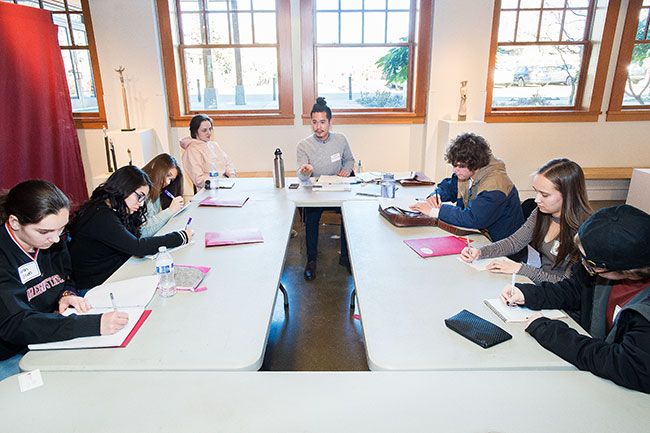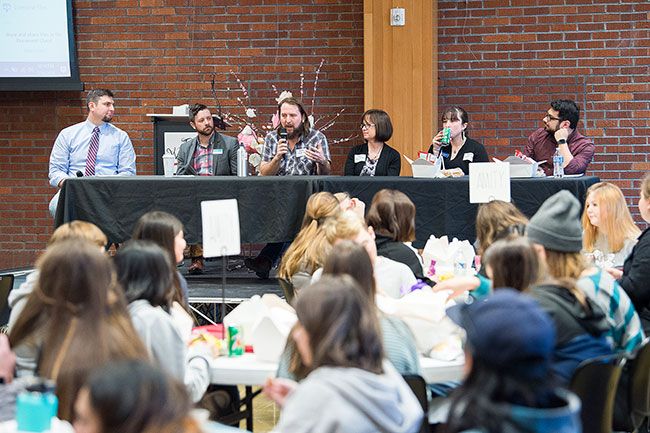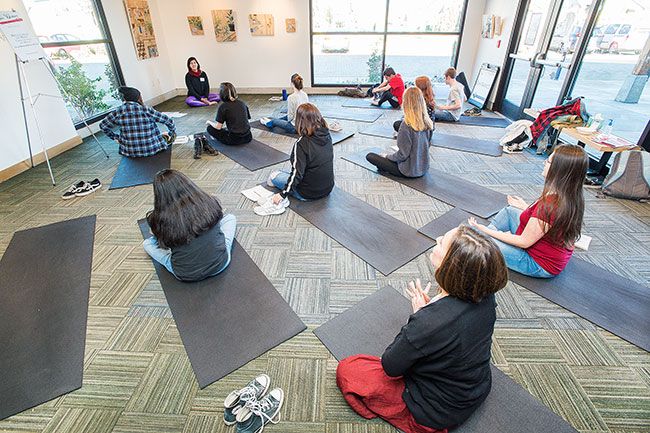 Conference sparks students to write
NEWBERG — Lorelei Lubbes, a sophomore at Dayton High School, was eager to attend the first Fire Writers Conference because — like the 150 other students at the event — she considers herself a writer.
"I do creative writing, and I'm trying to get better," she said.
The sentiment was shared by most of the other Yamhill County high schoolers gathered Monday in Newberg's Chehalem Valley Cultural Center.
Lorelei and her counterparts from public and private high schools spent the day discussing their favorite subject, writing. They met with professional writers and literary experts and listened to their views, experiences and tips.
The event, organized by the Arts Alliance of Yamhill County with support from the Oregon Arts Commission, was meant to inspire teens to write and continue writing. "Think. Write. Ignite." the conference's pen-shaped logo proclaimed.
"I'm really pleased by the turnout — students from Willamina to Newberg and everywhere in between," said Deborah Weiner, a retired educator who envisioned and organized the event. "So many kids were willing to come, and the presenters were so generous with their time."
She appreciated the stories and advice offered by the professionals. "The kids just ate it up," she said.
Linfield College writing professor Joe Wilkins, who led a workshop and participated in a panel discussion, was pleased with the results.
"It's great to be around young people who take language seriously," he said. "And it's great for them to be around others who take language seriously."
He said he wants students to realize "literature is a cultural marker." By writing, they are helping to "create culture here."
Fire Writers kicked off with addresses by Kim Stafford, the Oregon poet laureate, and author Lisa Ohlen Harris. Slam poet Alex Dang also spoke before students divided into small groups for a variety of workshops.
Amity High School freshman Haley Vanderzanden attended sci-fi author Fonda Lee's workshop, "Discover Your Next Story Idea with the Power of &."
"I love writing," Haley said, and she enjoyed the workshop, as well. "I think I took more notes today than I do all day in school."
She especially appreciated hearing Lee describe her background and how she switched from working in the corporate world to writing books.
"Authors are real, with real life experience," Haley marveled. "They go through the same kinds of experiences I do." Knowing that makes her dream of becoming a writer feel more attainable, she said.
Lorelei, who writes fantasy stories, chose to attend a workshop on "World Building" with C. Morgan Kennedy, author of young adult and steampunk novels. The Dayton student enjoyed Kennedy's advice on creating and fleshing out the location, time period and other details in which a story is set.
Drew Hinton, a junior at Yamhill-Carlton High School, also praised the workshops he attended. He'd already learned musch from his Y-C teacher, Matt Opitz, he said, and he discovered techniques at the conference.
"How to create character, plot design, combatting writer's block...," Drew mentioned among the tips he picked up Monday. "Coming to this was well worth it."
Drew, Lorelei and other students said they also enjoyed hearing from writers, teachers and a librarian who formed a panel to speak at lunch time.
Panelists were Eder Campuzano, a McMinnville High School graduate and a reporter for The Oregonian; another MHS grad, Courtney Terry, a librarian at the McMinnville Public Library and "writer fan girl"; CVCC director Sean Andries, who writes plays, letters and grant applications; children's author Teresa Klepinger; and Wilkins, who rises early for his daily writing time.
Emcee Matt Brisbin, a Mac High teacher who writes poetry, led the discussion. He asked panelists about their experiences, writing habits and influences.
Wilkins told students he jots notes and thoughts in a journal even if he's not working on a poem or other formal writing. "Always write," he said — advice that really hit home with Lorelei.
Other panelists addressed the writing process and writer's block. Klepinger says she may take a walk or other breaks from writing and "let the brain flow." If one project stops her, she moves on to another, and always remembers her audience, children.
Andries said "deadlines and accountability" keep his creative juices flowing. He also gives himself "permission to be terrible," knowing his next drafts will get better.
How do you deal with rejection slips, or fear of editors turning down your submissions? Brisbin asked.
"I'm really stubborn," Andries said. He and the others said they try to think of rejection as information, rather than taking it personally.
"There's something to be gained from every rejection," he said.
Klepinger added, "Every critique makes you better."
Wilkins agreed. He said he's been submitting poems to Poetry Magazine for a dozen years without having one of his entries published. But he has received several considerate rejection notes in which the editor encourages him, by name, to keep trying.
He also has an unpublished novel in his drawer, he said. It wasn't chosen by a publisher, but his second effort was — it will be published in March.
Brisbin also asked the panel for advice on getting one's poems and stories heard or read. Panelists suggested entering contests online or local ones, such as Paper Gardens, or joining or forming a writing group.
And Terry quipped, "Have I mentioned the library's monthly poetry open mic sessions?"
She had, several times already, but again she encouraged students to join. Anyone can sign up to read a poem at the events, held at 6 p.m. on the first Thursday of each month in Ten Oaks Gallery, 801 S.W. Baker St., McMinnville.
"Don't be afraid to grow. Take risks," she said, inviting students to give it a try. "You'll be surprised by the support you receive."