Cementing a legacy: Carsley's season one of the best in Mac history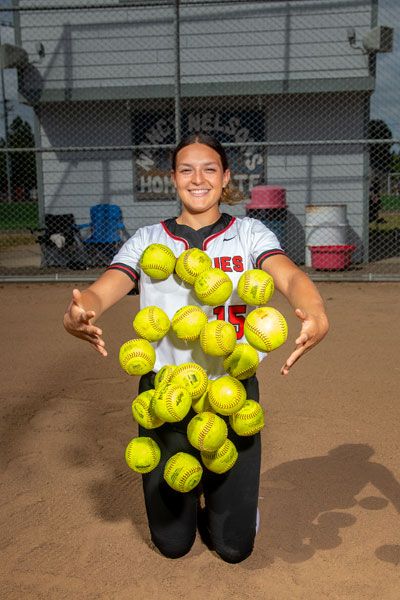 All season long, Carsley was one of the most feared hitters in the state, batting .560/.628/1.266 while tallying 61 hits and 20 stolen bases.
She set a new 6A record with 20 home runs, topping Mac alum Brynn McManus, who hit 18 last season. Carsley also set a 6A record for runs batted in, driving in 65.
Her career mark of 40 home runs is also a 6A record, despite missing out on the 2020 season and playing in a shortened 2021 season because of the COVID-19 pandemic.
She earned the 6A State and Conference player of the year awards, being named to the first-team at both the state and conference level.
While honored and appreciative, Carsley said her focus is always on what's best for the team.
"It's cool, but I mean I never play for those honors or those awards," Carsley said.
"I just worked my hardest and did what I could for my team. I always played for my team, that's what I thought about when I was up to bat. Just what can I do to help my team right now?"
A Newberg native whose family moved to McMinnville at the end of her junior year, Carsley opted to transfer to Mac for her senior season.
She initially just wanted to keep her head down, work hard for her teammates, and make it through her senior season without causing waves.
Over the course of the season, she grew to love her teammates, and the Grizzlies were having success on the field.
With Carsley leading the way, The Grizzlies didn't lose back-to-back games all season and made it to the state quarterfinals, where they fell to Sherwood 9-4 to finish the season 24-6.
While appearing in just 30 games (and being successful in most of them), Carsley said she was able to learn how to fail this season.
"I know that failure is really good being a young athlete," Carsley said. "We're gonna mess up, we're gonna fail. But at the end of a bad day or play, our failures don't write over our foreheads. It doesn't define us and make us who we are."
For college softball, Carsley always wanted to play at the Division I level, but she wasn't getting any offers from D-I schools.
She was initially looking at Linfield and other two-year programs, hoping to make her mark wherever she ended up before making the jump to Division I in two years.
Instead, last summer, she met Kansas coach Jennifer McFalls, who knew Carsley's coach from their time playing together at Texas Tech in the early 90s.
When she was offered a spot with the Jayhawks, there was no hesitation.
She didn't actually make an official campus visit until November, months after her initial commitment, but she said the trip only validated her belief that she had made the right choice.
"I met with a lot of the trainers, the weight lifting coach, with tutors, people that help us," Carsley said.
"They basically said there is going to be a lot of support around us. They said we have to try to fail. There's no way we're not gonna succeed.
"Knowing that I'll have support there is really helpful and it reassured me."
Before she heads to Lawrence in August, Carsley will continue to work out in McMinnville and play with her club team, the Northwest Vandals.
While here, Carsley says she plans to meet with McManus and hit together at the McMinnville facility.
McManus, the 6A State Co-Player of the Year as a Grizzly last spring, recently finished her freshman season at Division I Liberty University in Virginia.
While the two will certainly talk shop, Carsley says she is also hoping to pick McManus' brain about the Division I lifestyle.
"I'm gonna ask her so many questions," Carsley said. "How she manages it all, what she could do different if she could live her freshman year again so I can hopefully be better."
She went on to say managing everything that comes with a student-athlete will be a challenge, but one she is looking forward to.
At KU, Carsley will look to help turn around a program that has been struggling in recent seasons.
After Megan Smith left in 2018, the Jayhawks have not posted a winning season, though they were 13-13 in 2020 when the NCAA canceled the remainder of the winter and spring seasons due to the COVID outbreak.
Over the last two seasons, the Jayhawks have gone a combined 42-62, finishing seventh in the Big 12 standings both seasons.
While it may be a tall task, Carsley said the ultimate goal is to make it to the Women's College World Series in Oklahoma City, Okla., somewhere Kansas has only been once in 1992.
In the meantime, however, she's looking forward to her eventual debut at the Division I level.
"Just playing at the highest level," Carsley said, describing what she is most excited for.
"I'm just super eager to play with all those girls. And obviously, it's gonna be different, but just getting to play with the big girls, that'll be really fun and exciting.
"It's gonna be super challenging too, it's gonna test my mental toughness for sure."