Betty Lou York 1928 - 2023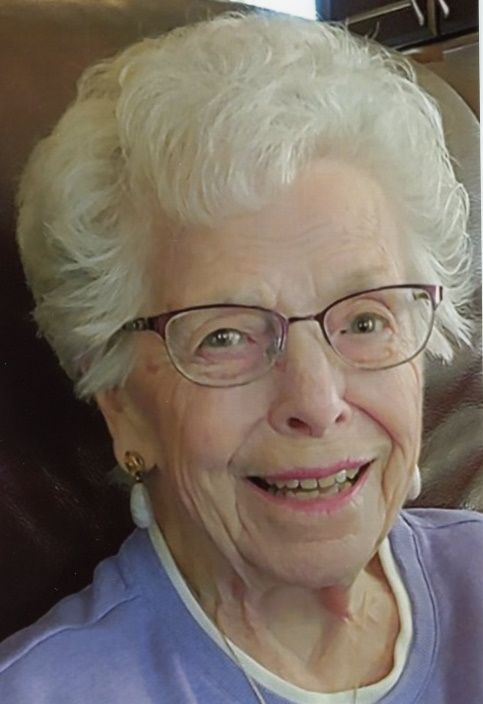 On January 4, 2023, Betty Lou York passed away peacefully while holding hands with her family. Betty was able to celebrate her 95th birthday just a day earlier, surrounded by her family and friends.
Betty was born January 3, 1928, in McMinnville, Oregon, to her parents Wilbur (Bill) and Ethel Flint Osburn. Betty was celebrated as being the first baby born in the New Year. She joined her older brother, Junior. Later came her siblings, Dorothy, Bobby and Donnie. Betty attended Columbus Grade School and McMinnville High School. Being a child of the Depression, she left school after her junior year to start working. She had a variety of jobs, cleaning houses, at small grocery stores and at Ramsey Variety Store.
Betty met the love of her life, Bob York, when she had just turned 16. Within a month, they were engaged and, a month later, Bob enlisted in the Army. He shipped out for the Pacific in March of 1944. After his return, Bob and Betty were married on March 8, 1947. They were inseparable for over 70 years until Bob's passing in 2017. They welcomed a son, Mike, in 1949, followed by a daughter, Terri, in 1951. Betty became a stay-at-home mom and was always busy with her children's activities. She was very involved as a room mother, PTA member, and helped to start and organize the first library at Carlton Grade School. At other times, she was driving her children and their friends to sporting events, Boy Scouts, music lessons and always to the movies in McMinnville with a Dairy Queen visit afterward.
After Mike's death in 1967 and Terri getting ready for college, Betty decided to try for her GED and passed without even studying. This gave her the confidence to go back into the workforce in 1969 as a salesperson at the Outdoor Store. Later, she became the bookkeeper until she retired in 1993. She loved being able to visit with her customers and help mentor teenagers as they entered the workforce.
After her retirement, Betty was able to enjoy her garden, sharing her bounty with neighbors and the food bank. She was a tenacious reader, checking out stacks of books from the library. She loved going on daily walks and visiting with friends over coffee at Steve's barn. Weekends were usually Betty and Bob's time to go on adventurous drives, not knowing where they might end up. Betty's greatest love was her family; spending time with them brought her great joy.
She was able to live at her home of over 75 years after Bob's death until just this year when, on one of her daily walks uptown, she broke her femur. She was heartbroken to have to move but realized she couldn't stay alone.

Betty was preceded in death by her husband, Bob; her parents; her brothers; and her son, Mike.
Betty is survived by her sister, Dorothy Hansen; her daughter and son-in-law, Terri and Steve Dumdi; granddaughter, Melanie Staebler (Todd); grandsons, Scott Dumdi and Ross Dumdi (JaJetta); great-grandchildren, Devin and Cody Staebler (Mikayla), Olivia and Stella Dumdi, and Connie and Ford Dumdi; and great-great-granddaughter, Maisie Staebler.
A Memorial Service will be held at 11 a.m. Friday, January 13, at Macy & Son Funeral Home, followed by a reception at Golden Valley from noon until 2 p.m.
Rather than flowers, the family recommends donations to the See Ya Later Foundation, P.O. Box 1281, McMinnville, Oregon 97128. To leave online condolences, please visit www.macyandson.com