'From The Ground Up'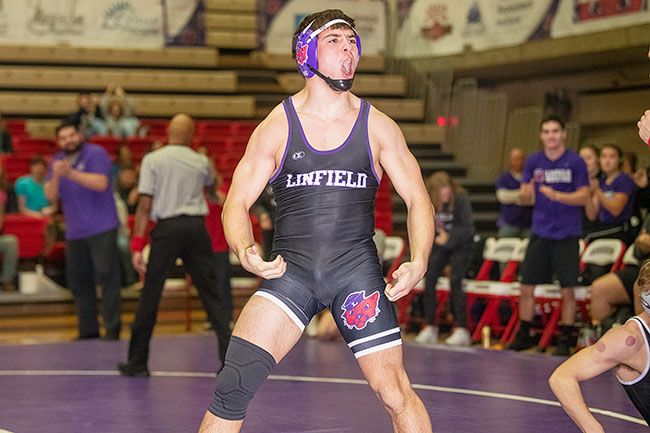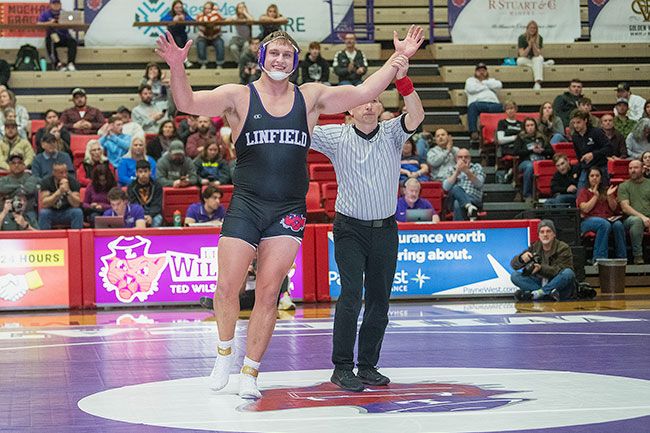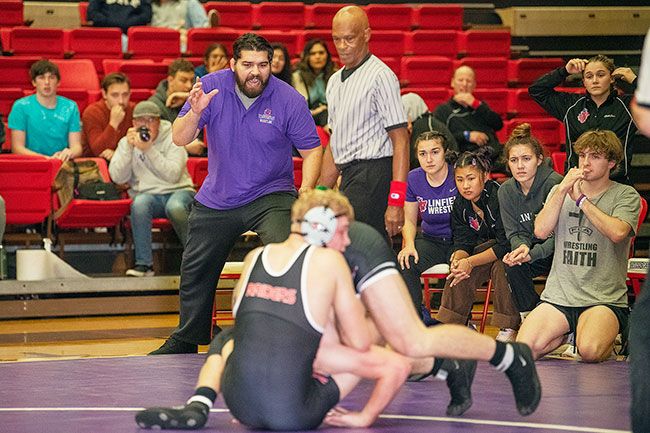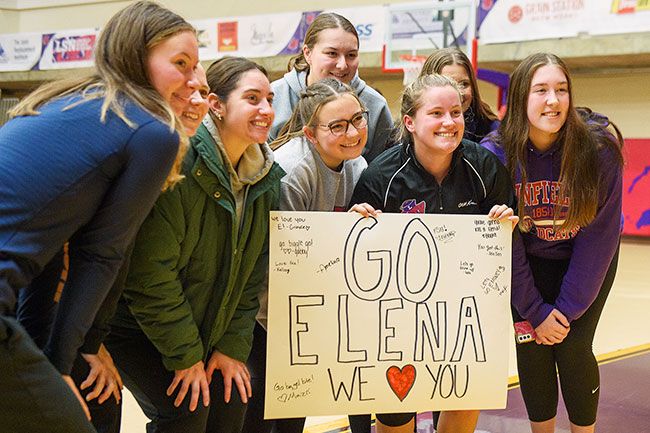 On the surface, it didn't seem like anything more than a typical regular-season dual. But for Linfield, it served as another stepping stone towards establishing itself as a prominent wrestling program.
When Abram Nelson started a wrestling club at Linfield two years ago, his goal was to have upwards of 20 to 25 students competing in two years.
Two years later, there are 36 student-athletes on the roster of the men's and women's wrestling team, a unit that is already competing at the Division III level after just one season as a club team.
The rapid growth at Linfield mirrors a trend nationwide, where wrestling has surged in popularity.
The emergence of the program has drawn the attention of local student-athletes, including wrestlers from McMinnville, Yamhill-Carlton, and Newberg high schools.
Led by Dayton native Chad Hanke, the focus is on building the program from the ground up, setting the foundation to become a prominent program at the D-III level.
After a successful collegiate career at Oregon State, Hanke spent time as an assistant at Cal State-Bakersfield and at American University in Washington, D.C.
Hanke said when the opportunity came open at Linfield to lead the resurgence of the program, he couldn't pass it up.
"That was the big reason why I decided to throw my name in," Hanke said. "I get to build something from the ground up, and I'm back home.
"My family never saw me and now they can't get rid of me."
Hanke understands the importance of recruiting local schools, and is still in touch with longtime Dayton coach Rob Henry and other local coaches in the area.
"There is an opportunity for you to get a college education at a really good school in your backyard," Hanke said.
"I'm about togetherness and community. So you have to own your backyard first. Those are going to be your fans, the people that show up and support… hit that first and then expand on that."
Jacob Barnes is one of the local student-athletes on the roster, a state champion at McMinnville High School who spent last season redshirting at Oregon State.
Like Hanke, Barnes is excited to be back home and be a part of the group that is bringing wrestling back to Linfield.
"It just means so much to be able to kind of help build this program from the ground up," Barnes said.
Barnes recalled memories of attending Linfield football games growing up, mentioning how his parents attended Linfield in the 1990s and that his grandparents had always been fans of the school.
He's impressed with the strides the team has made, noting how individual improvements will also help elevate the team as a whole.
On Sunday, a few of those wrestlers stood out against the Raiders, including Price Pothier, a Newberg alum who pinned SOU's Jordan Faifai in just under two minutes.
On the women's side, Paulina Fabela-Santos pinned Southern Oregon's Kyleigh Fradelis in just under three minutes and Ayana Medina won by tech fall in her match against SOU's Marissa Kurtz.
Barnes improved to 8-0 with a victory over the Raiders' Antonio Garcia. His unblemished record includes a win in Corvallis against his former team, a 2-1 victory over Oregon State's Charley Hastriter.
Linfield senior Elena Kroll took a less traditional path to the collegiate wrestling mats. After graduating from Hood River Valley High School, Kroll chose to play lacrosse at the collegiate level, a decision she believed meant she wouldn't wrestle again.
Instead, she is now involved in both sports. She mentioned specifically how special it is to her to be a part of the program's restart.
"That's where it was the most meaningful," Kroll said. "In high school, when I first started wrestling, we were the pioneers of girls wrestling. And so it's good to be like the pioneer of this program."
Hanke says that Kroll serves as an example of a student-athlete's ability to play multiple sports, a pitch that he hopes will serve him well in recruiting.
"I love it," Hanke said. "And I tell a lot of people that, you know, hey. If you have a passion for track, you have a passion for football and wrestling – come here and do both."
Barnes mentioned the importance of finding the right fit as a student-athlete, and how it is important to find a place where you can grow as a person and athlete.
"I think it should be that I want to go somewhere where I can make an impact and I can grow as a wrestler," Barnes said.
When asked if it was safe to say he found that at Linfield?
"I did."
The Linfield wrestling teams will return after the winter break and the new year. The women return to action with a home dual meet on Saturday, Jan. 7 against Simon Fraser University from Burnaby, British Columbia.
The following day, both the men and women's team will host the inaugural Mat 'Cat Invitational on Sunday, Jan. 8.