Golden opportunity: 'Domaine Willamette' under construction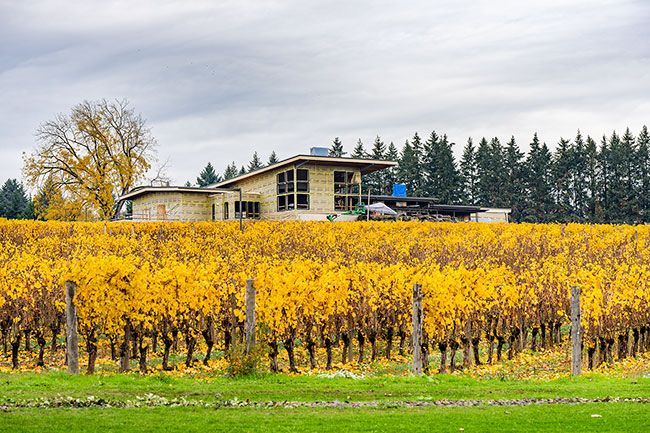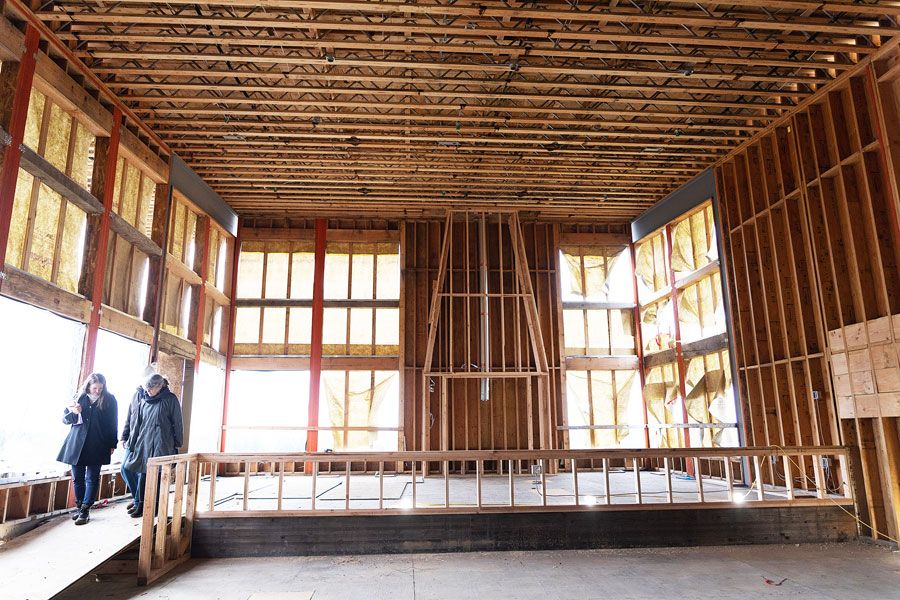 Willamette Valley Vineyards is making progress on its new wine production facility and tasting room near Dundee.
"Domaine Willamette" will feature biodynamic gardens surrounding a 19,000-square-foot building tucked into the side of a hill, so the lower floor becomes a naturally climate-controlled space for storing and aging sparkling wines.
The upper floor will be the tasting area, said Christine Clair, winery director for the Turner-based Willamette Valley Vineyards.
The new facility is visible from Highway 99W near Archery Summit Road. With the building already closed up against the weather and electricity and plumbing roughed in, workers will be finishing the interior over the winter. It is expected to open in the summer of 2022.
In addition to interior work, the current focus of the project is putting in the gardens and landscaping, including a large water feature. The gardens will be "a focal point" of the new facility, Clair said.
"The biodynamic garden's plants and trees will create a lush atmosphere for our guests to enjoy wine," she said.
Jim Bernau started Willamette Valley Vineyards just south of Salem and east of Interstate 5 in the early 1980s. His wife, Jan Bernau, is the project manager for Domaine Willamette.
She filled the same role for other Willamette Valley facilities, such as the WVV's tasting room at its Tualatin Estate Vineyard near Forest Grove and those in Walla Walla, Wash., and Folsom Calif., as well as one at Third and Cowls streets in McMinnville.
Four new tasting rooms also will open next year. "We're in a large growth phase," Clair said.
The winery evolved in a unique way, Clair said. Bernau made it community funded, offering a chance to purchase stock in the winery as he built the business.
WVV now has more than 21,000 part owners, most of them from Oregon, she said. And people still can buy in by following a link at the winery's website, wvv.com.
"Owners get great benefits, like 25% off purchases," she said.
In 2017, Willamette Valley Vineyards purchased the property on which Domaine Willamette is being built. It began converting the fields to biodynamic practices at that time.
Bernau has been using sustainable farming practices since he started the winery. In 1997, it gained biodynamic certification, showing that it "takes 'sustainable' to the next level," Clair said.
"Biodynamic" refers to agriculture that balances the ecosystem in order to produce a high-quality crop while maintaining the natural essence of the land. "Everything you take out, you're working to put back in," Clair explained.
The new Domaine Willamette offers a chance "to showcase sustainable farming," she said, "and we wanted to do it in an educational and beautiful way."
When the new facility opens, Willamette Valley will offer events and tours so visitors can learn not only about wine making, but also about biodynamic practices.
Boxwood, an architectural firm from Seattle, designed the new Domaine Willamette facility.
"They did a beautiful job orienting it with a view of Mount Hood and the large gardens," Clair said.
As part of construction, Willamette Valley Vineyards was required to make improvements to Highway 99W in summer 2021 to enable drivers to safely turn onto the road leading to the new winery. It added a deceleration lane and center turn lane to the heavily-traveled highway.
When they arrive at the new Domaine Willamette, guests will be able to taste wine on the upper floor in addition to touring or sipping outdoors. But tasting will take a slightly different form than it would have if the space had opened a couple years ago, before people were thinking about social distancing.
Instead of stepping up to a counter to try wines, they will sit with a winery employee, or "ambassador," and learn about the wines they are trying. They also can learn about the winemaking process and the biodynamic techniques.
"We're found that guests really enjoy a seated tasting where they can learn," Clair said.
Willamette Valley Vineyards is one of Oregon's largest producers. It turned out 200,000 cases in 2021.
Its sparkling wines will be featured at Domaine Willamette.
The winery will make sparkling wines from grapes grown on the property and from WVV's other estate vineyards, she said. Willamette Valley Vineyards has six vineyards in production and another that's just been planted.
"We use traditional methods used by the French," Clair said of the sparkling wines.
The wines are aged in the bottle. The "sparkle" is created with a natural process that incorporates a second fermentation with yeast and sugar added to the bottles.
"The temperature and humidity must be right; it needs to be stable," she said. And that will be possible in the new facility's cave-like lower floor.