Cruising McMinnville: no cruise, but two virtual car shows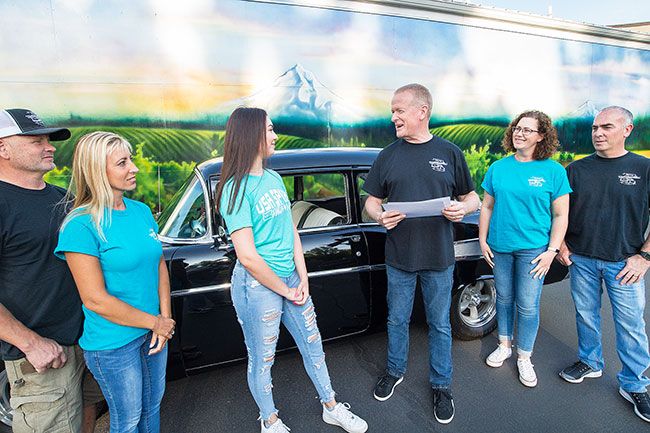 However, car lovers will get a chance to admire some of the unique and vintage vehicles in two virtual car shows, one July 18 and the other on the date that had been scheduled for the cruising event, Aug. 22.
The virtual shows will include interior and exterior photos of the entries. Judges will award prizes — unique trophies created by Bob and Ryan Landry — to those that display teal, the 2020 Cruising McMinnville color.
"The cool thing is that people from all over will be able to enter and see the car shows," said Tim Elliott, a Cruising McMinnville organizer. "It's all about having fun."
Elliott said the non-profit group canceled the in-person car show not long after everything closed because of the coronavirus pandemic. They had hoped to proceed with the cruising part of the event, but when the "McMinnville Dine Out(side)" restaurant spill-out started, Cruising McMinnville canceled cruising, too.
Third Street is now closed to cars every Friday through Sunday as diners sit at tables in the street.
"It was unanimous that we respectfully bow out," Elliott said. "The restaurants need the space. Their business supersedes cruising this year."
Cruising McMinnville's major regret wasn't missing the fun of cruising, though, he said. Rather, organizers didn't want to miss raising funds for scholarships, teaching grants and other beneficial activities.
They are continuing to raise money for scholarships by selling Cruising McMinnville T-shirts, hoodies, mugs and other items. The souvenirs say 2020 on them and are in the 2020 color.
Items can be purchased at Oregon Stationers, the Antiques Mall on Third Street and T&T Motorsports.
Cruising McMinnville's mascot, Finn the '57, recently delivered the organization's 2020 scholarships to three graduating high school seniors who are going into the trades. Each received $2,000.
Recipients are Jayson "T.J." Jarvis from McMinnville High School, who plans to study welding and fabrication; Aubree Park, also from MHS, who will study cosmetology; and Dayton High graduate Anna Tannery, who also will study cosmetology.
Finn the '57, which Elliott drives, is a "rolling ambassador" that attends community activities and children's birthday parties, in addition to promoting the festival.
Cruising McMinnville plans to return fully in August 2021.
The popular festival started in 2018, replacing the "Dragging the Gut" event founded in 2010 by McMinnville native Ruben Contreras.
McMinnville's love affair with cruising goes back decades. Until traffic laws changed in the 1980s, Third Street was filled with cruising cars every weekend evening. Many people who remember those days return to the city for the annual cruising event.
Entry information for this year's virtual show is available on the Cruising McMinnville Facebook and Instagram pages, and on the website, www.cruisingmcminnville.org.