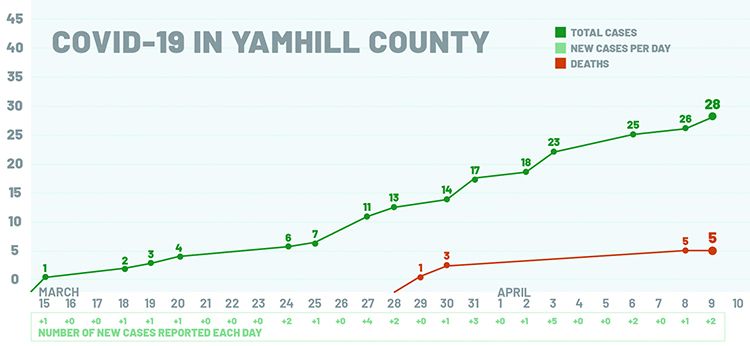 COVID-19 cases at 28 in county, two more deaths
The Oregon Health Authority announced two more Yamhill County deaths related to COVID-19 this week, bringing the total to five. All were men over 90 years old who died at Providence Medical Center in Newberg.
The state also announced six new deaths statewide on Thursday, increasing the state's total to 44.
The total number of confirmed cases statewide was 1,321 as of Thursday afternoon, with 82 new cases confirmed on Thursday.
Ten of the 28 local cases have resulted in hospitalization, according to reports by the Yamhill County Department of Health and Human Services. Of those, eight have been over age 80.
There have been 700 tests completed in the county, according to the report. Health Director Lindsey Manfrin said Wednesday they currently have 10 tests pending.
Manfrin directed questions to local hospitals regarding the total number of available venilators and how they were being used, but when asked, none would provide that information.
Mike Antrim, a spokesman for Providence Newberg Medical Center, declined to say how many ventilators they have at the facility. He said the hospital is not releasing information about the number of COVID-19-related ventilator uses to "maintain patient privacy."
Spokespersons for both Willamette Valley Medical Center and Adventist Health, which operates a clinic in Sheridan, declined further information on the number or uses of ventilators.
"In regard to data on COVID-19 patients at our facility, we are not able to share any additional information about these cases or any patient matters due to patient privacy laws," said WVMS spokesman Cooper Fisher in an email.
Manfrin also cited patient privacy issues in denying requests for information on COVID-19 cases by city.
"We recognize this is desired by many individuals, but until that can be released without compromising individual information, especially in our smaller towns, we will not release it," she said in an email.
"We would like people to follow health officials' guidance related to physical distancing, isolation and handwashing. Those are critical no matter what cities people have tested positive in."