County says it is prepared for local spread of novel virus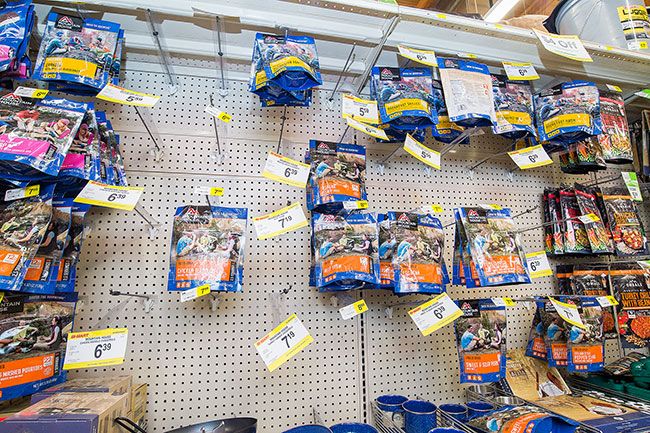 As Oregon announced a third presumptive case of COVID-19, the novel coronavirus, and new cases increased nationwide, local officials continued on Monday to stress the importance of basic health safety practices, chief among them hand-washing, and staying home when sick.
They also noted that Yamhill County health officials routinely plan and practice for such situations.
County Health Officer Dr. Bill Koenig, who also is the health officer for Physicians Medical Center in McMinnville, said people will have concerns about the unknowns the new disease presents.
The best way to think of it is like a new strain of influenza, as the results will probably be similar, he said.
"A lot of people are going to get it and a lot of them are going to get well, and some people are going to experience worsening outcomes," Koenig said.
He said the community can do much to protect itself, simply by being careful not to spread illness.
"Protect your social and personal space. If you see somebody is sick, don't go over to their house. Wash your hands frequently," Koenig said. "Practice good hygiene and if you are sick and questioning if you're gonna give whatever you've got to somebody else, stay home.
"Take a couple sick days, and stay home."
County Health and Human Services Director Lindsey Manfrin said she also encourages people to maintain basic good health practices, such as getting enough sleep, eating enough fruits and vegetables, and decreasing sugar consumption as it depresses immune systems.
In an e-mail to county employees, Manfrin said she recommends avoiding non-essential travel to any countries where the disease is currently spreading.
In addition, she also is working with law enforcement "to assure a shared understanding of isolation and quarantine laws that allow the Public Health Administrator to quarantine individuals in circumstances that pose a health threat to the general public," she said.
She also is working with health care providers, schools and hospitals, "so they are ready and know what to do if they suspect someone has coronavirus."
Those diagnosed with COVID-19 will be asked to self-quarantine at home, while health officials work to determine whether they might have spread the disease, she said.
"If someone is unable to self-quarantine or stay in their home, other alternatives will be made to keep that person isolated," she said.
Dr. Thomas Cronin, an emergency room physician at Willamette Valley Medical Center, said people should also avoid touching their eyes, nose and mouth, especially when out in public.
Surgical masks will not protect against the virus, and "might even make it more likely to contract coronavirus, as they do lead to more facial touching and can accumulate debris," he said.
Tribal staff from Spirit Mountain Casino, operated by The Confederated Tribes of Grand Ronde, said they are closely collaborating with Yamhill County Public Health and the Oregon Health Authority to develop a response to a possible outbreak.
The casino has more than 2 million visitors every year.
Tribal Health and Wellness Director Kelly Rowe, in a news release to the News-Register, said patients who believe they have been exposed to the virus should call the tribal clinic "for escort inside."
On Monday, Washington health officials announced that six people have now died from the disease in that state. Although at least 80 percent of people who contract it experience relatively mild illness — some reports compare it to a bad cold – the disease presents more of a risk to the elderly or those with underlying health conditions.
Two of the people who died in Washington were associated with a long-term care facility.
Brookdale Senior Living, which owns Hillside Manor and three other retirement homes and assisted living centers in Yamhill County, said it is taking precautionary measures.
"Right now, our main focus is prevention," spokeswoman Heather Hunter said.
"We are acting with an abundance of caution, reinforcing our policies and procedures for contagious illnesses such as influenza with staff," she said. "These include reminders about flu vaccines, washing hands with soap and water for at least 20 seconds, staying home when sick, and taking flu antivirals as prescribed."
A corporate emergency response team is in place to provide support to the local teams, "especially in the event of a confirmed case of COVID-19," she said.
If a case was confirmed, "we would follow the guidelines of the CDC recommendations for confirmed cases in healthcare settings," she said. "Those guidelines include steps to minimize chances for exposure, adhering to personal protection protocols and managing visitor access."
Manfrin noted that about 3% of people who are hospitalized with the illness have died. However, she said, "early information suggests that older adults and people with underlying health conditions may have a higher risk of severe illness and complications."
It's still not entirely clear how long the disease takes to incubate, she said.
"With other coronaviruses, signs of illness usually show up 2–14 days after a person is exposed to the virus. ... Scientists are still working to find out if individuals without signs of illness can spread the illness."
She said that the county's emergency health team, which comprises representatives from the hospitals, schools, doctors' offices and other agencies, has a plan in place for dealing with a pandemic, and holds regular drills.
Dr. Steven Freer, chief medical officer for Providence in Oregon, which includes Providence Newberg Hospital, released a statement saying that it was "closely monitoring the situation nationally and internationally, in anticipation of the time we could be called on to care for patients with COVID-19. We are working in conjunction with clinicians and caregivers across our broader seven-state Providence St. Joseph Health system."
"In Oregon, we have set up a task force overseeing 10 teams of physicians and caregivers, including infectious disease and infection prevention experts, as well as department leaders and caregivers at all levels in making preparations, checking our infrastructure and supplies, and preparing information to ensure we are ready," Freer said.
"We have established careful protocols for screening patients and responding to their clinical needs in accordance with Centers for Disease Control recommendations," he said.
*We have special isolation and negative pressure rooms that can be activated to minimize the risk of exposure.
* We are following established infection control protocols, working closely with our partners in state and local public health to ensure the safety and well-being of our caregivers, patients and visitors.
* We've established an online library for internal use so that information is readily accessible for clinicians, nurses and specialists.
* We have initiated enhanced training in the use of personal protective equipment to keep our caregivers safe as they attend to the needs of patients.
* We're reviewing scenarios involving potential risks and identifying what we can do to eliminate those risks."
In addition, "we have developed a surge plan, in case the needs of the community exceed our current capacity." he said.
Willamette Valley Medical Center declined to answer questions about how it is preparing for a possible outbreak of the virus.
Spokesman Cooper Fisher released a statement to the News-Register saying that it was "actively following Oregon Health Authority guidance and the Center for Disease Control and Prevention's guidelines in preparing for the possible arrival of patients with COVID-19.
"This includes ensuring our staff is trained, equipped, and capable of detecting, protecting, and responding should anyone in our community contract or be exposed to the virus. Additionally, WVMC has engaged Yamhill County Public Health and Human Services in partnership of their community health action plan to address the spread of COVID-19 within the community."
Cronin, the emergency room doctor, said he encourages people to keep at least two weeks of food, pet food, medicines and other supplies on hand.
He noted, however, that this is a standard preparedness, particularly since Oregon is subject to earthquakes that could shut down most of the state for an extended period of time.
"If the disease starts spreading in your area, health officials might recommend to close schools or cancel events and encourage people to work remotely to slow the spread of the disease," and people should plan ahead for how they might handle those situations, Cronin said.
"Make plans for alternative arrangements for your child or yourself in the case of a school or university dismissal or shutdown," he said. "Also make plans for your elders and your pets, as needed."
He recommended checking in with employers regarding sick leave and telework options, and making a list of emergency contacts—family, friends, neighbors, carpool drivers, health care providers, teachers, employers, local public health department, and community resources.
"Gather extra supplies, such as soap, tissues, and alcohol-based hand sanitizer. If you or one of your household members have a chronic condition and regularly take prescription drugs, talk to your health provider, pharmacist, and insurance provider about keeping an emergency supply of medications at home."