Bodies of Karissa Fretwell, her son located west of Yamhill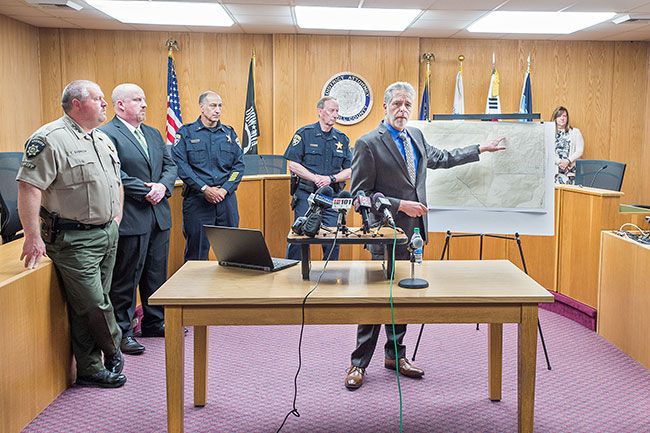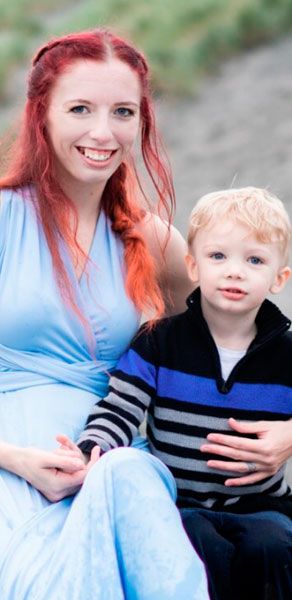 Karissa Fretwell, a 25-year-old single mother from Salem, and her three-year-old son, William "Billy" Fretwell II, had been missing for about two weeks when Yamhill County District Attorney Brad Berry said they had been murdered, based on evidence gathered to that point.
Their bodies were found Saturday in a heavily wooded remote area about 10 miles northwest of Yamhill, Berry said during a Monday morning press briefing. They were partially covered by debris on Weyerhaeuser property off a spur road.
Michael Wolfe, 52, of Gaston has been charged in connection with the kidnapping and murder of both and is lodged in local custody without bail. He is William's biological father.
Ongoing and exhaustive investigative efforts by detectives from the sheriff's office and Salem Police Department led searchers from multiple agencies to where Fretwell and Billy were located.
"This has been a relentless investigation," said Berry, who was joined by Salem Police Chief Jerry Moore, members of his department and Yamhill County Sheriff Tim Svenson. "It's been a collaborative effort. This is how it should work. Crime doesn't stop at a county line. Detectives have been working 24/7 (on the case and in an effort to locate the pair)."
The site was searched by members of the Yamhill County Search and Rescue Team and sheriff's office in addition to the McMinnville Fire Department, Mountain Wave Search and Rescue, North Oregon Search and Rescue, Oregon State Police, Salem police, Washington County Search and Rescue and Yamhill police.
McMinnville Fire Department personnel made the discovery, according to Berry.
"This case has been tough on investigators and it was a hard discovery," he said.
Between 40 and 50 individuals searched for about two hours before locating the bodies. Assisting at that point was the OSP Crime Lab, at which time the bodies were transported to the state Medical Examiner's Office in Clackamas.
An area close to where Fretwell and Billy were found had been previously searched, according to Berry and Svenson.
No one tip or piece of information led searchers back to the general area on Saturday. He called it "good detective work" that convinced investigators to send searchers back to the area that Wolfe was familiar with. It's a place where he would go to recreate, Berry said.
Fretwell and Billy were positively identified Sunday. Fretwell's cause of death was determined to be from a single gunshot to the head. Manner of death has been determined to be homicide. The cause and manner of the death of Billy have not been determined, pending additional testing.
The investigation is continuing. Berry said Fretwell and her son were kidnapped either late Monday, May 13, or early the following day. He said investigators believe they were dead by Thursday, May 16.
Anyone with information about this case is asked to contact Salem police by leaving information on the agency's tip line at 503-588-6050.
Wolfe, who was arrested Friday, May 24, has been indicted by a grand jury on three counts of aggravated murder — one of which constitutes domestic violence — and two counts of first-degree kidnapping. He is scheduled to be arraigned by video on the indictment at 1:30 p.m. Friday, June 21.
Thirteen individuals testified before the grand jury. Eight have a connection to law enforcement, including Salem police Detective Anthony VanDekoppel.
He wrote in a probable cause affidavit that only Wolfe stood to benefit from the "disappearance or criminal homicide" of Fretwell and Billy. Berry concurred, saying no one but Wolfe stood to gain from the death of the two.
His wife is neither a suspect nor a person of interest at this time, according to Berry.
Portland attorney Patrick Sweeney is handling Wolfe's defense.
Aggravated murder is an unclassified felony and potential death penalty charge. However, in November 2011, Gov. John Kitzhaber announced a moratorium on executions in Oregon, canceling a planned execution and ordering a review of the death penalty system in the state. His successor, Kate Brown, affirmed her commitment to the moratorium.
Oregon has executed just two individuals since the death penalty was reinstated. Both inmates waived all their appeals. One Yamhill County inmate, 63-year-old Jeffrey Dana Sparks, sits on death row. He was sentenced to death in May 1999 for sexually assaulting and killing 12-year-old Lacey Robancho in Lafayette in 1998. Berry was the DA at the time.
First-degree kidnapping is a Class A felony and Measure 11 charge, punishable by a mandatory minimum prison sentence.
The district attorney's "information," which outlines the foundation for the charges, alleges Wolfe, on or about Monday, May 13, did "unlawfully and intentionally" cause the deaths of Fretwell and her son.
A GoFundMe account — Justice for Karissa and Billy — has been established. In part, it shares the following messages from Nyla Bales:
"We appreciate the fact that he (Wolfe) is in jail but leaves all of us and her friends and others with more questions than answers. We want Karissa and her little 3-year-old William to come home so we can put this horrible kidnapping and presumed murder behind us and find closure in our hearts.
"She worked hard to provide for her son and get her education. She described herself as a 'big dreamer.' All money raised here will cover all final expenses and funeral costs. Any remaining money will be used as a scholarship to a student that dreams as she did to be a high school English teacher."
- - -
"It is with great sadness that I have to add that Karissa and Williams bodies have been found. The police have worked very hard to follow all leads that led to this fact. They have always communicated with us very well during this process.
"I appreciate all of them and the victims advocates that have worked tirelessly with us to find answers.I also want to tell you as friends, family and those we do not know that we appreciate all of the support that you are providing to assist with all of the extra expenses that this heartache has brought to our family.
The fund page can be accessed at www.gofundme.com/justice-for-karissa-and-billy. Upwards of $8,500 has been raised as of Tuesday, June 18.