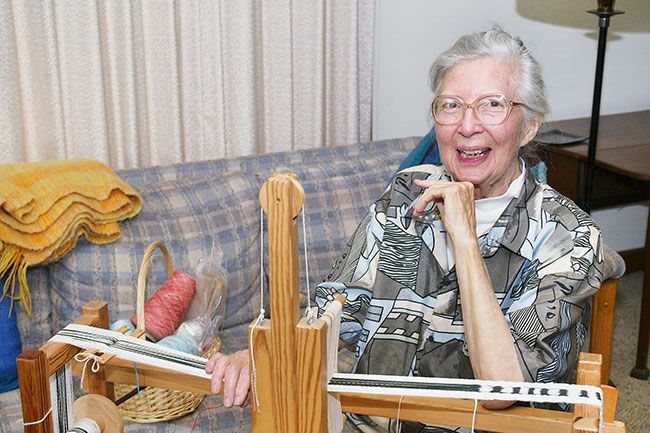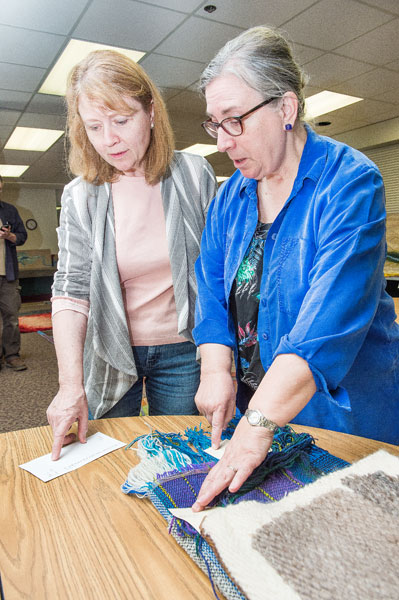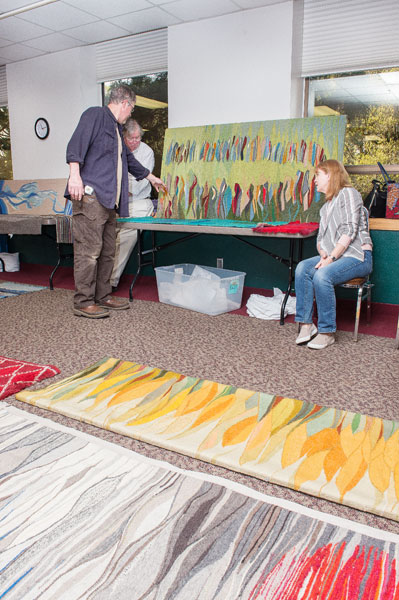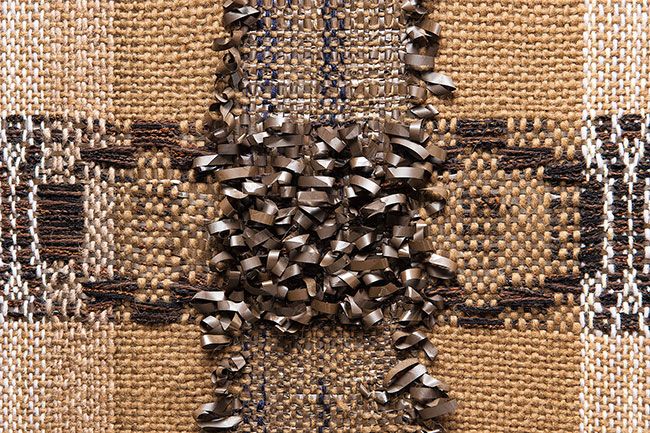 Stopping By: Woven legacy
Katia Johansen, a textile conservationist who worked for the Danish royal family, flew from Denmark to Oregon in April to look at the tapestries created by her mother, the late Margaret Johansen.
Well-known in McMinnville and among weavers across the nation and the world, Marg Johansen was a prolific artist who produced more than 230 unique tapestries over 50 years. A teacher as well as a weaver, she was considered a leader in the world of handmade textiles.
"Her technique is just amazing," said Ila McCallum of the Association of Northwest Weavers' Guilds.
ANWG members came to McMinnville to meet with Katia and her siblings about mounting an exhibition of Margaret Johansen's work during their 2021 conference in Salem.
"She is a master at outlining, shading, using eccentric weft, different stitches, her range of subject matter," said McCallum, a weaver herself. "She inspires me."
She and other guild members marveled over her techniques and artistry during a brief show in the McMinnville Community Center — a private show specifically designed to impress the visitors.
"I want to wow them," Katia said, eager to see her mother honored with a retrospective show.
She did — or rather, Marg Johansen's work did.
While many of the artist's tapestries are hanging in churches, galleries and private collections, her five children have about one-third of her works — some that were in their personal collections, some that were left in the family's McMinnville home after their mother died in 2004 and their father, H. Andrew Johansen, died in 2014.
Katia said she was familiar with some of the pieces. She'd seen them during her many visits to her parents' home during her 50-plus years in Denmark.
"But sometimes I didn't see Mom's work, because it was already off the loom and put away," she said.
She noted that her mother was humble about her art and disliked promoting herself.
So some of the pieces she and her sister Marta and brothers Kaj, Karl and Anders laid out in the community center in late April were surprises to her. In fact, none of the siblings had seen all the pieces together in one place.
"Even Mom never saw them all together," Katia said.
The siblings were impressed all over again by the dozens of tapestries, along with practical pieces and small studies their mother made before diving into larger works.
"What a pleasure to see all these again," said Marta, who lives in San Francisco.
She and Katia were pleased, as well, to be reminded that their mother was "quite a pioneer in weaving."
For instance, in the early 1960s, Marg Johansen — married to H. Andrew Johansen, a man of Danish heritage — began experimenting with an ancient, nearly forgotten Scandinavian technique.
Called "rya," the technique involves knotting short lengths of yarn, then weaving, then knotting, and so on.
She revived the art of rya with pieces such as "Earth Memorial 1969," a huge hanging featuring a green orb on a field of blue. She wove the tapestry on a 16-foot loom her husband made just for that project.
"Earth Memorial" was shown at the Lausanne Biennial exhibit in Switzerland, making her both the first fiber artist, as well as one of the first non-European artists, featured in the show.
Marg Johansen also was one of the first U.S. artists to work in handweaving in the mid-20th century, said her daughter, who is retired from a job as a textile conservator in Denmark.
In the late 19th century, handweaving virtually stopped here when it was replaced by the technology of the industrial age. Women in other countries continued the craft, but Americans didn't.
Marg Johansen learned to weave in the 1950s while the family was living in Pennsylvania.
Already a mother of four young children — she'd have five eventually — she was looking for something she could do while tending to her family. Previously, she'd done lithography, but that had to be done away from home.
So she bought a loom, taught herself basic techniques and signed up for classes. Later, she began dyeing much of her fiber using natural dyes.
She started out making placemats and dish towels. She continued her production of usable items by weaving yardage, which she later turned into things such as a pinafore dress for Katia.
She wove a heavy duty rug in a range of reddish tones that family members walked on for decades. Katia cleaned it up and displayed it alongside her mother's other pieces in the community center, proving that textiles can be sturdy and long-lasting, as well as beautiful.
Margaret Johansen also made mohair robes for each family member and a wool blanket for her husband.
Her weaving soon became more artistic. "Mom's work had meaning," Katia said.
Many pieces work on multiple levels, she said, initially drawing the eye with beauty, color, line and texture, then, on second glance, revealing more. "River Map" speaks to the importance of the Columbia River. A two-piece tapestry shows the grandeur of the Oregon Coast.
Her final piece, finished in 2004 just prior to her death, is called "Gathering Hope." Katia said she thinks the title has a dual meaning, addressing how people gather together to strengthen hope as well as to the hopefulness her mother was feeling at that stage in her life.
She fulfilled her mother's wish to sign the piece by embroidering her distinctive, stylized "MJ" onto the finished tapestry. Usually, the artist wove in the signature, if she used it at all.
"But I never talked to her about why she signed some and didn't sign others," Katia said.
She said she assumes her mother thought those pieces were particularly significant. Or perhaps she was especially pleased with how they came out.
Marg Johansen wanted people to touch her art, feeling the texture of the different fibers and the way they worked together in her compositions.
As a textile conservator, Katia cringes at the idea of fingers feeling the silk, wool, linen or yarns (one tapestry, "The Message," also incorporates recording tape). Fingers can wear out the fibers and expose them to damaging dirt and oils, she said.
But she understands her mother's wishes, as well. She holds her tongue when someone reaches out to feel the different yarns in "The Rocky Way," a depiction of the difficult path of life.
In her later years, Margaret Kilbuck Johansen explored her own Native American roots. She studied various Native cultures and wove their myths into her art.
One that drew everyone's eye at the community center depicts a circle of figures in colorful dress set against a green background. "She shows the people holding each other up," Katia said.
Another tapestry recalls the Missoula Floods, which shaped the landscape of the Pacific Northwest. Still another depicts the myth of Raven creating light; it's a mountain scene with a glowing center.
Johansen's work also reflects the Christian tradition. Several of her tapestries hang in local churches, including the First Baptist, Presbyterian and St. James Catholic sanctuaries.
Other local examples can be found at Linfield College — including one of the Old Oak — and the McMinnville Public Library.
Katia has been looking for years for a place to mount an exhibit of her mother's work. She said not many art museums are interested in weaving.
"The handweaving story needs to be told," she said.
After the 2021 show, the Johansen siblings plan to sell some of their mother's work. They will donate other pieces to places where they'll hang in public.
"We want people to see and enjoy them," Katia said.
---
Both Margaret and H. Andrew Johansen were well known in McMinnville.
They came here in the mid-1970s. They grew blueberries on acreage within sight of the Three Mile Lane bridge, were members of the Native Plant Society and sang in the Masterworks Chorale.
Before her death in 2004, she was active in the Arts Alliance of Yamhill County and the local art scene, both as a weaver and as a supporter of the arts. She had taught at Chemeketa Community College and Western Oregon University; she had taught at Carnegie Mellon University before moving to Oregon.
A retired research scientist, he was a master woodland manager. He acted in Gallery Theater shows and, when McMinnville threw a big party marking the start of the 21st century, he played a convincing Father Time. He died in 2014.
Their son Anders and his wife still live in the house overlooking the blueberry fields. Daughter Marta and sons Kaj and Karl live out of state.
And Katia has lived in Denmark for more than 50 years. She worked for the Danish Royal Family restoring and protecting textiles, such as garments worn by kings and queens.
Her latest book about royal costumes, "10 Kings' Clothes, 1600 to 1863," is due out soon. It will be published in English, as well as Danish.
---
Margaret's work will be featured in show
Tapestries by the late McMinnville textile artist Margaret Johansen will be featured at "Fiber Connections," a show that's part of the 2021 Association of Northwest Weavers' Guilds Conference.
The show will be open to the public, as well as weavers from five states and three Canadian provinces who attend the conference.
"This will be a really great opportunity for them to see all kinds of fiber work," said Linda Gettman of the weaving association.
The conference is held every two years in a different part of the Northwest. The 2021 event will be at Willamette University in Salem, with the Fiber Connections show in the Willamette Heritage Center — the former Mission Mill.
For more information, go to the website www.wegoregon.org.
Starla Pointer, who believes everyone has an interesting story to tell, has been writing the weekly "Stopping By" column since 1996. She's always looking for suggestions. Contact her at 503-687-1263 or spointer@newsregister.com.