She's happy to do her part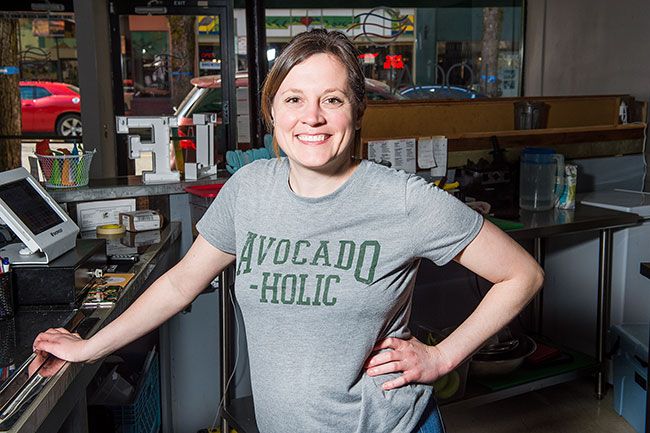 Whether it's encouraging a healthy lifestyle or supporting young children — or both — Heather Miller is ready, willing and able.
Miller, named McMinnville's Outstanding Junior Citizen, has been involved in the community since her days as a Linfield College student.
She now owns Local Flow on Third Street, where she continues to support the healthy eating and activity programs she's worked with since college. In addition, she serves on the McMinnville Downtown Association Board and holds the gavel as president of the McMinnville Kiwanis Club.
"It's my nature to be involved," said Miller, who will be honored Monday, May 6, at the annual Distinguished Service Awards banquet.
She is one of five winners who will be feted that night.
Woman of the Year Erin Stephenson, Man of the Year Allan Larsen, Outstanding Educator Molly Bousquet and Outstanding Farmers Brad and Crystal Fuerst also will receive awards at the event, which will start at 6 p.m. in the McMinnville Grand Ballroom. Tickets are $45 each, available from 971-237-1400.
A native of Vancouver, Washington, Miller said she chose Linfield because she wanted a small school. Even then, she said, she preferred McMinnville over other college towns she visited.
She majored in exercise science with plans to become a physical therapist. After graduating in 2007, she changed course slightly and earned a master's degree in health care administration.
She and her husband, Carlton native Brett Miller, moved to Hawaii for his job. She worked in health care management there.
When they returned to McMinnville three years later, she decided to open the health bar, which offers lunch bowls, juices, smoothies and more.
"I'd seen places like that in Hawaii," she said, and they fit with her background in health and physical fitness and her overall philosophy about healthful eating.
"I've always been interested in health," she said.
At Linfield, Miller worked with health professor Janet Peterson and the Yamhill County Public Health Department's SNACK program to teach children about nutrition.
The professor was a great mentor, she said.
Peterson, in turn, called Miller "a well-respected member of our community" and a mentor to current Linfield students.
"She is and always has been an advocate for health and wellness," the professor said. "She leads by example, has an insanely positive outlook and is a fantastic role model."
Peterson added, "I am always learning something new with Heather. We are so lucky to have her in our community."
At Local Flow, Miller hosts "Locals Nights" in conjunction with SNACK that is open to all ages. The next one will be held the evening of Monday, May 6.
She'll miss that one, as it coincides with the Distinguished Service Awards. "My staff will be there, but I'll be at the banquet," she said.
But she won't pause in her effort to encourage people to care more about their health and wellness, Miller said.
"You need to eat right and move, but it's more ... you need to be positive minded," she said.
The whole community can, and should, contribute to that.
"If a caring and accepting community creates an area for health to fall in line, it will," she said.
She noted that people who live in "the healthiest places" take care of and support one another. As a result, she said, they are "healthier, happier and live longer."
In addition to encouraging healthful choices, Miller is active in the community through the Kiwanis Club, which meets at noon Thursdays in the McMinnville Community Center.
"I grew up with my parents saying 'you should always give back,'" she said.
Membership in the club would also help her learn about McMinnville, she figured. She quickly came to value the Kiwanis Club's work in the community, which contributes volunteer labor and monetary donations worth about $80,000 a year.
"I love that Kiwanis gives back to kids in such a diverse way," she said, mentioning car seats for newborns, videos for new parents and scholarships for graduating high school seniors. The Kiwanis Club also supports Henderson House and other organizations.
It's especially rewarding, she said, to meet young children in programs such as Beyond Backpacks or Ready for Kindergarten, then see them a few years later as young adults.
As club president, Miller encourages others to consider joining Kiwanis or another service organization.
"It's a good way to meet people, get involved in projects and learn about the community," she said.
Miller became active in the downtown association, joining its board, soon after opening Local Flow two years ago. It was a natural step, she said.
In addition, she said, "We've always spent time downtown. McMinnville is such a unique community."
When not hanging out in her hometown, Miller enjoys going to the Columbia River Gorge or the Coast Range to hike and traveling farther afield; she and her husband have driven the south island of New Zealand. For their 10th anniversary, they visited Sweden.
She was back home, enjoying running her business and doing community service, when she received a call from Jennifer Feero and Chelsey Nichol.
Both are past DSA Junior Citizens, but she wasn't suspicious when they asked her to meet with them.
"The award wasn't even on my radar," she said.
She was shocked, though, when they told her she'd been chosen as this year's winner.
"There are a lot of really deserving people who do great things," she said. "I make an effort to create a positive community, but I never think I'm doing more than anyone else."