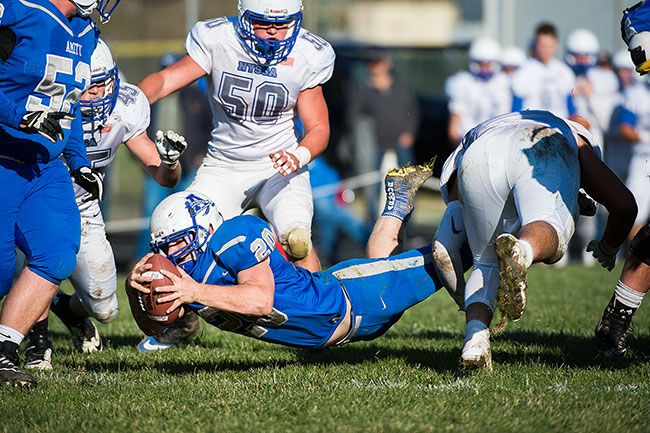 Amity advances to semifinals after crushing Nyssa, 58-13
AMITY – Amity's drive for a Class 3A football championship overcame another obstacle today as the Warriors defeated Nyssa, 58-13, on their home field. The quarterfinal contest between the second-ranked Warriors and 10th-seeded Bulldogs became a rout in the second half as the home team's unrelenting rushing attack couldn't be denied.
The Amity defense set the tone on the first Nyssa offensive series. Nyssa's powerful running back Jose Sanchez found little room to operate as the Warriors swarmed him on interior runs. The Bulldogs were forced to punt, giving Amity possession deep in its own territory.
Warrior head coach Joel Magill called for a trick play to start the drive. Tail back West Streeter took a toss sweep and surprisingly fired a pass downfield to Payton Richardson for a 15-yard gain and a first down. Three plays later, Streeter kept the series alive by converting a fourth-and-two.
Amity reached the red zone as quarterback Tyler Parr lofted a pass to Richardson for a 22-yard pickup. Streeter notched the Warriors' first score on a four-yard dash up the middle.
Amity led 6-0 after one quarter, but would extend its lead in the second.
Jonathan Mather moved the Warriors into scoring position on an 11-yard cutback. One play later, Parr launched a perfect deep ball to Richardson for a 27-yard touchdown. Streeter plunged into the end zone for the two-point try, placing Amity up 14-0 with 8:31 left in the first half.
Nyssa tallied its initial touchdown on the following series. A lengthy 60-yard drive ended with Dearden Woodruff's 18-yard rushing score.
Amity responded with two consecutive touchdowns. First, Streeter recorded his second TD on another four-yard burst into the end zone. After the kickoff, Cody Dyche intercepted a Nyssa pass to hand the Warriors another scoring opportunity with one minute remaining in the half.
The Warriors immediately capitalized on Dyche's playmaking turnover as Parr found Mather on a 37-yard seam route for a 28-7 lead entering halftime.
Amity tacked on another two touchdowns in the third quarter as Mather shook off multiple tackles on a 60-yard score, Russel Brown blocked a punt and Mather added another TD on a five-yard scramble to the outside. Following Mather's second score, Parr delighted the crowd with a fake trap and no-look pass to Josh Wart for the two-point conversion.
The Bulldogs took advantage of a fourth-quarter turnover by Parr. Sanchez fired a halfback pass to wide receiver Pedro Chavez, who bobbled the ball after Richardson tipped it, but held on for an 81-yard score.
The Warriors sealed the victory with Seth Valencia's 41-yard rushing touchdown and Brown's 10-yard sprint into the end zone with 37 seconds left.
Amity (10-1, 4-1 SD1-West) competes against third-seed Cascade Christian (10-1, 5-0 SD2-South) next Saturday at 2:15 p.m. at Cottage Grove High School.