Dorothy Lutes - 1927– 2018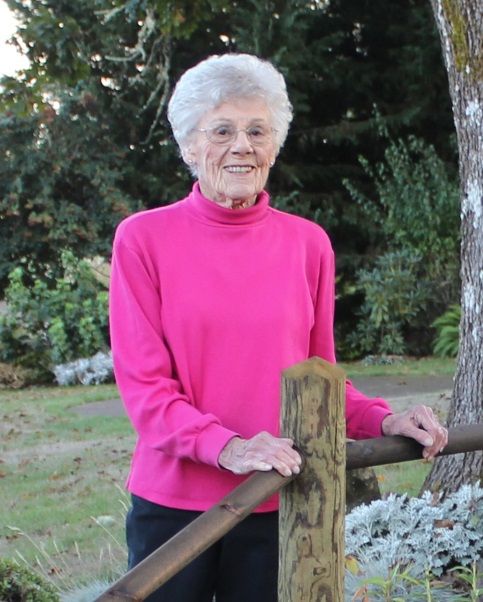 Dorthy Lutes, 91, passed away at home Sunday, July 15, 2018. She was born June 29, 1927, in a farmhouse near Hope, North Dakota, to Clay and Alma (Willmert) Brace. She lived in that area during her early years. In 1934, the family moved to Muddy Valley, near McMinnville. The family moved frequently and she attended Eagle Point, Masonville, Cook and McMinnville High School, among other schools. She graduated from high school in Luck, Wisconsin.
Dorthy attended Eau Claire in Wisconsin for one year. She returned to McMinnville and attended Linfield College, where she met Eugene "Gene" Martin. They were married in 1947. Gene was one of the founders of Field Emission Corp., and many colleagues and their families became lifelong friends. There were many shared camping trips and outings. Dorthy was suddenly widowed in 1966. She concentrated on raising her two boys and maintaining her home and gardens. She learned ski touring and enjoyed getting out in the winter wilderness. She built a new fence and a shop with the help of her parents.
Dorthy married Donald "Don" Lutes in 1975. They moved in 1978 to Kennewick, Washington, while Don worked at Hanford. They returned to their McMinnville home when Don retired in 1986. They enjoyed taking road trips, traveling many, if not most, of the backroads of the western states. Sometimes they took dirt tracks and even a mountain pass closed for the winter. If there was a casino along the way, they might give it a try. In 1980, they traveled extensively in the Orient. The trip was a gift from Don's daughter, Peggy, who worked for Northwest Airlines.
Dorthy loved working on her rock garden and extensive landscaping. She always created fresh flower arrangements for the home. She usually had fresh-baked cookies, confections or pie on hand. The cupboards were filled with her canned fruits and vegetables and the freezer was packed, too. Meals were always a treat; her cooking was renowned. Family, friends and neighbors were always welcome, and hosted graciously. She enjoyed sewing and was an accomplished seamstress. She lived in the same home on the hill for 55 years, and loved looking out the picture window at the giant oak, and across the valley to Mount Jefferson. She loved watching the geese circle in and out of the quarry lake; she wasn't so thrilled with the deer and their eating habits.
Dorthy and Don were married 38 years before Don passed away in 2014.
Those who knew her would recognize a few of her attributes: loving, forgiving, generous, wise, kind, tenacious and bright.
Dorthy was preceded in death by her parents; sister, Caroline Hetrick; and brother, Clay "Bud" Brace (Yayita). She is survived by her sister, Phyllis Filipek; sons, Roger Martin and Robert Martin; step-daughters, Susan Knight (Scott), Peggy Lutes (Mitch), Shelly Strahle and Debbie Resner (Rob); four grandchildren; and seven great-grandchildren.
At her request, there will be no memorial service.