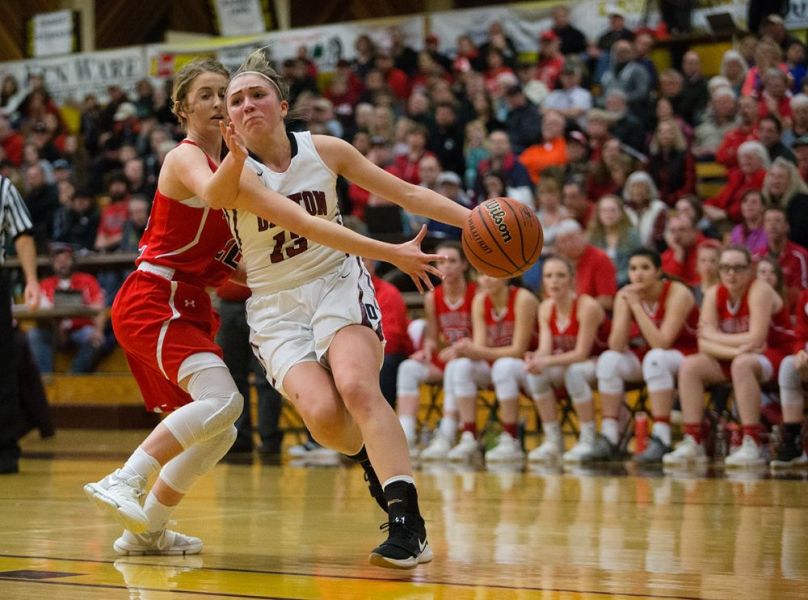 Dayton girls vanquish Coquille, 48-29, advance to state semifinals.
COOS BAY – Shawnie Spink's game-high 25 points propelled the Dayton girls basketball team to a 48-29 state quarterfinal victory over Coquille tonight at North Bend High School.
The Pirates will battle Rainier in tomorrow's semifinal held at the Pirate Palace at Marshfield High School; tip-off is 1:45 p.m.
Spink helped fuel a crucial 14-0 run for the Pirates during the late first quarter and early second quarter. After the Red Devils opened the game with a 7-3 lead, Spink closed the period with seven points to put Dayton up 12-7.
Spink then scored five quick points to initiate the scoring in the second, forcing a Coquille timeout with Dayton leading 17-7.
Jaden Moore's baseline drive made it 19-12, before the Red Devils' Halle Layton split a pair of free throws trim the Dayton lead to six at the break.
Coquille continued pressing the Dayton guards in the backcourt, but the Pirates' patience ultimately yielded easy buckets in the third.
Pirates' head coach Scott Spink credited his squad's perfect press break to experience, saying, "We knew Coquille would come out energy on defense, playing in front of their local fans, so I told our girls to weather the storm. We knew once we gained that lead, we were confident our seasoned veterans wouldn't relinquish it."
Spink's seven consecutive points put Dayton up 37-18 at the 1:16 mark. Kalina Rojas then added two free throws before Coquille's Morgan Baird made two foul shots to trim the Pirates' lead to 39-21 entering the fourth.
Balanced fourth-quarter scoring kept the Red Devils at bay in the fourth, and Dayton cruised to the 48-29 triumph.
Spink added eight rebounds, three assists and three steals to her 25 points. Rojas scored nine points and secured a game-high 11 rebounds, while Moore added eight points and four steals.