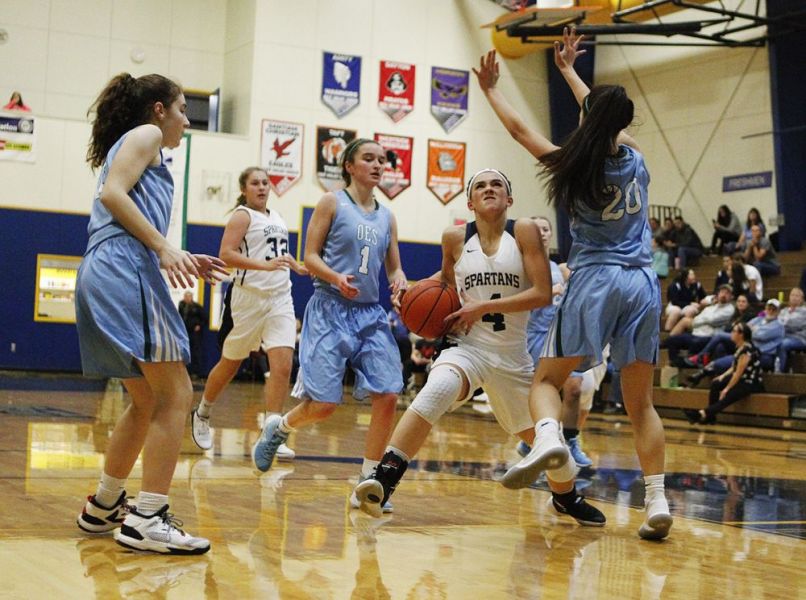 Sheridan girls lose to Aardvarks, 30-24
Sheridan -- Despite a well-rounded performance from Ronni VanZant, the Spartan girls' basketball team fell 30-24 to Oregon Episcopal in the first game of the season. VanZant poured in 10 points, six rebounds, four steals and three assists, but a tough Aardvark defense limited Sheridan in crucial moments.
A slow start stymied both squads entering the match, as OES escaped the first quarter with a 6-2 lead. Sheridan's only two points came on two VanZant free throws.
The Aardvarks stretched their lead to 11-2 on a three-pointer. Sheridan responded with six straight as Kassidy Ellis dropped in a put back, VanZant eurostepped her way to the hoop then scored another lay-up on a fast break. The Spartans closed the half with four free throws, tow each from Ellis and VanZant to enter the break down only two.
In the third, VanZant tied the game at 16 with two more freebies. Sheridan then took its first lead as Olivia Paulk knocked down a lay-in, plus the foul. After she completed the three-point play, Mariah Williams banked in a long-range jumper to give the home team a 22-16 advantage.
Unfortunately, OES rattled off a 14-0 run to finish the third up 30-22.
The fourth became a battle of strategy as the Aardvarks stalled for the initial four minutes. With a frustrating stretch without the ball, the Spartans were knocked completely out of rhythm. While OES failed to score in the ultimate period, the Spartans managed only one field goal in the fourth, and dropped the contest, 30-24.
Sheridan (0-1, 0-0 WVL) looks to bounce back Friday at Clatskanie.