Party on the bypass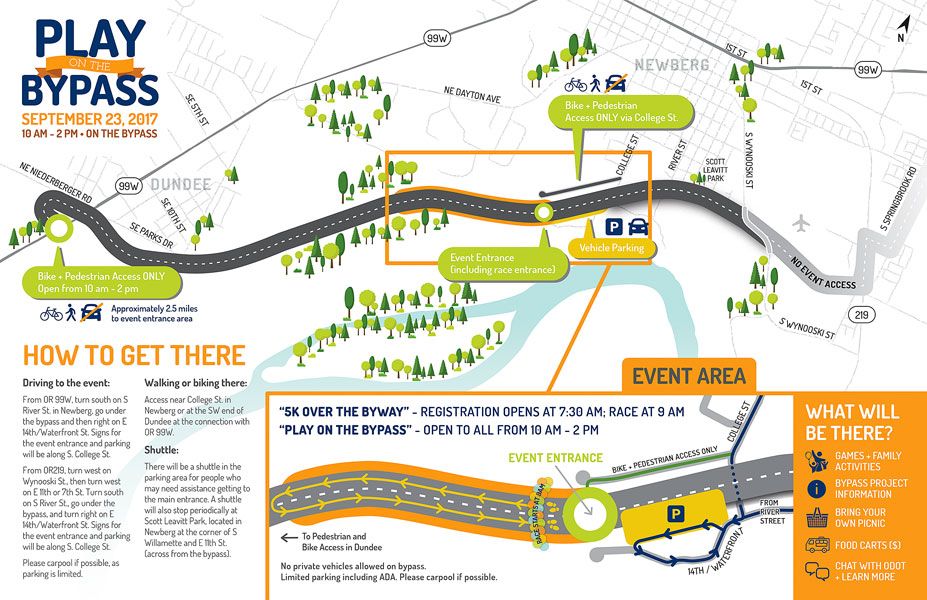 People, leashed dogs, bikes, skateboards, rollerblades and rollerskates – but not cars – are being invited onto the first phase of the Newberg-Dundee Bypass for a Saturday event the state Department of Transportation is billing as Play on the Bypass.
Designed to serve as an open house of sorts, it's set to run 10 a.m. to 2 p.m. It will give the public its first up-close work at a project due for completion by year's end.
Access will be provided both from the "fishhook" ramp at the south end of Dundee and from College Street in Newberg. There is no parking available in Dundee, but there is limited parking in Newberg, where ODOT plans to offer shuttle service from Scott Leavitt Park, at the corner of S. Willamette and E. 11th St., and from a parking area on College Street. However, it is urging people to carpool where possible.
ODOT plans to host games, family activities, information booths and food vendors. It is inviting people to bring their own picnic lunches, but leave the alcohol at home.
A 5K run over the bypass is set to get underway at 9 a.m., under the auspices of the Chehalem Park and Recreation District. Proceeds will benefit the district's Youth Sports Program.
To register in advance at a discount, or get more information, visit cprdnewberg.org or call 503-537-2909.
ODOT will spend the next few months doing final paving and striping, erecting signs and signals. It plans to begin re-aligning Wilsonville Road in late 2018, with completion scheduled for 2020.
The agency is also initiating design work on the next phase. For more information, call 855-791-4507 or e-mail newbergdundee@oregonjta.org.