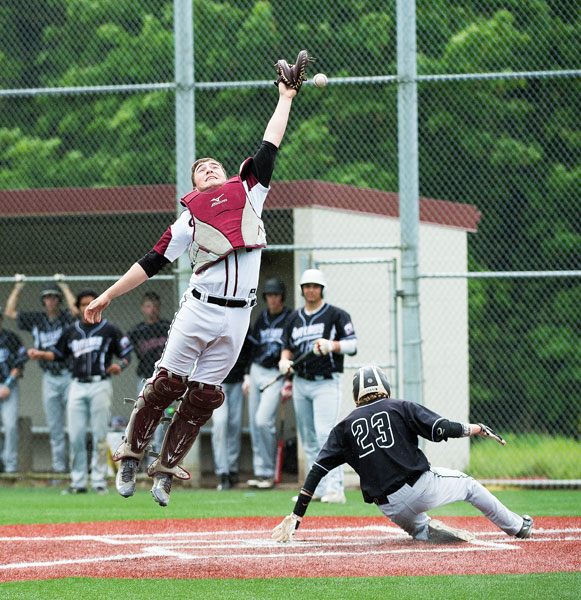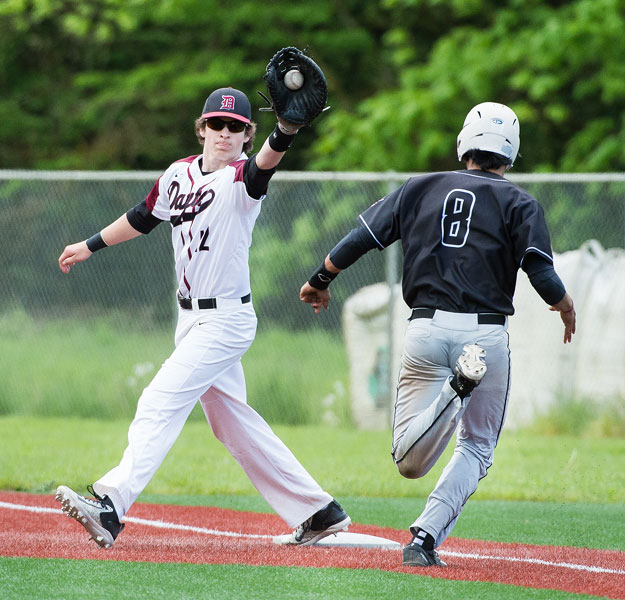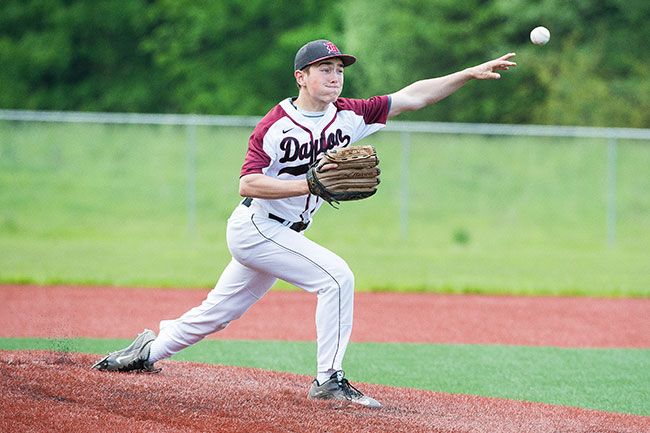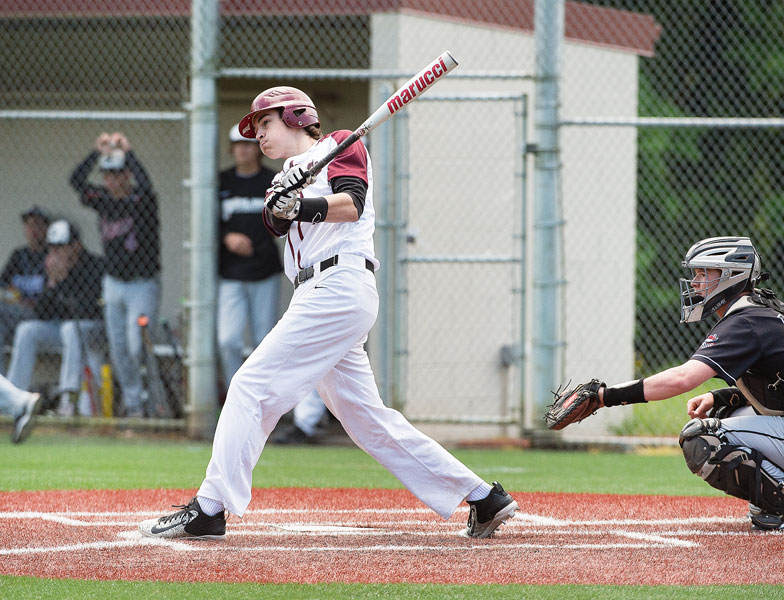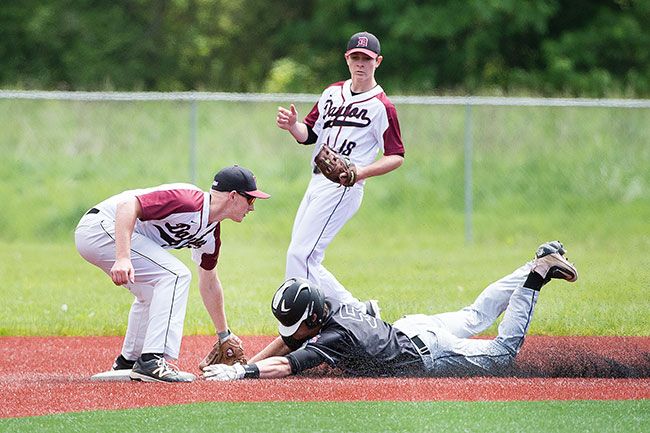 Pirates prove mettle, but drop extra-inning affair to 4A Sisters
DAYTON – "This proves that we can fight with anyone."
Pirates' head coach Dave deSmet believes Saturday's matchup with Sisters proved a valuable barometer for his squad with only a handful of games remaining. The Outlaws entered the contest as the number-one ranked team in their 4A classification, but the locals matched them step for step before ultimately falling 9-6 in 10 innings.
Despite the loss, Dayton (15-3, 9-1 WVL) validated its readiness for the 3A state tournament by duking it out in extra innings with the 4A visitors from Sisters (20-1, 11-1 Sky-Em). While the Outlaws led most of the game, and carried a 6-2 advantage into the seventh inning, the home side refused to crumble quietly. Tristan Fergus launched a three-run, game-tying homer to left, sending the Pirate fans into a frenzy and the match into extra innings.
"We've been doing it all season; we never quit," noted deSmet. "This team was a very good team that we just played. They have a lot of depth at pitching, their fielders don't make errors, so coming back against this team says a lot about us. Then taking them to extra innings says even more about us."
Unfortunately, that Outlaw pitching scope allowed them to snatch the victory. Dayton, minus one of its key hurlers in Kole Stuck, suffering from a shoulder injury, turned to a pair of seldom-used pitchers in Zach Russell and Liam Munoz. The two had mixed results. Russell pitched admirably with his rare chance at toeing the rubber, but was saddled with the loss after allowing three runs in the top of the 10th. He was especially damaged by a pair of infield singles, which prolonged the Outlaw scoring threat. Munoz displayed a strong presence on the mound, notching the final two outs of the ultimate inning.
Fault for the late pitching performance lies on him and his coaching staff, according to deSmet.
"We didn't get our backup pitchers enough practice covering bunts and playing sound bunt defense. We've done pretty well with our starters but without (Kole) today, we relied on some different guys today. I thought they did pretty well, but they just need some experience in certain situations," said deSmet.
Both teams refused to budge in the initial two innings. Josiah Primbs received the starting nod for Dayton, and appeared steady through the first eight batters, allowing only two baserunners. But a recurrent sabotaging theme for the junior pitcher proved a lack of control. Primbs hit six Outlaw batters, including three while ahead in the count.
A hit-by-pitch initiated Sisters' scoring opportunity in the third. Their leadoff batter reached on the errant throw, and after a sacrifice, Primbs plunked yet another batter. Ryan Funk then drilled a run-scoring double to right, before Ryan Cook knocked in two runs with a single.
While the road team grabbed the lead, Dayton continued the quest for its first hit. Outlaw starter Jett Mingus failed to allow a base knock through four innings, and gave up a single baserunner on a walk to Munoz.
Facing a 4-0 deficit in the fifth, Dayton's bats finally perked up. Russell broke up the no-no with a sharply driven single to left, Travis Byerly reached on an error, and after Primbs struck out, Munoz also reached on a miscue. Christian Garcia, who received a start at third base because of Stuck's absence, earned a based-loaded walk to drive in the first run for the Pirates. Sabino Corona sliced the lead in half by sending Byerly home on a groundout to third.
In the sixth, the Pirates narrowly missed a prime scoring chance. Fergus led off the inning with a powerfully hit fly ball to left field. The ball refused to go over, however, landing at the base of the fence. Fergus stumbled while tagging first base, appearing to pull up lame retreating to safety. A pinch runner was sent to relieve him, but was quickly waved off. Fergus eventually made it to second after Byerly walked, but a Primbs' strikeout ended the opportunity.
The seventh inning featured exciting action from both squads. Relief pitcher Jacob deSmet was hurt by two errors, which allowed two Outlaw runs to make it a 6-2 margin.
However, the home team was still alive and had not jumped ship. Three consecutive Pirates reached base to open the bottom half, with Corona slimming the lead to 6-3 on an RBI single, scoring Munoz.
Next arrived Fergus' big moment. On a 3-0 count, he received the green light and turned on a pitch similar to his sixth inning single. But this time, the ball acquiesced. It sailed three feet over the left field fence for the three-run dinger.
Dayton managed two hits and a walk in the three extra frames, but not sufficient to claim the result as they fell to the superior depth of Sisters.
Still, positives remain. Coach deSmet especially values game time against elite programs like Sisters for the long-term benefits.
"It's playoff baseball that gets us experience against good teams that we will face later in the season. Experience against schools like Sisters allows us to have confidence in the playoffs, because we know we can play with anyone," said deSmet.
Dayton has three more games remaining beginning with Wednesday's away contest with Taft. First pitch is 4:30 p.m.