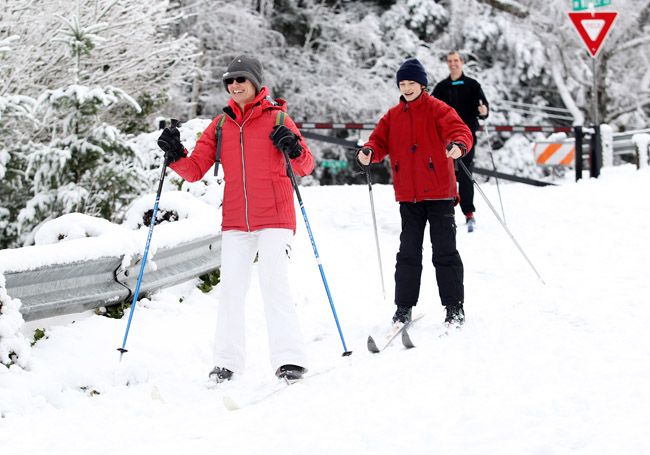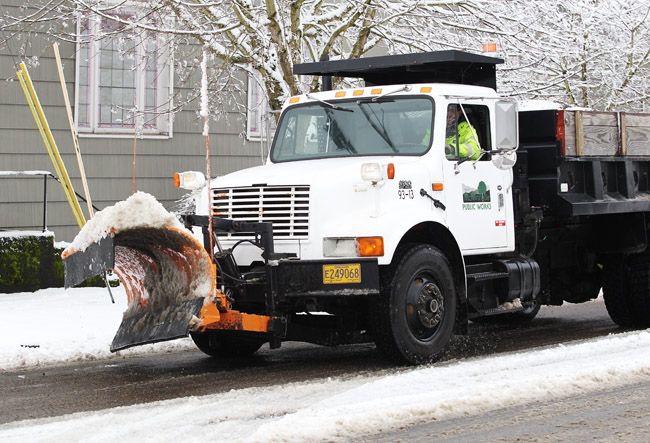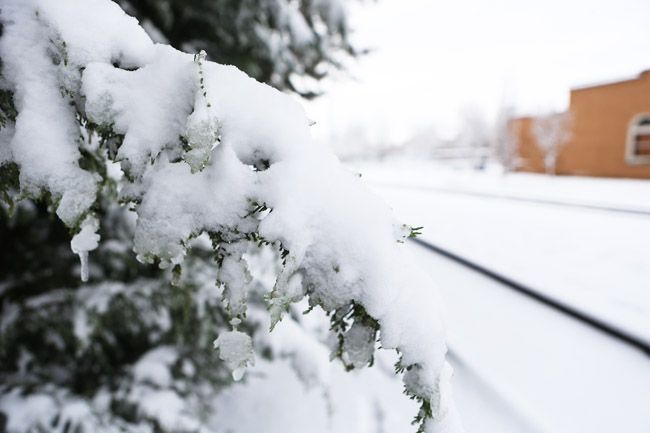 Portland hit hard, but Mac spared worst of the snow
McMinnville received a glancing blow while the rest of northwest Oregon took it on the chin with record snow fall between Tuesday night and Wednesday morning.
Andy Bryant, a hydrologist with the National Weather Service in Portland, said roads were fairly clear around McMinnville compared with Portland and other cities Wednesday morning. While he said the National Weather Service didn't have actual snowfall measurements for McMinnville, it looked similar to Salem -- which got two inches between Tuesday and Wednesday.
"There's a big difference between the snow totals in the Portland metro area and areas farther to the south," Bryant said.
Portland got hit with seven inches to a foot of snow. However, just south of the metro area in Sherwood, residents saw only four inches of snow. Not all the areas south of Portland got off so light. Dallas and Independence had up to seven inches of snow by 2 a.m.
A few more flakes are expected. "McMinnville may see a few snow showers, but we're winding down with our snow totals," Bryant said. "There will be a few snow showers and maybe another inch or so accumulation, but it should be dry and cold at least through Friday."
That is not entirely good news for commuters. The cold temperatures will keep the snow already accumulated on the ground, he said. Daytime highs will remain around freezing, while nighttime lowers will deep to the mid-20s.
"What we have on the ground is going to go through a process of compaction," Bryant said. "There's not going to be a rapid melt -- not until the end of the weekend."
There will be a little thawing, but that could just mean icy and slippery roads for motorists. "It could be messy all the way until Saturday morning," he said. "The roads are pretty much snow covered throughout the Portland metro area. A lot of people stayed home, and that's good for emergency vehicles and others who have to be on the road."
Snow and freezing temperatures obviously pose hardships for the homeless. Alice Darnton of the McMinnville Public Library said Wednesday that the homeless can continue to use the library as a place to get warm during the day, although the library closed at 5 p.m. Wednesday rather than staying open until its usual closing time of 8 p.m.
Some church congregations in McMinnville want to open their doors to the homeless for snow days and holidays when public buildings are not available. The churches would be open on a rotating basis, but Donna Weed, the church secretary at McMinnville First Baptist Church, said that's still in the offing.
"They haven't worked out a schedule yet," Weed said.
The snow Tuesday and Wednesday didn't seem to constitute an emergency, said the Rev. Kathy Neary, the interim Methodist pastor at McMinnville Cooperative Ministries.
"People are really getting around quite well," she said. "It's not quite as bad as we had anticipated. We're not expecting any more snow down here, so I don't think we're going to need any emergency-type things."
The Coop will be open for people to come and get warm when the library is closed for Martin Luther King Jr. Day Monday, Jan. 16.