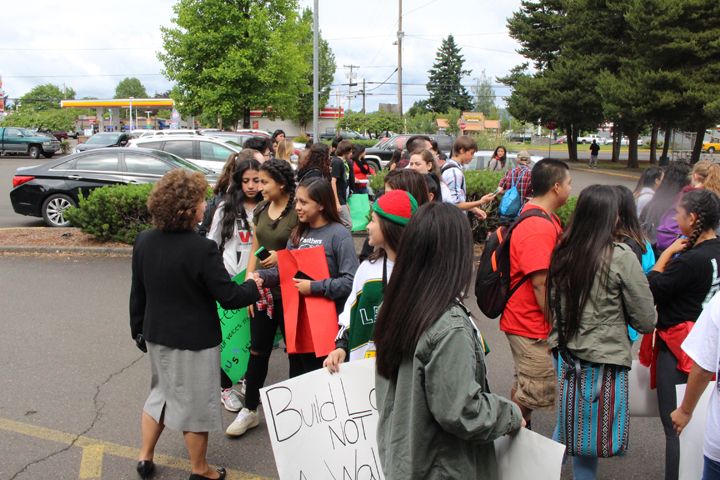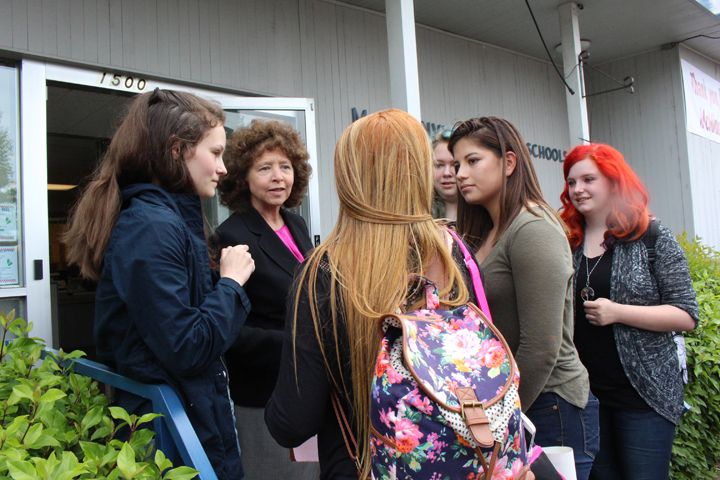 McMinnville students walk out to protest racism
Ariana Grimaldo said she is sick of racism, sick of people treating her as stupid, lazy and "illegal" just because she is Hispanic.
She joined a walkout of hundreds of McMinnville High and Patton Middle School students Friday morning in solidarity with a growing protest against an anti-immigration banner that enraged students at Forest Grove High School.
Someone anonymously posted a banner that read "Build a Wall" on a corridor at Forest Grove High School Wednesday, May 18. The next day, students walked out of the school in protest and -- as word spread through social media -- were soon followed by students at five nearby high schools, including Aloha, Beaverton, Glenco and Hillsboro.
Some parents received emails from school authorities saying the students' absences from class would be considered unexcused.
McMinnville High School Principal Kris Olsen said there will be no such negative consequences for local students.
"There are times when you have to accept these things," Olsen said. "We're in the middle of an election. There's going to be conversations. A lot of these kids are on the verge of being old enough to vote. Some of them already are. There are things they are naturally going to discuss."
Students walked out of class during their second-period classes and marched to Third Street in downtown McMinnville before looping back to the school district office on Baker Street, where they held a brief rally before eventually returning to their schools and classes.
"We started this as a reaction to the racism we face," said Grimaldo, 16. "We are more than the color of our skins. We're not out here because we're Mexicans. We doing this for all Americans."
While the banner at Forest Grove High was quickly removed, she said, the sentiments that have come out about immigrants during the presidential primary through the rhetoric of presumptive Republican nominee Donald Trump cannot go unchallenged.
Trump proposes building a wall along the border of the United States and Mexico and compelling the Mexican government to pay for it. He has also said that Mexican immigrants are often criminals, rapists and drug dealers.
Unfortunately, Grimaldo said, too many people believe him.
"They need to have their eyes opened," she said. "We face a lot of racism, a lot of stereotypes. People think we're dumb just because we're Hispanic. They think we're lazy. In advanced-placement classes, we're always the odd ones out. We walk in, and people will look at us like, 'What are you doing here?'"
The banner in Forest Grove lit a fuse, said Andrea Montiel, 16. "We finally got fed up," she said. "Forest Grove woke us up. This is just the beginning. We're going to form a committee and continue to fight against racism."
Erica Raya, 17, said she was one of the organizers of Friday's walk out. "I had friends in Forest Grove who told me what happened there," she said. "I was annoyed that our school wasn't doing anything."
Olsen said there is always concern during student protests that extremists, on one side or another, will disrupt the situation and pose a threat to participants. However, he said, Friday's walkout went peacefully despite a wide diversity of opinion on Trump and immigration issues. He added that protesters were diverse as well. It was not just a protest by Hispanic students, he said.
"It was a pretty mixed group," he said. About 150 students from Patton and about 500 high schoolers took part in the demonstration, he said.
Grimaldo said protesters faced some hostility as they marched through town. "We got a lot of negative reaction," she said. "People flashed us inappropriate fingers, used inappropriate language. Someone told us we were skipping out on our education. Actually, this a step forward in our education."
None of the hostile reactions came from school district administrators. McMinnville School District Superintendent Maryalice Russell greeted the protesters outside her office and said they were indeed furthering their education. "You're taking a stand," she told students. "You're standing for the importance of acceptance and tolerance for everyone, and I couldn't agree with you more."