County provides second chance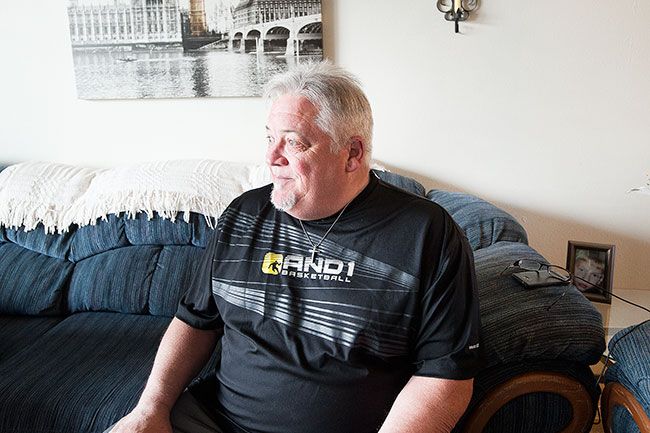 Sober now for a year and nine months, he holds his hand high above his head to describe where he used to be.
"I used to be living up high, but I was drunk all the time," he said. "Then I crashed at the bottom before getting sober.
"Now, I'm somewhere in the middle. But I can tell you there's a lot more happiness here, peace even."
Part of Robertson's contentment results from having a place to call home again after six years on the street.
"I'm not proud of being homeless, and letting alcohol get the best of me, but if telling my story helps someone else, I'll share it," Robertson said. "People can't just sit on the couch and pray for God to help them; they have to pray and then get off the couch and do something for themselves."
One of the things Robertson did to help himself was attend one of Jay Jaeger's Ready to Rent classes, offered through the Housing Authority of Yamhill County.
He heard about the program while he was staying at the Gospel Rescue Mission. He said it offered him a second chance.
With the class came some homework and some soul-searching. But it ultimately inspired him to turn his slip-ups into stepping stones, by taking responsibility for what he'd done wrong and setting about the task of remedying his mistakes.
"I might be in an apartment right now, but it is mine and I take good care of it," he said, the fresh vacuum tracks on the clean carpet and everything in its place back him up. "I've been trained to be a good renter."
The class taught him how to fill out rental applications and how to account for his credit history. "It also taught us about our rights and responsibilities as tenants; both are important," he said
Robertson said he learned how to manage his money, too.
"I'd been broke for so long, one of the things I gained was learning how to take care of my money," he said. "I don't even have to be cheap, just sensible."
The first thing he did when he moved in was put up a picture of Jesus, to remind him where his strength comes from. He furnished the rest by shopping at low-cost venues like Habitat for Humanity.
"I keep it really clean," he said. "It's just really nice and it feels like home. It's mine and I'm very proud of it."
Robertson is a successful example of the way the Ready to Rent program helps people turn their circumstances around, Jaeger said.
He said it's designed to help clients overcome barriers in the eyes of landlords — barriers like bankruptcies, foreclosures, damaged credit and a criminal record. "We tenderly walk through that and get firm about what needs to happen today to get beyond the past," he said.
"The program gives people some hope," Jaeger said. "Life circumstances have suppressed some people to where they have no hope left, but a program like this can give them the understanding, tools and skills to move forward. We teach people to set and attain goals, to clearly show their rental history and to consider how they present themselves."
Jaeger said it isn't uncommon to hear a client tell him, "You've taught me things I haven't been taught before."
He said, "We teach them how to put together an application, including letters of explanation where they are needed. We teach people to take responsibility and right what they've done wrong. We teach them to show a potential landlord what they have done to correct their past choices."
Jaeger said he identifies with people who have a past to overcome and is happy to help them achieve that. "I do believe people can and do change, and this program offers some techniques to do that," he said.
The program provides an extra incentive to landlords willing to take a chance — a $1,500 guarantee in case they rent to someone with a Ready-to-Rent certificate and it goes wrong. It's been operational for two years now, he said, and the county hasn't had to pay out yet.
"One of the key things the class teachers people is how to communicate effectively with landlords," Jaeger said. "We teach students to be forthcoming and proactive, because without communication, problems develop."
Property managers Kevin Stutheit and Sundee Buchanan appreciate when applicants have a Ready-to-Rent certificate.
"I've noticed tenants who have completed the program keep their apartments cleaner and pay their rent on time, or early," Stutheit said. And the guarantee makes it easier to take a chance.
"For sure, the program is helpful to the tenants," he said. "But it's also helpful to property owners."
Buchanan is another local property manager who believes in second chances and in the Ready to Rent program.
"Jay is a great instructor," she said. "He's very helpful and informative.
"If you have any issues or questions, he has good answers for you. He is willing to go that extra mile to help people."
She said, "Everybody deserves a second chance. I truly do believe that.
"What I tell people is, once I give you the second chance, and you mess that up, I will ask you to leave and there won't be any ands, ifs or buts about it. But I've not ever had to do that."
The next series starts Tuesday, May 7. Sessions run 9:30 a.m. to noon Tuesdays and Thursdays.
To register or for more information from the tenant perspective, call 503-883-4308. Landlords interested in learning more can contact Judi Herubin at 503-883-4335.