Michael Hampton - ' Arts' majors can find jobs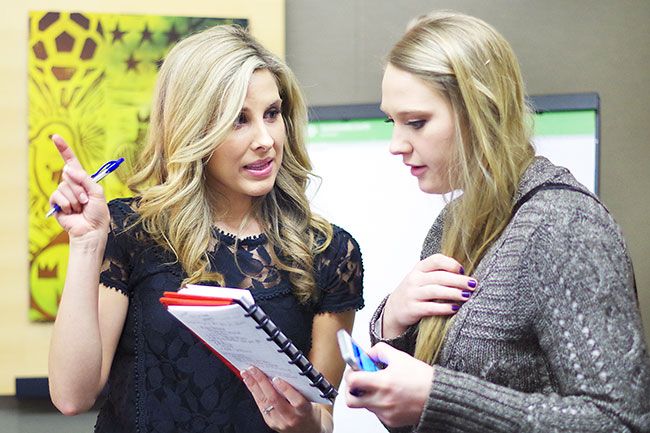 It's important to remember that students with liberal arts degrees are prepared to make desirable contributions in the workplace and can become successfully employed, regardless of the label attached to a bachelor's of arts or science degree.
Recently, Linfield College conducted its annual scholarship day for prospective students. As part of the programming, I hosted a table for parents and students inquiring about career development.
I answered several questions beginning something similar to this: "My son is very interested in drama, was in several plays in high school and wants to study theater arts. We are trying to talk him out of it because we want him to have a job when he leaves Linfield. Which degree should my child pursue so he actually gets a job?"
My answer in this particular case? "Theater arts."
The basis of a liberal arts education, regardless of discipline, is to gain critical thinking skills, experiential practice and a knowledge base for living in a global society. If a student has an interest and passion in a subject, the likelihood of doing well and succeeding socially, academically and experientially increases. As students are exposed to situations that help shape their career direction, they are encouraged to find an internship, research project, study abroad program or volunteer opportunity to apply their knowledge in a variety of settings.
The liberal arts approach will lead to employment.
As part of my job, I contact hundreds of employers looking for certain qualities in the candidates they hire. At the top of the list is the ability to communicate verbally with people inside and outside their organizations; work in a team structure; make decisions and solve problems; plan, organize and prioritize work; obtain and process information; and analyze quantitative data.
A liberal arts education that provides opportunities to apply this knowledge allows students to discover and use the "soft skill" qualities employers want. In visiting with 75 professionals in the sport-management industry as part of a career exploration course during Linfield's January term, all staffers spoke of the importance of these skills; not one mentioned a specific degree for success in their industry.
Our hosts at Nike and Adidas (including some Linfield alumni) had earned liberal arts degrees in psychology, English, business, sociology and communications. They are successfully working in human resources, product development, sales, NBA marketing and retail environments.
A group of Linfield alumni employed in the local wine industry all recently pointed to their liberal arts degrees including math, art, communication arts, business and biology as great foundations for their workplace success.
The top five industries to employ 2012 college graduates — educational; professional, scientific and technical services; health care and social assistance; federal, state and local government; and finance and insurance — hired many for positions that required bachelor's degrees, but not in specific disciplines. The industries require certain disciplines for some jobs; however, it takes many employees with diverse backgrounds to function in most industrial settings. According to the Georgetown University Center on Education and the Workforce, nearly 60 percent of all jobs in the U.S. economy require higher education.
Linfield alumni are successfully contributing to the workforce with their liberal arts degrees.
For example, a class of 2000 graduate with a degree in English taught for three years in Japan after college, entered the business development field, then focused on technology and now is a senior digital forensics analyst for a firm in Washington, D.C.
An alumnus with a bachelor's in history is a writer, managing editor and owner of a successful online company.
A 2001 general science graduate attributes her success as a recording artist to her degree. "I entered Linfield planning to use a general science major as a step toward medical school. The hours I spent in the chemistry lab might seem unrelated to my current career, but it was in those science classes that I developed discipline and a sense of wonder for the natural world. Linfield challenged me to question my humanness from all angles and fostered communication and organization skills that have been crucial to both the creative side and the business side of being an artist."
In today's jobs, there is no magic degree. Of course, we want our bridge designers to have engineering degrees and our medical providers to have specialized knowledge. However, in most career fields, the particular degree is not a barrier to meaningful employment. Any major can add value in some capacity to all industries.
Guest writer Michael J. Hampton is senior program director for career development at Linfield College. He is an avid runner and stained-glass artist, and enjoys tinkering with home improvement projects. He lives in McMinnville with his wife, Laura, and two children, ages 9 and 11.