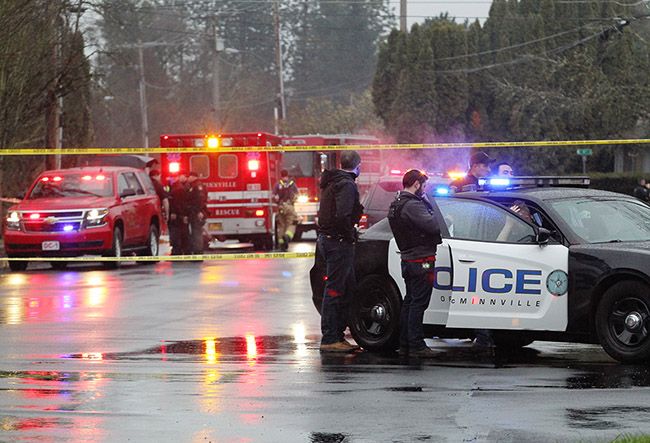 Suspect identified in death of woman, wounding of man
A 15-year-old youth was taken into custody a short time later, after reportedly turning himself in at the county courthouse around 5 p.m.
The victims were identified as Kimberly Lynn Forness, 43, and Ron Spiker, 50. The 15-year-old has not yet been identified.
Police said the youth was currently undergoing medical treatment as of Thursday at press time. They said he would be formally charged upon release back into their custody.
According to police, the three were not related, but were living together in a residence at 424 N.E. Oregon St., where the shooting occurred. It is located in an older neighborhood tucked between Lafayette Avenue and Joe Dancer Park, on the west side of the river.
John Vineyard and Sharon Hanson own the home, according to the Yamhill County Assessor's Office. Forness' Facebook page depicts her and Vineyard as being in a relationship.
Forness worked at Hopscotch Toys in downtown McMinnville. Many comments of support and remembrance were written in the comment thread to this post on the store's Facebook page:
"To all of our lovely Hopscotch families who may have heard the news about Kim. Pip and I are both here at the store today, so if you feel like you need a hug, we do too ... "
There are no outstanding suspects, according to Capt. Tim Symons, thus the community is at no further risk.
The original 911 call was of a shooting at the Oregon St. residence. Symons said Thursday evening he could neither confirm nor deny if Forness had been shot until after the results of an autopsy are released.
Police have provided no additional details to date. However, according to Yamhill Communications Agency radio traffic:
About 5 p.m., medical personnel responded to an "electrocution" or a "shocking" one block north at 310 N.E. Oregon St. Upon arrival, they discovered a man at that address suffering from gunshot wounds to the face and legs, and police were notified.
Police determined Spiker was shot at 424 N.E. Oregon St., and discovered Forness' body there. The means of her death has not yet been released.
Medics described Spiker as conscious, breathing and alert. An air ambulance wasn't available, so he was transported to Willamette Valley Medical Center by McMinnville Fire Department ambulance.
He was later transferred to the Oregon Health & Science University, one of Portland's two Level I trauma centers, according to a GoFundMe account established in his behalf.
About 5:15 p.m., the male juvenile showed up at the courthouse. He said he had shot and killed someone, so police were called.
Several blocks in the Oregon Street neighborhood were cordoned off while officers conducted their investigation, and a member of the county's Crime Victims Services was asked to report to the scene.
Symons said McMinnville police had received valuable assistance from the Oregon State Police, OSP Crime Lab, Yamhill County Sheriff's Office and Newberg, Yamhill and Amity police departments, and wished to extend their thanks.
Spiker's GoFundMe account can be accessed at www.gofundme.com/horrible-tragedy-to-our-dad.
McMinnville School District officials made their staff aware of the incident Wednesday night. Superintendent Maryalice Russell said she wanted them to be prepared to talk with students who might have worries or concerns over the incident and associated law enforcement activity.
In addition, the district had to move a bus stop Thursday morning, because streets were still blocked in the affected neighborhood.
"Our heart goes out to everyone affected by this," Russell said. "We hope the family and others in the community will be able to heal."
News-Register reporter Starla Pointer contributed to this report.