Howard D. Struxness 1926 - 2023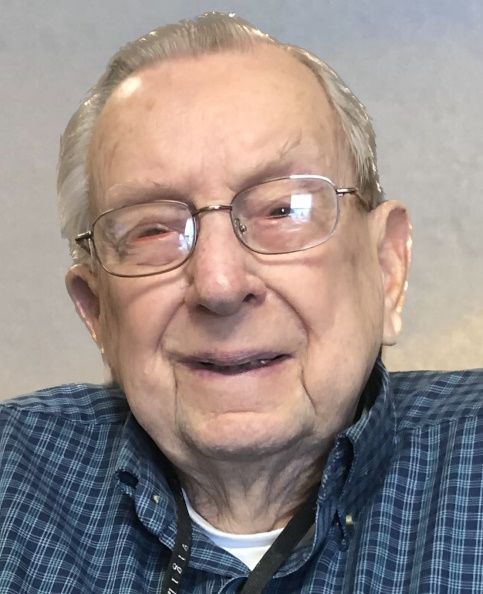 Howard Delaine Struxness passed away peacefully, surrounded by loved ones, on Sunday, October 8, 2023, at Marquis Tualatin Assisted Living in Tualatin, Oregon. He was born May 27, 1926, in Ambrose, North Dakota, to Gustav A. and Stella E. (Stennes) Struxness. When Howard was 12 years old, after a vacation in Oregon where they fell in love with the lush beauty of the Willamette Valley, Howard's family left North Dakota and moved to McMinnville, Oregon.
In 1944, in the midst of World War II and his senior year at McMinnville High School, Howard and eight of his classmates pre-enlisted in the U.S. Navy and were allowed to complete their senior year and graduate prior to reporting for duty. Howard was serving aboard the USS Marathon when it was torpedoed by a Japanese submarine in July of 1945 off the island of Okinawa, and afterward when it sailed to Nagasaki, Japan, to evacuate prisoners of war after the atomic bomb was dropped there. Howard was honorably discharged from the Navy in June of 1946, and returned to McMinnville, where he enrolled at Linfield College. He was a member of the Delta Psi Delta fraternity and served as its President during his senior year. He met Patricia Prewett in their freshman year English class, and they were married on April 22, 1951.
After graduating from Linfield, Howard joined Standard Oil Company as the Assistant Manager of its service station at Second and Baker streets in McMinnville, and became a Chevron dealer in 1958. He owned and operated the station for many years. After several years as the office manager at First Federal Savings and Loan Association, Howard joined West Valley Farmers Co-op (now Wilco), where he worked until his retirement in 1989. He greatly enjoyed the many friendships made there with both his co-workers and the local farmers who were his customers.
Howard was a member of the McMinnville Jaycees, the Rotary Club and the McMinnville Elks Lodge. Through his membership in the Jaycees, Howard was actively involved in many public service and community improvement projects. He also had many fond memories of social activities with the Jaycees, including annual family camping trips at Scout Lake and get-togethers with the Exhausted Roosters, a social group for retired Jaycees and their spouses.
Howard was a man of the Willamette Valley. He and Pat raised their four children in McMinnville. He loved going for Sunday drives with his family. He loved cutting and splitting wood, hauling it home in his Chevy pickup truck, and stacking it perfectly. When he was at home, he was always busy; his house, yard, garden and all his vehicles were kept in immaculate condition. He loved his garden and sharing the abundance of vegetables, berries and flowers with family members and friends. Summers were a busy time for Pat and Howard as they took advantage of all the Valley had to offer, making jam, syrup and juice, and canning fruits and vegetables. They spent many weekends camping at Suttle Lake, Scout Lake, Neskowin and Pacific City, and always enjoyed the annual trip to visit Pat's sister Esther's family on their farm in Blaine, Washington, all places held dear in family memories.
Music was a source of joy for Howard. He sang with a local barbershop quartet for many years, listened to all types of music at home and, although not formally trained, enjoyed playing around on the musical instruments at home, including the piano, drums and accordion.
For the past seven years, Howard resided at Marquis Tualatin Assisted Living with his beloved wife, Pat, who passed away in April 2019 on the day after their 68th wedding anniversary. Howard became a much-loved resident at Marquis; his daily check-ins with his many pals on staff never failed to bring a smile and a joking response. The family would like to thank the caregivers and staff of Marquis Tualatin who cared for him so well, and cared about him so much.
Howard was a truly nice and wonderful man. With his curious nature, optimistic attitude toward life, twinkle in his eye, ready smile, and easy, genuine and friendly manner, Howard brought a little happiness to everyone he crossed paths with.
Howard was predeceased by his parents; his brother, Gordon (died 1926); his wife, Pat Struxness; his son, Jeff Struxness; and his grandson, Jimmy Zadnik. He is survived and greatly missed by his children, Greg (Martha) Struxness, Pam Zadnik, Ron Struxness, and Jeff's wife, Ann Struxness; his grandchildren, Jantina, Jason, Heather, Abigail, Rachel, Beth, Gina and Jamie; nine great-grandchildren; and one great-great-grandchild.

A memorial service will be held at 2 p.m. Friday, October 27, at the Chapel at Macy & Son Funeral Directors. To leave condolences, please visit www.macyandson.com.