Tree maintenance is up to homeowners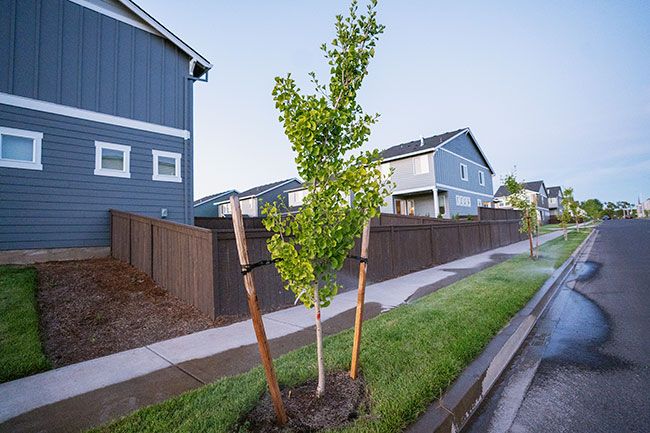 McMinnville's Landscape Review Committee has noticed confusion among community members over the care of "street trees" and wants to get the word out that watering and maintenance are the responsibility of the property owner.
Street trees are defined by city code as "located within the street right-of-way," the majority of which are neighborhood trees planted between the sidewalk and curb.
When a new development or subdivision is constructed, planted trees are the responsibility of the builder for one year, then maintenance falls on the property owner.
"Typically there's a maintenance period, a guarantee for a period of time that the original installer is responsible for replacing trees," Senior Planner Tom Schauer said. "Once somebody buys a house, I think sometimes there's not a lot of awareness that those are up to the property owner to maintain."
Committee vice-chair Patty Sorensen worries there's a disconnect between city rules and public knowledge.
"My big concern is that folks don't know what their responsibilities are," Sorensen told the News-Register. "I've never had anyone tell me what the responsibility is for the street tree."
City code states that street tree maintenance includes "necessary watering, weeding, pruning and replacement." Property owners are required to prune to allow at least eight feet of clearance for pedestrians.
While watering is the primary need, Sorensen has noticed other maintenance issues that could harm trees.
Recently planted trees often have bamboo supports and ribbons left over from transport that need to be removed before growth is affected, Sorensen said.
"Those are there to help the transport of the tree," she said of ribbons and supports. "What happens is the tree grows and the ribbon grows into the tree and scalds it and creates cracks, and that's where you get bugs, insects, viruses, all kinds of things in there and the tree grows irregularly."
Property owners should also remove new growth from the base of the tree that emerges after planting, Sorensen said.
"That is sucking away energy from the tree."
Another maintenance aspect that has been lost in translation is the requirement to obtain a permit for heavy pruning, removal and replacement of street trees.
"A lot of folks, I don't believe, understand that when a tree dies, you don't just cut it down," Sorensen said. "That is under a city ordinance, and you need to come (to planning) and get the whole process going."
Property owners are required to fill out an application with the planning department, which is then reviewed by the landscape committee. The committee is currently working on changes to city code which will ease the requirements slightly, allowing for some cases to be reviewed and approved by city staff without going before the committee, Schauer said.
"We're working on kind of defining two classes of simpler permits that would be done administratively."
The committee is hoping to present the changes to city council in August, Schauer said.
The rules around maintenance and replanting aren't just city rules, they are crucial to maintain a healthy environment, Sorensen said.
"When houses were built, we took away land that was breathable and we replaced it with asphalt, concrete, all of that and the trees are a part of maintaining a healthy environment for us to be living in," she said. "You keep cutting those down and we're not going to have the environment that we're going to want.
"The more trees, the better it is."