Ann Marie Hoberg Myers 1937 - 2023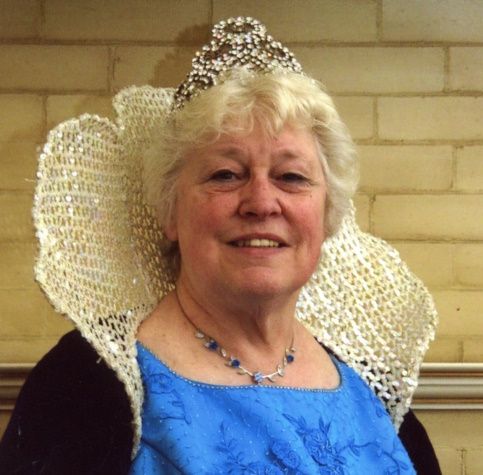 Ann Marie Hoberg Myers passed away peacefully June 24, 2023. She was born April 2, 1937, in San Francisco, California, to Annette Bender Hoberg and Frank Hoberg.
Ann grew up in Cobb, California, the youngest of seven cousins growing up at Hoberg's Resort. She loved living there, having the run of the resort, meeting famous people, and later working there. She met her husband, John, when he was the wrangler for the resort. They eloped on August 14, 1960, to Yerrington, Nevada. They raised three children, Matilda Marie, Eric Paul, and Heidi Elizabeth. In 1964, they moved to Yamhill, Oregon, where she lived until her death.
Ann was a proud 60-year member of the Order of Eastern Star, serving as Worthy Matron many times, Grand Representative of Illinois and Utah, and Grand Ruth. She was active through her last days. Ann was a long-time member of Nydia Temple #4, Daughters of the Nile, serving as Queen. She was proud of the service she was able to provide to the children at Portland Shriners Hospital through this organization. Ann was also a long-time member of the Pythian Sisters, serving as Chief many times, and as Grand Secretary.
Ann loved spending time with her grandchildren, Charlie, Scottie, Sydney, Sierra, Randee, Paul, Eric, Ian, and Zoey; and her great-grandchildren, Hadley, Juniper, Ellowyn, Grizzly, and Xander.
Ann was a gardener, a painter, an artist, a horse rider, a rafter, an adventurer, a crafter, a volunteer, a dancer, a bowler, and so many other things. She did the things she wanted to do in life up to the end, when she got to ride in a helicopter.
Ann was preceded in death by her husband, John; and her son, Eric. She is survived by her daughters, Matilda (Lew) Evans of Collbran, Colorado, and Heidi (Kody) Justus of Baker City, Oregon; daughter-in-law, Frances (Eric) Myers of Yamhill; grandchildren, John "Scottie" Myers, Paul Myers, Eric Myers, Ian Myers, Sierra Koehler, Charlie (Montana) Harris, Sydney (Keegan) Thompson, Randee Justus, and Zoey Justus; and five great-grandchildren.
Memorial Services will be held at 2 p.m. Saturday, July 8, 2023, at the Newberg Masonic Hall, 402 E. Sheridan, Newberg, Oregon. Memorial gifts may be made to Newberg Chapter #55, ALS Fund Ann Myers, 402 E. Sheridan, Newberg, OR 97132, or Nydia Temple #4, CEF Ann Myers, c/o Jennifer Moyer, 1431 N.W. 29th St. Gresham, OR 97030. These gifts will go to either ALS research or to the Shriners Hospital. To leave condolences, visit www.macyandson.com.