Sally Geistweit 1927 - 2023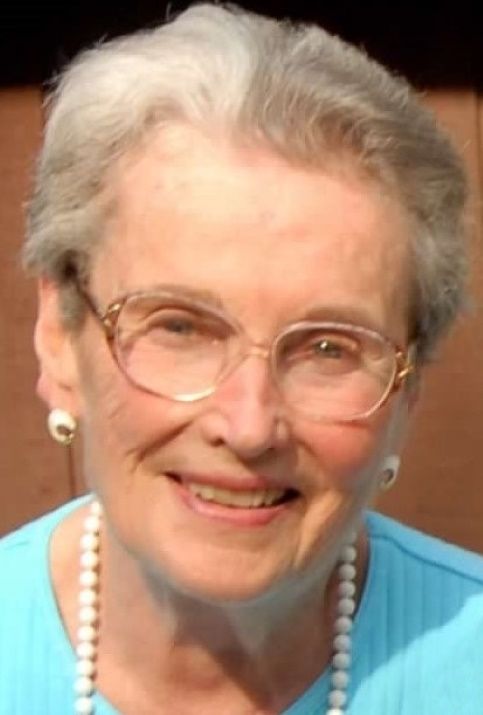 Sally Geistweit brought joy and light to the world through her own music and her support of all the performing arts. She was born Sarah Elizabeth to Harold and Helen Geistweit on December 12, 1927, in Cincinnati, Ohio. As the daughter of an American Baptist minister, her childhood included periodic relocation to Elmira, New York, and Oakland, California. Some of her fondest memories of her early years were summers spent on her Aunt Mary's farm in Rochester, New York. She learned her independence from her mother, who made sure that Sally and her sisters had this special time even if their daddy was called to remain with his parishioners. That independence served her well in a lifetime of service to her communities, which she taught to all her children with her example.
Sally majored in music at Redlands University in Southern California, where she met Thomas Yonker from Cleveland, Ohio, who was studying for a lifetime of teaching after realizing what he did not want to do with his life during his World War II tenure in England as part of the Army Engineer Corps. They married on June 14, 1949, and spent time in Durham, North Carolina, and Phoenix, Arizona, while Tom worked on his graduate degrees. The early years of their four children were spent in Modesto, California, where Tom taught high school and junior college. In all these locations, Sally worked as a church organist and taught private piano lessons, along with raising her children. Sally worked tirelessly to ensure that everyone in the family was comfortable and enjoyed the itineraries of the family's summer trips in a camper and trailer throughout the western United States as an escape from the heat of California's Central Valley. It was during these trips that everyone developed a love for the green landscape of Oregon.
In 1970, Sally and Tom brought their family to McMinnville, Oregon, when he became a professor of education and part-time chaplain at Linfield College, from which three of their children graduated. For 30 years Sally served as the organist and bell choir director at McMinnville's First Baptist Church and taught piano to numerous youth and adults, including her grandchildren. She and Tom divorced in 1984, but remained friends until his death in December 1999. During that period, she traveled extensively throughout the United States, Europe, New Zealand and Russia with friends and her sisters, but was equally present for the activities of her 15 grandchildren in Oregon, Michigan and South Dakota. She had extensive scrapbooks for all of them and took pride in their various talents.
In June 1996, Sally bought a home in the Rock of Ages/Valley View Retirement Community, where she was an active member until November 2022. She spent the remainder of her life in their assisted living facilities until she passed away peacefully on May 4, 2023, at the age of 95. Blessed with good health and a desire to serve, Sally spent her 26+ years in Valley View, continuing her music ministry at First Baptist and teaching. She expanded the ministry to include the electronic keyboard in the Yamhill County Community Cantata Christmas Choir that benefits the YCAP food bank. Sally also organized the regular collection of the residents' newspapers for the Lions Club Scholarship paper drop, the annual sale of Mac High Grad Night Christmas wreaths to all the residents, served on the Advisory Board of the local Salvation Army, was a faithful long-term volunteer for the Linfield Partners in Progress fundraising campaign (always done before everyone else), and attended every performance of the choirs at Linfield and McMinnville High School as her travel schedule would permit. She continued to travel domestically and abroad with her children and grandchildren, as well as the McMinnville History Club, well into her 80s, serving as a model to everyone of how to represent Oregon and the United States. Who says that a grandmother can't bunk at a youth hostel in New Zealand?
Sally is survived and will be greatly missed by her four children, Kathleen (Steve) Bernards of McMinnville, Michael (Robin) Yonker of Portland, David (Char) Yonker of Big Rapids, Michigan, and Lynde (Stephen) Rockwell of Pierre, South Dakota; as well as 15 grandchildren; and 17 great-grandchildren.
A celebration honoring her life and music will be held at 11 a.m. Friday, June 9, 2023, at First Baptist Church in McMinnville, with a reception to follow. Memorial contributions may be directed through Macy & Son Funeral Home to First Baptist Church, Rock of Ages Endowment Fund, or Yamhill Enrichment Society's JOY Music Program.
To leave online condolences, please visit www.macyandson.com