Curious By Nature: Education program gives kids ways to learn in, and from, the great outdoors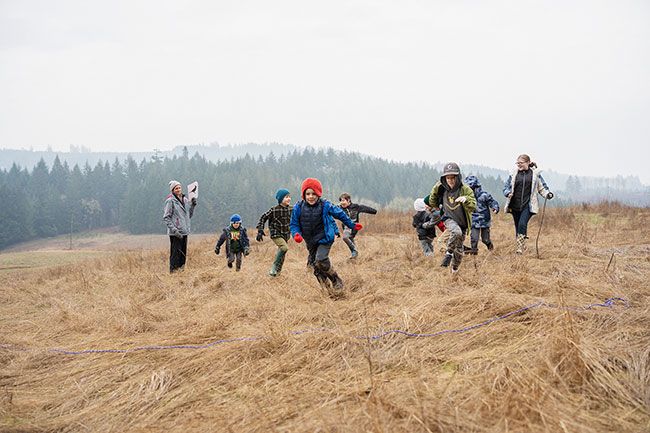 Children need to get outside and immerse themselves in nature, according to the founders of Outdoor Education Experiences. They'll learn about the bugs and bigger animals, the trees and the grasses, the seasons and the weather, and come to appreciate the world around them.
"Nature inherently teaches us things," said Neyssa Hays, who started the outdoor school program in 2015 with fellow teacher Theresa Crain.
The two women first worked with the Yamhill Watershed Council and then-director Luke Westphal. The council had been doing some outdoor activities before that, they said, but few environmental programs were available to kids in the area.
In 2017, the educators branched out on their own. Outdoor Education Adventures officially became a nonprofit in 2020.
"We are passionate about it," said Crain, who also helps with McMinnville School District outdoor experiences for elementary students.
Over the years, more than 2,500 children have taken part in programs Outdoor Education Adventure offers a variety of programs: one-day camps on non-school days, in-depth multi-day camps and field trips in summer, homeschool days Monday mornings and after school programs for children 5 to 12 on Wednesdays.
A Wilderness Explorers Club for adolescents and teens meets on the first Saturday of the month. And this fall, Outdoor Education Adventures will add a weekly after school program at each middle school in McMinnville. Three times a year, members will take field trips to remote locations, Hays said.
"That age group needs things to do," she said. "We're looking for grants and donations so we can run it as close to free as possible; we don't ever want money to be a barrier."
For the youngest children, OEA offer the Maple Grove outdoor preschool, which started in the fall of 2021. Heidi Hoskins and Amy Nelson are the techers.
OEA after school programs take place at Maple Grove, which is located in southeast McMinnville.[See related story: Kids make discoveries at innovative preschool]
The preschool and most of the camps and classes are conducted outdoors, rain or shine. In addition to the Maple Grove site, they take place at Miller Woods, Metsker Park, Ewing Young nature area operated by Chehalem Parks and Recreation, and the "Planet to People" site on Meadow Lake Road west of Carlton.
The latter is being developed as a retreat center, but much of it remains untouched, perfect for exploration, Hays said.
At each site, the program makes use of covered areas along with trails, woods, meadows, creeks and ponds — whatever the natural landscape has to offer."We dedicate time to sharing, teaching and observing," Crain said. "We spend a lot of time exploring."
They also engage children in games such as hide-and-seek and tag to demonstrate predator and prey behavior, for instance.

Outdoor education has numerous benefits, she said. Students see natural spaces that haven't been shaped by man; they get to feel the fresh air, sunshine and, sometimes, rain.
Activities can range from running games to dipping water from a pond. "It's gross and fine motor development for kids," she said. "Lots of physical movement."
In addition, she said, "nature is calming." Being outdoors reduces anxiety, and studying nature closely improves memory and concentration, as well.
She and Hays added that outdoor programs give students a chance to develop social skills through their interactions, which are less structured than a traditional classroom.
The leaders fondly remember spending hours exploring nature when they were children.
Crain grew up in a rural community in the mountains of California. She spent much of her time exploring her family's five acres.
Hays grew up in Yamhill County and picked up a passion for nature from her paternal grandmother.
"Any time with her was spent with our heads down, looking at all the tiny little things in nature," she recalled. "Or we ran around in the woods and creeks and experienced things."

But these days, she said, many children don't get out into natural areas to run, play and explore freely, Hays said.
"Many parents are afraid to let their kids outside by themselves and they don't have time to take them," she said. "A lot of today's parents didn't get that when they were young, either."
Many of their students know about certain animals — a Mexican salamander called an axolotl, for instance, or a polar bear — because they've watched them on the Discovery channel, the women said. They expect to find them in Yamhill County.
Once they get outside, though, they are awestruck by local salamanders and other creatures. They realize local wrens are just as exciting as flamingoes.
"We want them to have more knowledge about what's around than they do from TV," Hays said. "The fight to save our planet has to start locally."
Crain agreed that children need to understand that the planet needs help. "If we raise children with first-hand knowledge of nature, they will understand healthy ecosystems and value them."
She continued, "Later, they'll be able to make informed decisions when they see the value in all living things."

Outdoor Education Adventures is taking reservations for after school and summer. For more information, go to outdooradventures.com.
In general, single day activities cost $65 and weeklong camps cost $250. Scholarships are available.
Financial assistance is available. Transportation is not; parents have to bring and pick up their children.
Crain and Hays said they dream of being able to transport children from town to the education sites. That's one of their goals for the future.
For more information or to register, go to the website, outdooredadventures.com. Or send email to info@outdooreducationadventures.com