Kids make discoveries at innovative preschool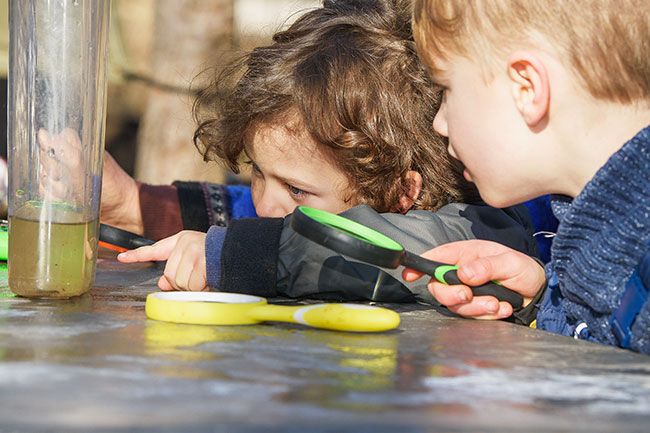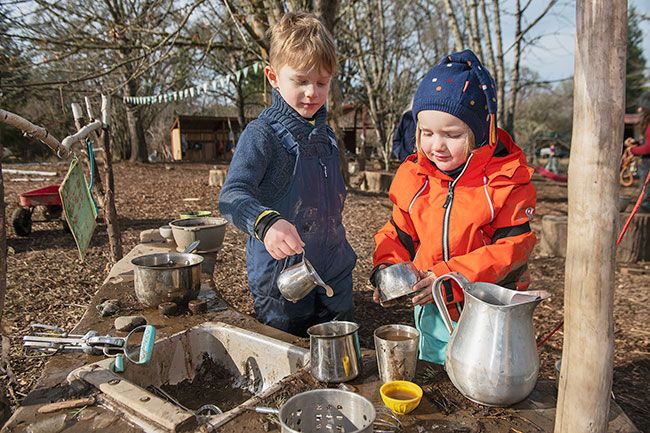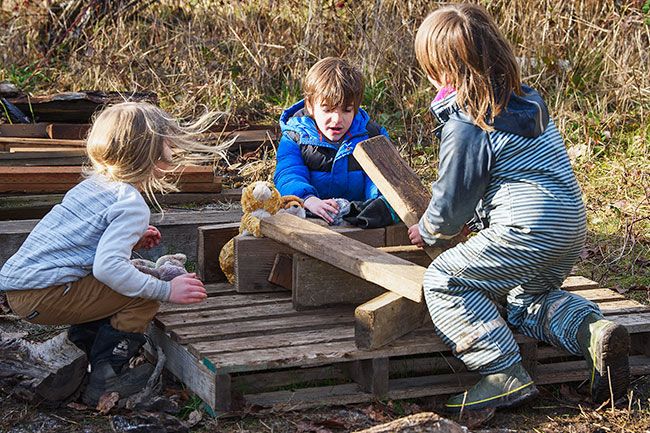 Bugs and birds are the teachers, mud and pond water are the textbooks, in the Maple Grove Preschool.
The outdoor school — outside all day, no matter the weather — is in its second year in McMinnville. Children lead the learning as they explore nature at their fingertips, beneath their feet, all around them.
[See related story: Curious By Nature: Education program gives kids ways to learn in, and from, the great outdoors]
On a below-freezing February morning, recently, Isla Thompson hurried up to the classroom area — covered, but without walls — holding a pot. "I found a spider that walks on water!" she called as she reached head teacher Heidi Hoskins.
Her classmates left the pond, where they'd been cracking a layer of ice, and the mud kitchen, where they'd been brewing grayish "soup." They clustered around Isla to ogle the spider and called out their own observations.
"He's trying to attack me!" Isla squealed, not unhappily, as the spider headed across the pot toward the handle she was holding. Hopefully, she added, "maybe it's poison."
"It needs more water," said Theo Darm, kindly offering his own bottle of H2O.
"No, not plain water!" Isla said. "He's from the pond. Plain water might make him sick."
Later, a few yards away, students examined another container filled with murky water from below the ice in the pond.
"I see a 'triplodyte,'" Max Kendall said, creating a word with confidence. "It's like a tiny floating blob. There are lots of them."
He and his classmates grabbed their notebooks, pencils and crayons to draw the mysterious water creature.
"I don't think it's a 'triplodyte.' Those are from dinosaur days," said Owen Barclay, turning to the other teacher, Amy Nelson and asking what she thinks.
Maybe preschoolers should look it up in a book about aquatic insects, Nelson suggested. But first they should draw it and write down their impressions.
—
Maple Grove, which Outdoor Education Adventures opened in September 2021 in east McMinnville, has an enrollment of 22 youngsters aged 3 to 6. No more than a dozen come each day, some daily, some on Mondays and Wednesdays, for instance, and others on Tuesdays and Thursdays.
They spend the days immersed in nature, which to them feels more like play than school. Everyone runs and climbs and explores and pretends.
Lighthearted it may be, but the children are learning all the time, said Hoskins and Nelson.
Maple Grove also hosts an afterschool program on Wednesday for older children. Outdoor Education Adventures, run by Theresa Crain and Neyssa Hays, also offers a variety of camps and experiences, such as day programs at Miller Woods and other sites when K-12 schools are on vacation.
Students at the preschool practice perseverance, responsibility, boundaries, cooperation and other social skills. Older students help younger ones; they listen to each other and learn to state their opinions and observations politely, and to apologize when appropriate. Everybody gets a turn.
All that learning takes place on Maple Grove's three-acre campus, which is within walking distance of the Yamhill River.
The site is named for maple trees, but there also are three other distinct groves on the property, with ponderosa pines, cottonwoods and willows as well. The pond is seasonal, filling up in fall and slowly drying in spring.
Children follow the cycles of the pond, the seasons, the trees, the insects and animals. They notice when the first birds return from their winter homes and when the last ones fly away — and which birds make McMinnville their year-round home. They see frog eggs become polliwogs and polliwogs become frogs.
——-
By learning about nature, Hoskins said, they develop respect for all creatures. They will maintain that respect all their lives, she said.
In addition to the covered classroom, where a warming fire smolders, there's a shed that blocks the south wind but is open to the north. Children hang their backpacks there alongside plastic tubs of school supplies.
Swings of various types hang from trees. Serving as a playhouse is a giant, upside down basket students helped weave from willow; children act as postal carriers to deliver mail to the box outside the front door.
In addition to the mud kitchen, with its faux stove, there is a mud mountain; it may be the most popular play area, as evidenced by the drying mud that decorates children's boots.
"The right gear" keeps students warm and dry, Hoskins said. But children also bring an extra set of clothes, just in case they need to change, and the teachers have extra boots, gloves, pants and coats for emergencies.
Mud, however, is not an emergency to the students. They revel in it, and revel in being able to explore fully without worrying about having to try to stay clean and dry, the teachers said.
There's no restriction about keeping clean, but the outdoor preschool does have rules, called the "three C's: Care for yourself; care for others; care for Maple Grove. Students develop other guidelines themselves, as needed, to keep everyone safe, friendly and focused on the task at hand.
The teachers call it learning. The kids just call it fun.
For more information, call 801- 520-0468 or go to the website,