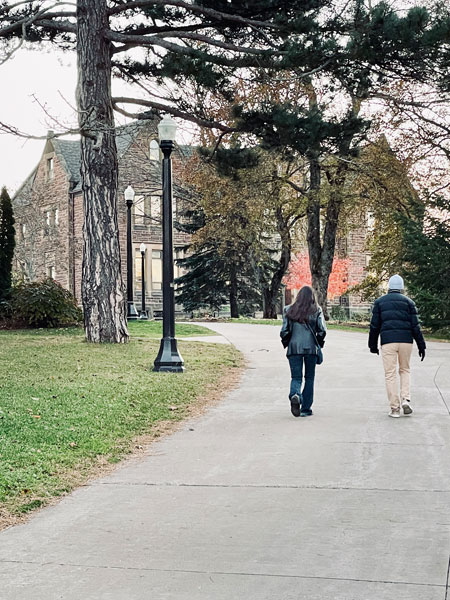 Marvin Henberg: Small private schools face major challenges
Our natural environment is filled with thousands of byproducts of our industrial age, some with deleterious health effects.
One result is that among us are a few friends and loved ones who will develop a dread disease from environmental toxins, although at present they seem perfectly healthy. Fortunately, only a few people will be afflicted in this way.
In recent years, small private colleges and universities have suffered from a demographic toxin of their own. Some may look perfectly healthy, but the hard truth is that some will not survive.
Between 2016 and 2022, some 79 small U.S. colleges either closed or merged with larger institutions. That is a small percentage of total institutions, but significant when it is your own.
In Oregon, Concordia University, Marylhurst University, the Oregon College of Art and Craft and the Pacific Northwest College of Art have recently closed their doors.
The steady growth in the number of high school graduates during the 1990s and 2000s either flattened or declined in the late 2010s, depending on the region of the country. As a result, too many tuition-dependent colleges found themselves chasing too few students.
This demographic bust roughly coincides with my retirement from 40 years of teaching and administration.
Fortunately, I did not, in my working years, face enrollment declines. But I have witnessed subsequent struggles at the two institutions I love best — namely, Linfield University and The College of Idaho.
Please understand that I do not presume to speak for either institution. That is up to the current presidents and board chairs.
Still, my experience in higher education has given me perspective on today's challenges, and I want to share a few observations with readers of the News-Register.
Though I predict many additions to the 79 small colleges that have closed nationwide since 2016, I don't foresee that fate for either Linfield or the College of Idaho. Both are better positioned than the ones that have closed or are facing that prospect.
Many failing institutions are vulnerable because of a narrow curricular focus, often in the arts and liberal arts. While grounded in the liberal arts, both Linfield and the College of Idaho offer degrees in business and health professions that remain in demand despite today's conditions.
Also, both Northwest schools feature robust institutional sagas that have seen them through many previous crises and that will assist in weathering this one.
That said, let us not underestimate the challenges. The demographics are daunting.
Unless otherwise noted, I draw data from the Western Interstate Commission for Higher Education, known as WICHE.
Nationally, high school graduates will increase from 3.8 million in 2019 to 3.93 million in 2025. Thereafter, the number is projected to drop to 3.52 million by 2037.
Equally important are regional variations. The West and Southeast are projected to grown their numbers in the medium term, whereas the Northeast and Midwest are not.
The number of high school graduates in the latter two regions will decrease 10% by 2030. Consequently, most future small college closures will occur there.
Let us fine tune our demographics by focusing on Oregon and Idaho.
Oregon will go from 38,738 high school graduates in 2018-19 to a projected 40,540 in 2028-29. That is not quite 5% growth over 10 years, but at least it is growth.
Idaho's picture is similar.
From 19,569 high school graduates in 2018-19, its number is projected to be 22,914 in 2028-29. That represents 17% growth, the highest projected for the West.
These figures are heartening compared to those of other regions, but one result is that colleges in the Northeast and Midwest are working harder than ever to attract high school graduates from the West.
This finer look also reveals other challenges.
The number of white, non-Hispanic high school graduates in Oregon— the demographic from which Linfield has traditionally drawn — will decrease over the next 10 years. Idaho will show a slight increase, but as with Oregon, its largest growth will come among Hispanic graduates.
By 2050, demographers predict white, non-Hispanic citizens will be in the minority across the U.S. And that day is much nearer for 18-year-olds.
As I write, only 55% of U.S. high school graduates are white, non-Hispanic. In only a few years, they will be in the minority.
The good news is that both Linfield and the College of Idaho have significantly increased their enrollment of non-white students, and are now among the most diverse colleges in their respective states. This emphasis must intensify, because another source of racial and ethnic diversity is falling — namely, international students, a point of pride at both schools in the past.
According to the National Student Clearinghouse Research Council, U.S. international student enrollment declined 15% in 2020 and enrollment of new international students declined 43%. COVID-19 played a significant role in depressing these numbers, of course.
COVID-19 also added to longer-term demographic woes.
Preliminary estimates are that the pandemic reduced U.S. births by 300,000 to 500,000. Accordingly, WICHE's 2028-29 projections for high school graduates may require revision downward.
I have thrown out some sobering statistics that I hope News-Register readers will keep in mind whenever they interact with neighbors working at Linfield University.
These people face monumental pressures that I did not face during my career. They need good cheer and support from the local community.
Residents of Yamhill County may play a significant role in ensuring Linfield's continuing health. There are many things you can do to help.
The greatest strength of Linfield University and the College of Idaho is a personalized approach to each student.
Students attend for more than their degrees. They come to hone leadership skills, to play sports, to act in plays, to sing at concerts, to do community service, and much more.
These embellishments to academics are enriching but expensive, perhaps as expensive as classroom instruction itself. So please give monetarily to Linfield University for whatever cause you favor.
If you are already giving, please weigh the challenges I have outlined and consider increasing your contribution. Or give of your time.
Come to plays, concerts, lectures, and sporting events. While enjoying these occasions, please say a kind word to a Linfield employee.
Linfield's staff is lean, both in the teaching ranks and elsewhere. So please also volunteer to judge a debate or assist with any of a wide variety of other campus events. You will be the richer for it, as will Linfield.
Just as a neighbor may have a deleterious, hidden toxin undermining his or her good heath, your Linfield University neighbors face the challenges I have outlined. Let us not be in ignorance, as with the students, alumni, and community members in Portland who did not understand the toxic demographic changes leading to the demise of Concordia University.
I am bullish about the future of Linfield and the College of Idaho, but neither institution's health may be taken for granted. We all must offer whatever positive contribution is in our power.
That can make an enormous difference. Indeed, it can make all the difference.