Stopping By: Looking out for her veterans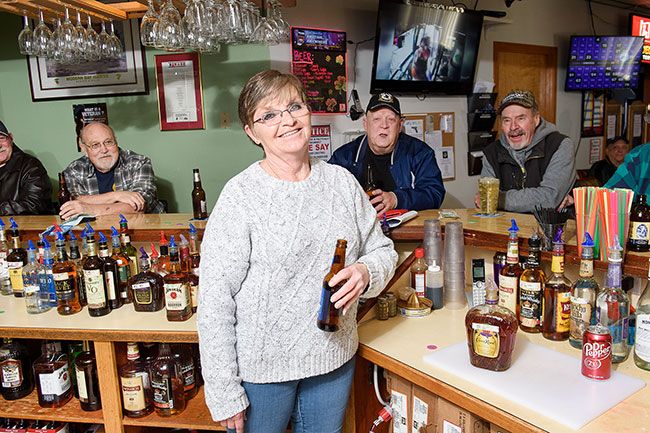 Debra Godwin, Oregon District president of the American Legion Auxiliary, works with and for people who've served their country.
She never refers to them as "the veterans."
Instead, the McMinnville resident calls them "my veterans," claiming each one as family, not a stranger. "My veterans are my passion," she said.
Once, Godwin said, she had little understanding of the critical role these veterans have played.
"When I realized the sacrifices they made for the love of our country," she said, "it inspired me to work tirelessly and try to make a difference for them."
She is the first member of local McMinnville Auxiliary Post 21 to serve as state president.
Since she took office in mid-2021, she has been traveling throughout Oregon meeting other auxiliary members and encouraging growth of the organization, which supports American Legion causes as well as veterans in general.
The Legion is open to anyone who has served in the military. Along with its related groups, such as the Auxiliary and the Legion Riders motorcycle organization, it advocates for veterans services; provides direct service to veterans, active duty servicemen and their families; and sponsors programs for young people, such as Legion baseball and oratory competitions.
The Auxiliary is open to spouses, children and grandchildren of veterans, living or deceased.
[See below: Battle of Branches breakfasts]

Godwin had heard about the Legion and its Auxiliary. "I thought it was a private club," she recalled, noting that's a common misconception.
Then, in 2015, friends "dragged me down here" to the Legion Hall for a Battle of the Branches breakfast.
Each year, the various branches — Army, Navy, Air Force, Marines — compete to see how many people they can bring out for breakfast on a series of Sundays. The friendly contest brings in funds for Legion activities and causes.
Godwin saw Marine vets serving and having a good time. "And they talked to us, even though we were from the public," she said. "They explained what the Legion does" for those who are disabled and for other vets.
"I felt the camaraderie," she said. "I got a feeling of home."
The more she learned, the more she wanted to help. She joined the Auxiliary, and three months later took on a role as an officer. Soon she was serving as president of the local group, then as a district officer and state vice president.

Godwin is the daughter of an Air Force veteran who served in World War II and the Korean War.
Her dad, Jarold Jennings, moved his family to McMinnville from Idaho in 1988; she came too, bringing her husband and five young children.
Her father took a job as director of engineering for McMinnville Community Hospital. He continued that position for a short time after the facility, then located on Southeast Baker Street where Walgreens is today, became the current Willamette Valley Medical Center.
Godwin didn't grow up hearing her dad's service stories. In fact, "we weren't allowed to talk about it," she recalled.
She realizes now that many vets didn't feel able to talk about their experiences or didn't want to expose children to the horrors they'd seen. "They kept the pain and anguish inside," she said.
It wasn't until after her father died in 2002 that she learned his story. She understands him better today, she said.
And since she can't tell him that, she uses that understanding as she works with other vets — "my veterans."
"I feel I need to be with vets," she said. "I want to be here for them if they need me."

With the McMinnville Auxiliary, she helps gather gifts for vets in area care centers, prepares Christmas gifts for military families, or offers necessities to vets on "Stand Down" events.
The auxiliary also helps veterans obtain medications for themselves and their children. If they are without a place to stay, the group may be able to provide them with a hotel room, food or gas.
"If there's a huge need, we can direct them to the Department of Veterans Services office," she said.
The services are about more than just a blanket or a box of food, she said.
"We want to let them know they're cared about," she said.
Godwin often thanks vets for their service. It's sad, she said, that many tell her it's the first time they've heard those words sincerely.
Perhaps some people skip saying that because they just don't understand the importance of veterans, she said. Born near the end of the Vietnam era, her own history education wasn't very good, either. She's learned far more from talking to vets in recent years.
"What do vets need?" she asked. "To know they're cared about, loved. To know resources are out there. To be appreciated."
Three years ago, she was at the McMinnville club when "a veteran ran through the front door and just said, 'I'm done,'" she recalled. He was frustrated by everything, including what he saw as the overwhelming amount of paperwork needed to qualify for services.
"I sat down with him and we went line-by-line through his paperwork. He calmed down," she said.
A few weeks later, he returned to tell her he was receiving benefits. He kept coming back to visit, too. "It became a bond," she said.

One of Godwin's volunteer activities is helping with the veterans' club restaurant. She takes orders, waits tables and ribs veterans who come in for a meal, a beverage or just companionship.
During the pandemic, the indoor dining area was closed for months. But Godwin said she was there every day, filling take-out orders. She's happy to have the dining room and outdoor patio open again.
The vets' club is open to the public, just as it was when Godwin attended her first Battle of the Branches breakfast.
It's also a site for meetings of other groups, such as the Daughters of the American Revolution. She helps with serving food at those meetings, too.
She enjoys being at the club. But her favorite moments are when she's able to sit down with a veteran and just listen.
She encourages members of the public to do the same when they come in to order food. Sometimes she cries with them; sometimes she just listens; sometimes she trades barbs with them — some are pretty ornery, but it's all in fun, she said.
"If you make a veteran feel good or laugh, you've accomplished something," she said.

Godwin decided to pursue the state president's office in order to help more of her veterans. "Not only would I be helping at the local level, but I could make a difference for the whole state," she said.
She knew the volunteer position would be a lot of traveling and a great deal of work, she said, and she "expected a lot of let-downs."
She was right on two counts: Almost every week, she's on the road to North Bend, Astoria, Southern Oregon, or Eastern Oregon. And the amount of work can be staggering.
"But it's not stressful; it's very, very rewarding," she said. "I'm talking to my veterans all over the state."
She's proud to say that two new Auxiliary units have been chartered during her tenure, one in Williams and another, about to open, in Vernonia.
Membership has grown, too. Relatives of veterans can join the auxiliary by paying the $35 dues.
And men are welcome, as well, as long as they meet the requirement of being related to a veteran. Three men belong to McMinnville's unit, which has a total membership of about 90.
In addition to encouraging active membership and membership growth, she chose the Central Oregon Veterans Village as her project during her year as Oregon Auxiliary president.
"It's new; it needed help to get going," and it will greatly benefit vets, explained Godwin, who hopes to raise $10,000 or more for the project.
The center provides housing for veterans for up to two years until they get on their feet and move into their own homes.
Staff support them with services and references to services they need to make such a transition.
So far, five veterans have moved into the tiny homes at the village, said Goodwin, who attended the ribbon cutting on Veterans Day in 2021 and plans to visit again this month. Two other tiny homes are still under construction.
One man has already found a home and a job, she said. Additional veterans, who don't need the housing program, have been helped with counseling and other services provided by professionals and laypeople who volunteer their time.
Someday, the Veterans Village concept may spread to other areas. Godwin said she would like to see a similar project in Yamhill County, too; there's definitely a need, she said.
"My dream is to have one here," she said.
Godwin said her partner, Steve Schollenberg, and the rest of her family are very supportive of her efforts. "They know how important this is to me," she said.
Her five children are grown. She has 18 grandchildren and three great-grands, so far.
She enjoys spending time with her grandchildren, gardening, cooking, camping, writing poetry and stories, and playing with her Shih Tzus, Hannah and Chloe.
And working with her veterans.
Starla Pointer, has been writing the weekly "Stopping By" column since 1996. She can be reached at 503-687-1263 or spointer@newsregister.com.
Battle of Branches breakfasts
American Legion Post 21 hosts a series of "Battle of the Branches" breakfasts each spring. All are open to the public in the Vets' Club, 126 N.E. Atlantic Avenue, McMinnville.
Air Force, Navy, Army and Marine veterans compete to see who had draw the most people for breakfast. Proceeds go to Legion projects and activities.
Breakfasts start at 8 a.m. on Sunday mornings. The menu includes a wide array of dishes, from scrambled eggs to meats to grits. Cost is $9 general, with $1 off for veterans of Korea, Viet Nam and the Middle East wars. World War II vets get in free. Cost for children younger is $1 per year of age.
Upcoming breakfast dates are:
March 19, Air Force.
April 2, Navy.
April 26, Army.
The Marines host a breakfast in early March.
For more information, call 503-435-2218.