Donation increases Lions Club's medical supply loan inventory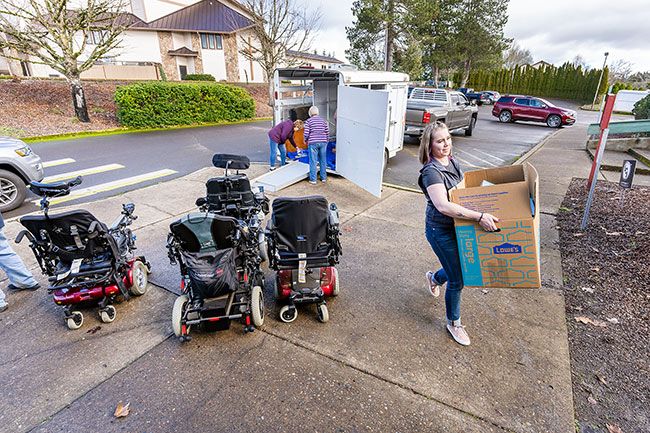 Good things are in store through the McMinnville Lions Club and donors. Lions Club fills 100 requests a week for medical supplies, providing adult diapers and wound treatment materials or loaning out wheelchairs, hospital beds and an assortment of other equipment.
The supplies go to people who can't afford or can't find the equipment elsewhere. In many cases, loaned equipment fills a gap between the time patients need equipment when their insurance provides it, which can be weeks or months, said Brian Sauer, the Lion in charge of the loan closet.
The Lions' inventory received a boost this month when the family of the late Richard Brenneman donated a truckload of his supplies.
Brenneman's son, Travis, is a paramedic with the McMinnville Fire Department. Several other family members came to McMinnville to deliver the supplies.
"We want to help people who need equipment," said Tina Johnson, the sister of Travis. "It's not always easy to get things when you need them."
They brought them to the loan closet, located in the former Chemeketa Community College buildings now owned by the Nazarene Church on the Hill. The church's Hope on the Hill food bank and other charitable services are based there, as well.
The Brenneman family had been looking for a place where the medical equipment would be readily available to people at no cost.
The Lions fit those qualifications. "We never charge those who need things," Sauer said. "All they have to do is ask, and we find a way to get it to them."
In addition, he said, "We always need inventory."
The Lions started the loan closet back in 1984. Club member Jerry Wolf, who owned Jerry's Optical Shoppe, started the program and stored the equipment for decades; it moved to a location on Evans Street, then to the Hill Road site after Sauer became the director five years ago.
Sauer, his wife, Judy, and other volunteers, including some who are not club members, organize the equipment and work with people to make sure they get what they need.
Caregivers also approach the Lions on behalf of clients.
Kristy Runge, LPN, director of client care for Hello Care, said her company's in-home caregivers and private-duty nurses regularly borrow equipment for the people whom they assist.
"The Lions are a great resource," Runge said, and now they'll be able to offer even more.
To borrow equipment or receive supplies from the Lions loan closet, or to donate items, call Sauer, at 503-550-2980.