Former Mac police chief remembered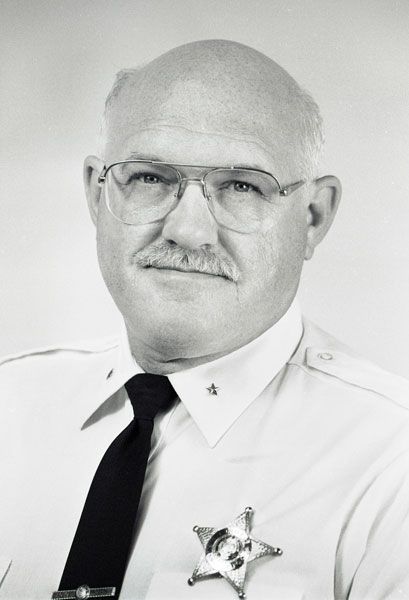 Former McMinnville Police Chief Rod Brown, whom fellow law enforcement officers and friends called "a visionary" and "a good man," died Friday, Dec. 10, in McMinnville following a long illness. He was 75.
Services are pending under the direction of Macy & Son Funeral Directors.
Brown served as police chief from 1990 until his retirement in 2000. He helped the police department become more professional and prepared it for the future, peers and friends said.
"He had creative ideas that have continued to be important here," said current Chief Matt Scales, who was hired as an officer by Brown in 1993.
The then-chief encouraged Scales to consider leadership roles and helped change the trajectory of his career, he said. And "he championed for staff and the department tirelessly," Scales said.
A former Polk County undersheriff and Salem Police Department officer, Brown brought the concept of community policing to McMinnville. The style of law enforcement involves citizens as partners with officers in an effort to prevent crime from happening, rather than just react ing to it.
He strengthened the department's volunteer program, involving laypeople in roles such as enforcing handicapped parking and licensing bicycles in order to free professional officers for police work.
Brown brought the DARE program to McMinnville, sending police personnel into schools to teach children about the dangers of drugs.
He also created the school resource program, working with the McMinnville School District to place officers in the high school and middle schools, where they could develop positive relationships with students, rather that being feared authority figures.
Lee Leddy was the first SRO at Mac High. He said Brown gave him the leeway to work directly with school administrators and the Yamhill County juvenile prosecutor's office, helping shape the new position to fit McMinnville.
"He was a good police chief who believed in leading by example," Leddy said. "He placed his trust in each of us and allowed us the freedom to do our jobs."

Brown encouraged members of his department and others to pursue their personal and professional goals, Leddy said. And he pushed them to gain college education.
Former Yamhill County Sheriff Jack Crabtree was a young detective with the sheriff's office when he signed up for a public policy course Brown taught at Chemeketa Community College.
"I got so much out of that class," he recalled. "He was so knowledgeable, and he made it such a relaxed learning environment."
As a detective, Crabtree would frequently work with Brown and others in the McMinnville police department. After Brown retired and Crabtree took over the county agency, they enjoyed both a professional relationship and a friendship.
"I knew I could always count on him," he said. "He was a true asset to law enforcement."
Nancy Law, who served as Brown's secretary when he was the McMinnville chief, felt his support when she returned to school and earned a degree from Linfield. She and Jan Formway, the department's former code enforcement officer, were among former employees who shared their grief over his loss.
"He empowered people," Formway said. "He gave them total ownership of their ideas, and that inspired them."
She and Law agreed that "he saw the potential in all of us and pushed us."
Law added that Brown often saw his efforts pay off as department members realized their goals. But he never took credit for helping them, she said; rather, he let their achievements shine.
"I owe a lot of success in my life to him," she said. "He was a man of great vision."
State Rep. Ron Noble, who was the second person named chief after Brown's retirement, agreed that he was a visionary. In addition, "he was very gracious, very knowledgeable, with a passion for policing and community," Noble said.
They met when Brown was chief and Noble was working for the Corvallis Police department. After Noble took the McMinnville job, he said, "he was a mentor for me."
They also spent time watching youth basketball together. Brown's grandkids and Noble's daughter were on the court.
"He was an amazing man," Noble said. "What a loss for the community."

During his tenure as chief, Brown led McMinnville police in pursuing professional accreditation through the Commission on Accreditation for Law Enforcement Agencies. It became it one of the first accredited law enforcement agencies in Oregon.
After retiring, Brown continued to work with law enforcement agencies as a consultant and was involved with the Oregon Association of Chiefs of Police.
Three years ago, Brown worked with the Oregon Humane Society to strengthen its law enforcement division, which responds to hoarding, abuse and other crimes against animals throughout the state. Brian August, CEO of the humane society, said he "looked at our policies and procedures and helped us be at the top of our profession."
August also called Brown, with whom he kept in touch, "thoughtful and kind with a way of seeing the positive in people and bringing out their best."
He helped other cities with the hiring process, as well.
Kevin Martinez, Carlton police chief since 2012, met Brown when he was helping the city search for a new law enforcement leader.
Like Brown, Martinez pushed for his department to earn professional accreditation. Carlton's department also focuses on community policing.
Brown "was instrumental in helping agencies facilitate community policing public policies," Martinez said. "I found him to be a great mentor in the area of viable community policing public strategies and policies."
Others called him "everyone's mentor."
Many of his officers went on to leadership roles with other agencies. Leddy moved to Federal Way, Wash., to help start a new police department. Dan Brown became chief in Amity, Frank Butler in Carlton; Morrie Hantze took a turn as Carlton's interim chief.
Mike Full, whom Brown appointed professional standards officer, oversaw the complex accreditation process. He also helped put together the department's firing range, which Brown envisioned; it's still in use today.
"I'll miss him something fierce," Full said.
Dennis Marks retired from MPD and became head of Linfield Public Safety. One of the things he appreciated about Brown, he said, was how he took ownership of any mistakes his department made, and quickly and publicly apologized.
"That was the right way," Marks said. "He was a phenomenal leader."
Marks, who had several small children when he worked for Brown, also appreciated the chief's willingness to play Santa at department Christmas parties. The kids loved it, and so did Brown.
Doug Cummins, who retired from being a school resource officer at Mac High, works with Marks at Linfield's campus department; in addition, he is involved with search and rescue, CERT training and the McMinnville Fire Department.
The chief "really helped shape my career," Cummins said. "He started me in schools and in emergency management."
Rob Edgell became a McMinnville officer a few years before Brown arrived. He retired in 2009 as a captain.
"Chief Brown was good for our agency," Edgell said. "He brought us closer to the future, with technology, better thinking, a different sense about things."

Former Yamhill County Sheriff Lee Vasquez knew Brown well as their tenures overlapped. He kept up the friendship, often visiting in recent months with their mutual friend, Waldo Farnham.
"He was a man who was always thinking of the future," said Vasquez, remembering when Brown took over the McMinnville department. "When he retired, he had that organization clicking like a clock."
"He really had his heart in it," Vasquez added. "He was a great leader and a great, great community person, a dear man and a dear friend."
Former Polk County Sheriff Ray Steele knew Brown almost all his life. They were schoolmates who graduated from Central High School in Independence in 1964.
Steele went into the insurance industry, while Brown joined the Marines. A few years later, both men became officers in the Salem police.
Their friendship was further strengthened when both became Masons, and when they became neighbors on the same road. When Steele was elected sheriff, he tapped Brown as undersheriff — who better could fill the position?
"But Rod had goals," Steele recalled Friday. "It wasn't long before he left to become chief in McMinnville."
They stayed close over the years, both professionally and personally, he said.
"Rod was a good man. I learned a lot from him, and I will really miss him," Steele said. "You couldn't ask for a better individual than Rodney."