New clinic will offer urgent care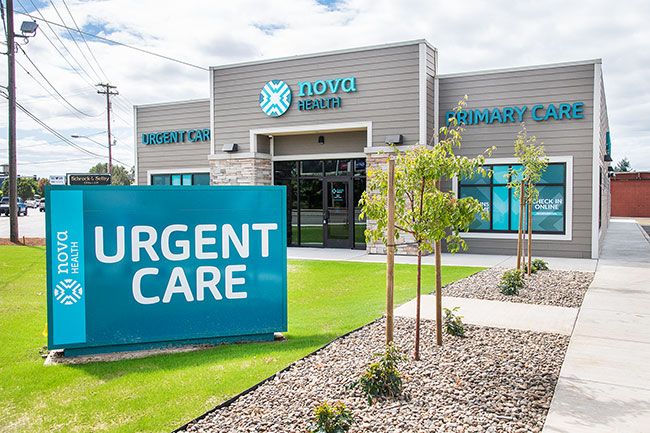 A new Nova Health Urgent Care clinic will open Thursday, Sept. 9, in south McMinnville, offering a full range of immediate-need health services.
"We're available for small things, all kinds of concerns and urgent things," said Shannon Nicholson, clinic supervisor.
The clinic will start seeing patients following a grand opening that morning with some giveaways. After that, it will be open from 8 a.m. to 8 p.m. every day at 1755 S.W. Baker St., McMinnville.
The building is new and has been under construction since January. It features a spacious waiting room with numerous windows overlooking the highway, eight procedure rooms, radiology facilities, and offices. Lab work is done in-house.
It will be staffed at all times by a physician's assistant or nurse practitioner, two licensed professional nurses or certified medical assistants, and a receptionist, in addition to Nicholson.
A radiology technician will be on duty, allowing for X-ray, splinting and intravenous treatment in case of a broken bone. Nicholson explained that staff could address a nosebleed, complete stitches, help customers with a cough, urinary tract infection, high blood pressure or just about any complaint.
Rapid testing for coronavirus will be available. Nicholson said the clinic is the only place in town doing the 15-minute tests.
Nova Health will hold COVID vaccination clinics, as well.
Sports physicals will be available any time. Several times a year, Nicholson said, Nova Health runs a special, charging $25 for the physicals.
The clinic will accept all insurance, including the Oregon Health Plan. It also will work with those without insurance.
Nova Health, based in Eugene, chose to build in McMinnville because it sees a need for urgent care in rural communities and smaller towns and cities, Nicholson said.
The company has several Eugene-area facilities and recently opened clinics in Dallas and Lebanon, and is building one in Woodburn.
"We're excited to be in McMinnville and serving the community," she said, adding that Nova Health hopes to work closely with Willamette Valley Medical Center to give patients the best care.
Nova Health accepts walk-ins and also schedules appointments. Clients can check online for wait times to see a provider at the McMinnville clinic, or book an appointment online.
"We want to knock down those waiting times," she said.
Some Nova Health clinics offer primary care as well as urgent care. Eventually, McMinnville will add that service, too.
For more information and a link for checking waiting times and scheduling appointments, visit the Nova Health website, at www.novahealth.com.