At Killdeer, distilling among the wineries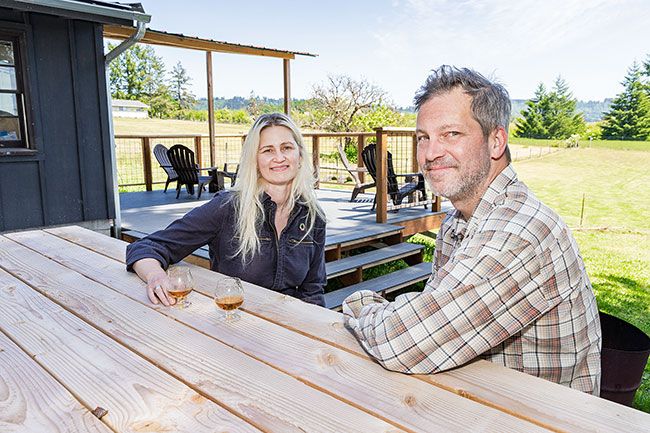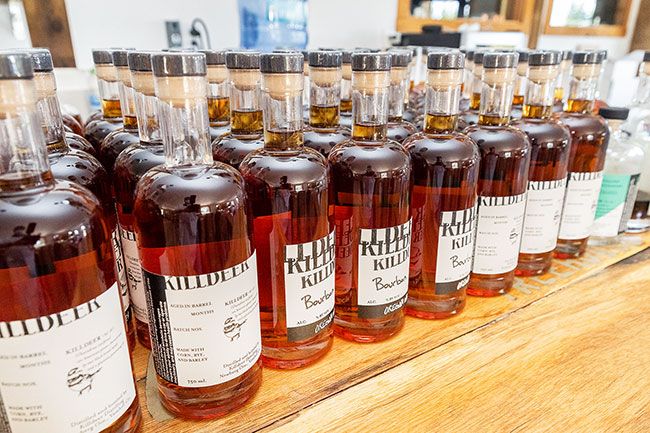 "We waited for the forest fires and the election and the pandemic," said distiller Colin Fisher, who runs the business with his wife, Kate Coulter.
They've been making whiskey, vodka, absinthe and other liquors since 2018 in the countryside northeast of Yamhill and Carlton and northwest of Newberg, at 20000 Wind Ridge Road, off Northeast Ribbon Ridge Road.
Visitors to the Killdeer tasting room, the only place the products are available, may find Coulter or Fisher driving the tractor, doing carpentry, filling barrels or bottles, or getting another batch ready for distilling.
"We believe in being transparent," he said. "It's a mom and pop business. You never know what you'll see us doing," he said.
The Coulters, both originally from California, met online while both were living in Portland. He worked for a retail company, installing fixtures in new stores across the country. She worked long-distance for a company in New York.
They enjoyed sharing a drink. His hobby was making liquor. They decided they wanted to turn the hobby into a business where both could work.
"We had confidence ... or blind stupidity, to think we could do what we dreamed about," he said.
They knew they could do it, and they were willing to put in the long hours it would require — "amazingly hard work, but something we enjoy," Fisher said in retrospect.
They started looking at land in Yamhill County, where brother and sister-in-law Grant Coulter and Renée Saint-Amour own Hundred Suns Wine.
But it took awhile before they found the right place.
In fact, Coulter had just given birth to their second child when her husband found the Wind Ridge property. In fact, their new daughter was 3 days old when Coulter saw their new home for the first time.
"It felt right," Coulter said. "This was it."
Not only is it in an idyllic country setting, but it's also close to Ewing Young Distillery and many wineries, such as Styring Vineyards, Utopia, Brickhouse and Aramenta Cellars. Like good neighbors, they help each other by attracting customers to all of the businesses.
"We refer people to each other," she said. "It's like a family up here."
Fisher built the production and tasting room, converting a former pole barn where sheep had been kept. He took that building down to the studs and rebuilt the walls, adding shelving, windows, doors and trim made from reclaimed wood.
He outfitted the tasting room with a table made from an old sign used at Vista Hills Winery, where he had worked. Barrels of liquor, at various stages of aging, are lined up along one wall.
Fisher also designed their label, which features a drawing of a killdeer, a type of plover that nests on the ground and is known for its chattering call.
The distillery's namesake birds are common on the family's property. "So cute," Coulter said.
Their small farm also is home to a garden and a "baby vineyard" — one-fourth of an acre of grapes that someday will find their way into brandy — and numerous animals, including chickens, sheep (Katie knits and spins), a dog, and two black kittens who keep mice away.
The kittens arrived just after the couple's daughters found out they would be staying at home most of the time, rather than going to school with their friends due to the pandemic.
Killdeer Distillery makes three whiskeys: 100% corn whiskey; bourbon aged in new American charred white oak; and rye. Killdeer also produces gin, vodka made with corn and wheat, and old world-style absinthe made with wormwood and two dozen other herbs and botanicals. A newer offering, vanilla bean and espresso liquor that is slightly sweet and lower proof, is very popular.
The liquor is good for pouring over ice cream, in addition to sipping, she said. She uses Killdeer vodka to add spice to pasta sauce, too.
Fisher and Coulter said they are constantly experimenting and creating new products or subtle flavor variations. "All manner of madcap things," she said.
For instance, adding rye to their bourbon to give it "the spiciness we love," she said, and putting a touch of citrus into gin makes it perfect for gin and tonics or martinis. They discovered that adding mint to absinthe gives it a natural green hue, distinct from the synthetic green of mass-produced absinthe found in liquor stores.
"It's fun to come up with recipes," Fisher said. "With small batches, we can vary things. They're all good and interesting, but each is different."
Tasting costs $10 in the Killdeer tasting room. For more information, call 503-421-3881, or go to the distillery's website, www.killdeerdistilling.com.