Car camping program still providing shelter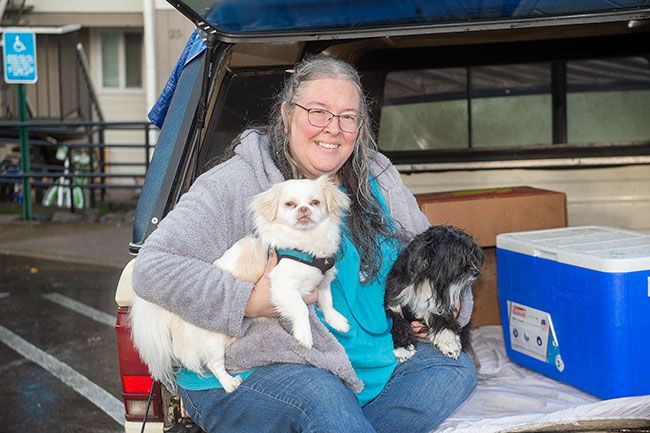 In the spring, Candyce Banta had to move in with relatives after her Lincoln City apartment began to fill with mold. In June, she worried her pets were not safe in the household, she said. She had to move again, but this time, she had nowhere to go and started living in her car.
People chased her from most places she parked, and the lack of regular access to a bathroom was a struggle, she said. But in July, she joined Champion Team's car parking program, and in December, she moved into an apartment.
"I really don't think I would've made it as long as I did if I didn't have that support from Champion Team," Banta, 46, said. "Having a safe place at night is the be-all, end-all of all of it."
The safe overnight car camping program, introduced by the McMinnville city council and overseen by Champion Team, continues to provide shelter to around half a dozen people.
Since 2018, the program pairs people living in their cars or RVs with property owners offering them a parking spot. In 2019, the council passed an ordinance prohibiting camping on most public property, and this program supplies a safe, legal place to park overnight for those living in vehicles.
Seven people and a few pets currently live in RVs and vehicles at three undisclosed locations in and around the city, said Howie Harkema, interim executive director of Champion Team, a nonprofit that supports people experiencing homelessness, mental health struggles, life post-incarceration and substance abuse. Of the 1,428 people classified as "homeless" in Yamhill County, whether they live under a bridge or tripled up in a home, nearly 800 live in McMinnville, Harkema said.
There are also a number of homeowners allowing a place to park who have not gone through Champion Team, said Remy Drabkin, a city councilor and chair of the affordable housing task force. Because they don't have to register with the city, the exact number of people camping in these situations is unknown, Drabkin said.
The car camping program can be a first step for people to take care of basic needs, Harkema said, and Champion Team welcomes more property owners' participation.
"The Safe Overnight Car Camping Program is essential to getting wellness implemented into their lives. A chance to have a place to exist," Harkema wrote in an email. "We are so grateful to the landowners who allow access to their private locations and for their compassion for those less fortunate."

Matteo Amante delCane was traveling the country in a van and found himself in McMinnville when the COVID-19 pandemic began. People were so welcoming, he said, that someone even offered him an old RV. He navigated the camping ordinance to avoid a citation, but eventually wanted a longer-term place to park.
The car camping program allows a place for delCane and his dog, Zeus, to park their van and RV at night.
"The main thing is it allows for some stability. It's the psychology of knowing I'm supposed to be there," delCane said. "That 2 a.m. knock telling you to get out of there is not a comfortable feeling."
DelCane, 50, left his career in social work and later sold his transportation business on the east coast several years ago to explore the country in a van. He'd visited McMinnville before and arrived here in April. Through the city's "magic," he soon formed a new friend group, through which he met the RV donor and the person on whose property he parks. He's been there about six weeks.
Silvestre Resendez, outreach director at Champion Team, coordinates with property owners and completes random site inspections to ensure they are in order. Each site is equipped with a port-a-potty, trash can and recycling bin, and the program also provides propane tanks for RVs and materials to repair them if necessary.
Banta said Resendez arrived promptly whenever there was a problem, and he still calls to check on her, even though she's out of the program.
Banta said many people may not realize how important it is to have a trash can, as all people produce trash, and a bathroom, as park bathrooms are sometimes locked unexpectedly, she said.
Resendez and Harkema said they constantly reach out to churches, businesses and homeowners to find more sites, as the current waitlist of two people is likely to grow. The program began as a stopgap measure intended to last for 90 days at a time, but due to the pandemic, scarcity of locations and limited low-cost housing in McMinnville, people can now park on these properties as long as they need to, Harkema said.
People in the program join a YCAP list for housing and check in periodically with Resendez on their goals for finding employment and other housing, he said. The YCAP list is quite long, so many people anticipate considering their vehicles their homes for a while, he said.

The ability to park on a designated property keeps people from violating city ordinances prohibiting camping on city streets. For example, in the fall, there was an increase in calls to the McMinnville Police Department about people violating the camping ordinance in the area near Champion Team.
Patrol Captain Rhonda Jaasko said there were nine calls to the area in September, 19 in October, and 33 in November. Jaasko said she could not determine a reason for the increase. Some calls were for mental health, one for a suspicious person and one for an assault, but most concerned campers and RVs, she said.
"They just want us to make them go away," Jaasko said, referring to the attitude she said police often hear on these calls.
The police recently cited two people for the camping ordinance near Champion Team, after which they left the area, Jaasko said.
The News-Register talked to someone who works near Champion Team who was frustrated by behavioral and alleged criminal issues witnessed, but the person did not want to go on record.
Harkema said Champion Team communicates with police regularly and is aware of the calls. The nonprofit recently hired a nighttime security guard, and has removed RVs from its own property that weren't following program guidelines.
But he also cautioned people against criminalizing the circumstances of simply lacking a place to live.
"Being homeless is not a criminal situation. And people are just trying to survive 24 hours at a time. There is a faction in McMinnville that believes they should be put on a bus and sent out of here. But that can't happen, that's against the law," Harkema said. "It's a mental health issue with not enough mental health carriers in Oregon...there are a lot of players trying to do the right thing, but our budgets aren't big enough to do everything."
While Banta, who receives disability benefits, said many people have welcomed her to town — particularly a stranger who donated a truck and the many people who helped her furnish her new apartment — she said she's also seen another side. Banta said she didn't appear to be an unhoused person, so people often spoke candidly with her about their critical opinions of the homeless, which would prompt her to share that she was homeless.
"There are a lot of people that really think, 'Oh, all homeless people are addicts or alcoholics or refuse to pay their bills.' No, I pay my bills," said Banta, who is also a Champion Team volunteer. "Everybody has their own battles and struggles and traumas. We don't need to be judged for it."
The car camping program allows people to access Champion Team services like meals, clothing and peer support, and they also work with Resendez to move into longer-term housing. Banta's only suggestion for improvement was showers and laundry, as not everybody feels comfortable visiting the mission, she said.
Several people from the car parking program have moved into apartments with help from Yamhill Community Action Partnership (YCAP), and others will hopefully transition into YCAP's motel shelter program, Harkema said. That program has moved over 70% of participants into longer-term housing.
YCAP helped Banta and her two dogs, Ms. Daisy and Falkor, move into an apartment in December. Apartment life can be intimidating at times because of the sheer amount of space it contains in comparison to her car, she said, but she is grateful for Champion Team and the many people who helped her move there.
"It's a godsend. The timing is perfect because it just started getting really cold," Banta said.