It's a cool one, Mr. Grinch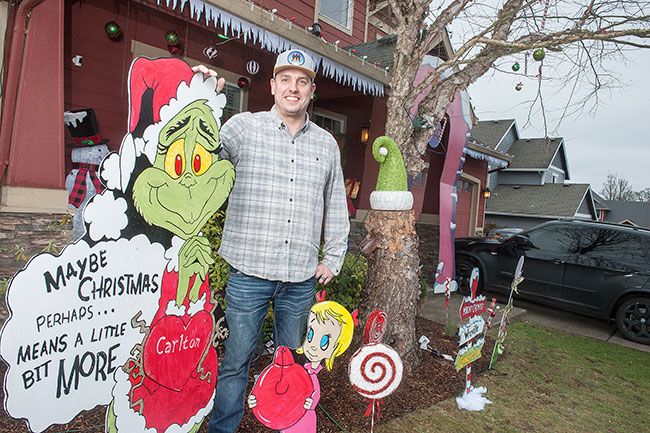 But the Grinch won't get to ruin Christmas this year. In fact, he's making it somewhat brighter for the Livingstons and passersby.
With its "Welcome to Whoville" archway over the front door and numerous characters from the Dr. Seuss story on the lawn, the Livingston house is one of many decorated for the holidays as part of Carlton's annual Christmas lighting competition.
Many residents have outlined their homes in lights, added cutouts and inflatables in their yards, and turned on Christmas music for the seasonal event.
At Whoville, dad Casey Livingston put Max and the Grinch on the roof as he's done for several years. He cut the characters from wood with a jigsaw and painted them in authentic Seuss colors.
In 2020, he wanted to do more.
"It's been a bad year," he said. "So I wanted something extra."
He added another large Grinch and characters like Cindy Lou Who. He used corrugated plastic instead of wood, but covered it in the same bright colors.
He also created a Whoville tree, with its top bent under the weight of a star, along with houses, an assortment of giant candies and other items. His wife, Angela, and sons Ashton, 18, and Caden, 13, helped with the decorations.
His family even purchased Seuss books for visiting children to take home: "How the Grinch Stole Christmas" and some related volumes, including one featuring Max the dog.
Livingston, a home inspector who owns Pillar to Post inspection company, plans to cut out and paint a Mt. Crumpet to add to the display before long, as well.
In the famous Dr. Seuss story, the Grinch plots to ruin Christmas, but Cindy Lou and the other Who's in Whoville teach him about the real meaning of the holiday.
Because of that, as a sign on the Livingstons' lawn declares, "Christmas means a little bit more ..." The sentence ends with the word "Carlton" wrapped in a big red heart.