Happy as a larch: A hillside smiles down on Highway 18 drivers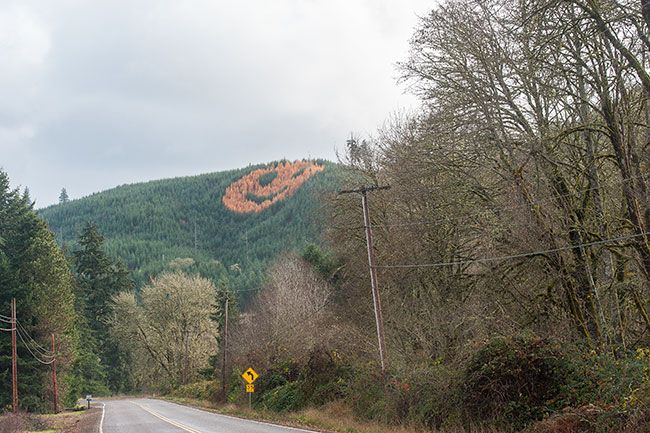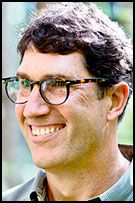 David Hampton said his late father, John, admonished him regarding the subject of clear-cuts and how to make them aesthetically pleasing.
The elder Hampton had an idea that he proposed to his son. "Can't you just spray them with green dye?" David recalls being asked. "No, dad, we can't do that," he responded.
But soon after John's death in March 2006 at the age of 80, David and staff devised a plan that surely his dad would approve.
"I think it's marvelous," said Hampton, describing the giant smiling face overlooking Highway 18, on a hillside just to the southeast, between Grand Ronde and Willamina. "People get so excited about it. It brings joy to folks, in this crazy time that we are in. For us, it was a way to have some fun and a little frivolity.
Hamptom, who along with siblings Elizabeth and Jamey owns Hampton Lumber, said he never tires of looking at it. And he isn't shy about expressing how proud he is of how that smiling hillside can lift the spirits of so many, particularly during this period of time.
"I'm just happy it turned out as well as it did," he said. "It's symmetrical. It doesn't have a droopy eye. It could have ended up really weird. We just planted it and let it go. It's been awesome."
The face, which measures 300 feet across, was a stand of Hampton Lumber-owned timber about 10 years ago. Hampton said the stand had reached "rotation age," meaning it was more than 50 years old. It was growing and doing well, but it was ready for harvest.
"It was in our GIS (geographic information system)," Hampton said. "There it was, and it's number came up."
Dennis Creel was a Hampton chief forester at that time, having since retired after 41 years. Mark Vroman, a current company tree farm manager, was then a forester. Hampton remembers they were surveying stands of the property.
Driving east on Highway 18, toward Willamina, the two understood this particular stand was ready to be harvested.
"That was the next piece," Hampton said. "It was so visible. They were talking about that, how visible it would be."
Hampton characterized visibility and its association with timber harvesting as problematic. The general public often does not understand what it is seeing when it views a clear-cut.
"It was right out in front of God," Hampton said of the stand that stood above the highway.
Now, what to do with this piece of property. Well, how about a smiley face? That would be funny, Hampton thought.
When Creel and Vroman returned to the office, they were joined by Hampton during the noon hour, and the smiley face idea began materializing.
"Dennis laughed it off," Hampton recalls. "We had a concept for forest art, leaving trees in certain configurations."
The work began. Douglas fir trees were planted for the eyes and the mouth, and they were surrounded by hybrid larches, a conifer species predominantly yellow.
"The species is especially strong, comparable to spruce," Hampton said. "It doesn't deteriorate easily, and so it is ideal for use in decking and greenhouses, the Northern Logger website reported on its website."
And, it turns out, larches are perfect for smiley faces.
"Dennis and I layed it out visually," Hampton said. "We had to figure out where the eyes and the mouth would be placed. We were out there with tree planters. We measured it out and put it in."
Hampton admits no one really knew what they were doing or how this might turn out.
"We just thought it would be entertaining," he said. "The first year (following planting) it came up, it was hilarious. I thought, 'look at that thing.' We had created forest art. It showed clear cuts are a happy place. It was just marvelous. It's gotten such interesting notoriety. I'm pleased it has worked out."
When it comes to sustainability, the goal is to be creative and innovative when possible, Hampton said.
"It's incumbent on this industry to have a sustainable harvest or we are out of business," he said. "Specifically, make sure we planted this correctly."
The harvest took about two months followed by six weeks to log the area. Planting followed.
"You want to make sure one species is not outgrowing the other," Hampton said. "Larch is a good species. This will be visible for a long time."