Sugg prepares Dayton for school year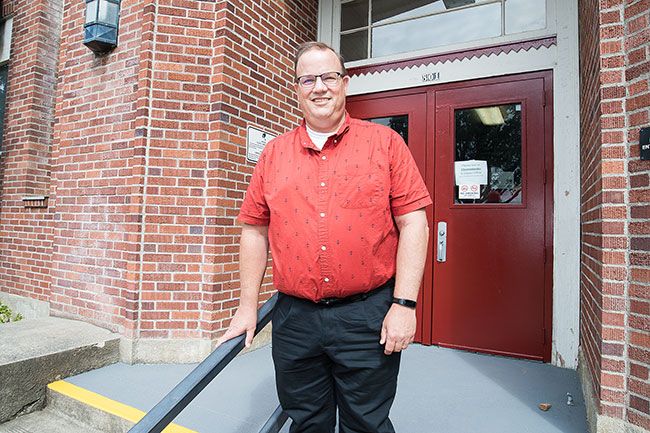 But this is the year of the coronavirus pandemic, and Sugg's new district, like others across Oregon, will be doing things differently this fall.
"I want to go into classrooms, like usual, but how do I do that during COVID?" Sugg asked. "We want to protect students and staff by limiting their exposure; that's the most important thing."
He'll explain the district's preparations and seek public input tonight at a parent meeting in Dayton's Blockhouse Park. Community members are asked to observe social distancing rules at the meeting, which will start at 7 p.m.
Sugg, other administrators and teachers already have been planning for fall classes for weeks. They met by Zoom, talked on the phone and exchanged emails. He's also met with parents and community members, including Mayor Beth Wytoski, who teaches at Dayton High.
He and other district officials have been working on creating Dayton's plans within the framework established by the state Department of Education and the federal Centers for Disease Control and Prevention. State and federal guidelines dictate how far apart children must be in the classroom and other rules, such as having soccer and volleyball seasons start in late September, rather than early in the month.
Dayton will probably use the hybrid option this fall, Sugg said, with some students attending in-person classes on Tuesdays and Thursdays and others on Wednesdays and Fridays and using distance learning on the other days.
Families also will be able to choose full-time distance learning. The district is working to ensure every family has internet access, Sugg said.
There are a few pockets of the district where service is problematic, and administrators are looking at ways to provide Wi-Fi service through Hotspot devices or buses.
Ideally, Sugg said, he would like to have primary students in classes four days a week instead of two, as close work with teachers is especially important for reading.
For those of all ages, he said, "being in the classroom has tremendous impact."
Students will be in small cohorts, or groups, that stay together in order to limit possible exposure to the virus.
The Dayton School Board will approve a final plan at its Aug. 11 meeting. Additional meetings are planned via Zoom for elementary parents on July 30 and for junior high/high school parents on Aug. 16, in addition to the community meeting in the park tonight.
"I hope everyone sends their kids back to school, but they have to feel safe," he said. "I want all parents to feel safe."
Sugg said Dayton families and the community as a whole are very supportive of schools.
"The district is lucky. I'm lucky," he said.
Although he officially joined the district July 1, he's very familiar with Dayton schools. He and his family have lived in the Dayton area for many years. He taught at Dayton High from 1995 to 2000, and his wife, Kelley, taught there until retiring. Their sons graduated from DHS in 2007 and 2011.
After leaving DHS himself, Sugg worked as an administrator in Philomath and Sherwood. He became superintendent of the Sheridan School District seven years ago.
For a while, he joked, he had to check each morning to make sure he was heading to the Dayton district office, rather than Sheridan. After 20 years of commuting, he said, it's pleasant to be off the road.
The Dayton School Board chose him as the new superintendent in February. Board chair Chris Wytoski noted that Sugg's "strong local connection" as well as administration and classroom experience "will be an asset to the schools."
And Sugg observed at the time, "This is a chance for me to go back there and give back something to the community."
More recently, he told community members he's delighted to be in Dayton.
"I will work with our school board, staff, students and community to continue the traditions and excellent educational opportunities Dayton School District provides," he said.