Treasurer candidate Alexandria will take conservative approach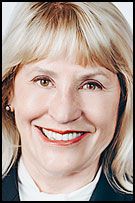 Yamhill County Treasurer candidate Paulette Alexandria first served on the county's Investment Advisory Committee after settling here in 2013.
Alexandria said she arrived with a background in business, finances and investments. She and her husband manage a family farm in Carlton, where they breed, raise and train horses.
She described the treasurer's job, a nonpartisan part-time position, as an investment management position and those two years spent on the advisory committee convinced her she's a good fit for the treasurer's position.
"I thought that might be something I can do to contribute to the county," she said. "I don't have goals to be a politician, and this is not a political job."
Alexandria added, "You don't impact policy. You're not allocating the budget. You're making sure the short-term cash we have is working (for the county)."
That's a responsibility Alexandria assumed as a Smith Barney investment consultant. She also was a Citigroup registered investment adviser. Her stocks and bonds experience was an asset in those positions.
Given that the county's investment portfolio is about $50 million, she understands what would be expected of her if elected over Kris Bledsoe and Katie St. Ores in the May 19 primary.
Financial forecasting is a critical part of the position, Alexandria said. Safety, she said, is the first order of business.
"That always comes first, keeping that money safe," Alexandria said. "Making sure the facility in which you keep that money in is rock solid. What investments do you put your money in and how do you diversify? Those things keep your asset safe."
Alexandria, who moved to Oregon from Southern California in 1979, wants to see the county run well. She describes herself from a fiscal perspective as "extremely conservative," and compares herself to outgoing treasurer Mike Green in that regard.
If elected, she will propose the treasurer's office secures upgraded reporting software. Alexandria said it's badly needed, and described Green as "doing things the Fred Flintstone way" from that standpoint.
However, Alexandria understands there might be budgetary restraints when it comes to securing more effective software.
"I've got no quarrel with how Mike has invested (the county's money)," Alexandria said. "I think there could be a little more transparency for the public. Not much information goes out now."
She said her experience — 30 years of business management and financial investment experience —trumps that of Bledsoe and St. Ores.
"I'm not a serial politician," Alexandria said. "I have a good life. So, why do this? There is a liability involved. It's a real job. You have to be smart, think and be able to talk to people. I do have a sense I can do this job. And I'm the best candidate."
If neither of the three candidate receives 50 percent of the vote in the May 19 primary, the top two move on to the November general election.