Dayton graduates every senior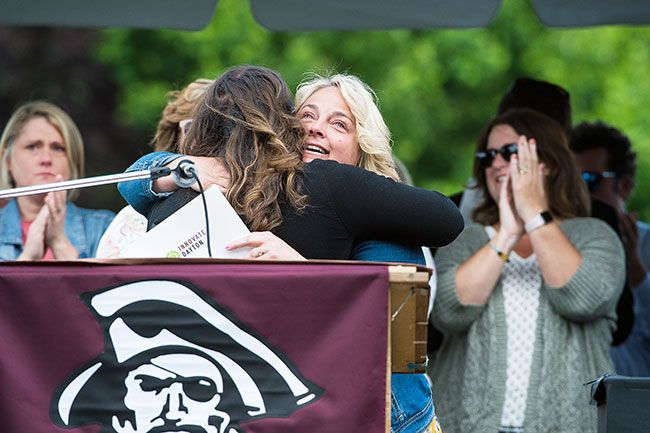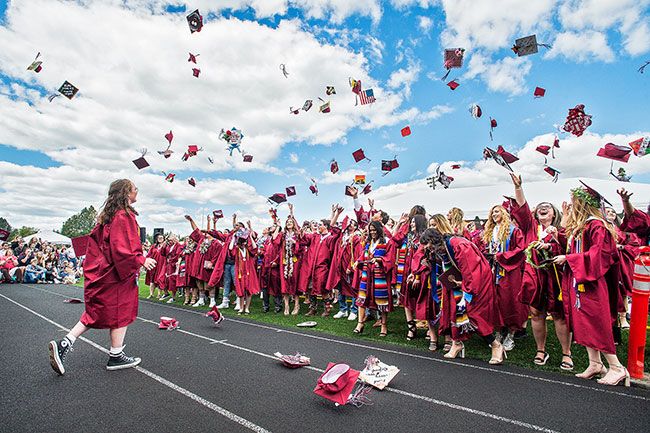 DAYTON -- Every member of Dayton's senior class qualified to receive a diploma Saturday — something that doesn't always happen.
"One-hundred percent made it," Principal Jami Fluke said proudly as she officially presented the Class of 2019.
This is the final group of Dayton students whom she'll see graduate, as she is leaving Dayton High to take another job. "I love you guys," she told them. "You've been amazing."
Then she and other staff members began handing out diplomas to the 99 students, the largest class to graduate from Dayton High in many years. As each one stepped up to the podium, their future plans were announced.
"David Oscar Montanez ... he'll study to become a barber; Magaly A. Solis, studying criminal justice; Jordan Jennings, entering the workforce; Isabel Duran-Castaneda ... Linfield College to study nursing; Edian Layne Hawkins, trucking school; Miguel Jesus Corona-Villagomez, Christopher Pete Arguello, Seth Takota Ashcroft ... joining the U.S. Marines," and so on.
Parents and other relatives snapped photos and cheered each new graduate.
The crowd filled the stadium and spilled out onto the track and the grass at each end. Some stood as the students entered by pairs and trios, crossing the front of the stadium with medals and awards clanking.
Each pair or group paused in the center to smile at the crowd, then descended to cross the track and take seats facing the audience. All wore black robes and mortarboards, but many had individualized their caps by gluing on jewels or tiny dinosaurs, adding flowers or printing messages, such as "Para mi familia," or "She believed she could, so she did" or "Living to serve."
Genea Abbott waited eagerly to see her daughter, McKenzie Martinez. She's a sweet girl who's been active at Dayton High, playing trombone in band and taking part in other things, Abbott said.
And McKenzie is "wild," said Sage Abbott, her younger sister. "She's outgoing and really fun to be around," said Sage, who's going into seventh grade.
Their mother agreed. "McKenzie lives life on her own terms," she said. "She's had some bumps, but she's always found a way to be successful. I'm so proud of her."
Another proud mother, Nicole Cisneros, searched the rows of graduates for her oldest daughter, Alissa.
"She's a really good kid. I've been blessed," Mom said.
Alissa plans to become a nurse/anesthesiologist. A Chemeketa scholar thanks to her good grades at Dayton High, she plans to spend two years at the community college, then go on to a four-year school and finally to medical school at Oregon Health Sciences University.
Her mother said she knows Alissa will meet whatever goals she sets.
"She's really devoted her time to school. She's very responsible," Cisneros said, noting that her daughter also has worked at Sandwich Express for two years. "I'm so proud of her achievements."
Proud as she was, Cisneros said she also felt ambivalent about attending her first graduation as a parent.
"I'm trying to smile and be happy, but I'm nervous inside," she said.
After Alissa, McKenzie and other seniors were seated, emcee Sherri Sinicki, who teaches at Dayton High, introduced school board members, administrators and speakers.
First up was Jason Hay, who announced the Dayton Education Citizen of the Year, Pam Johnson, food service director for the district.
A Dayton native, Johnson now has grandchildren in the district. But she considers all the students "her kids" and enjoys making sure they have nutritious meals, Hay said.
He noted her graciousness and kindness, and said she was instrumental in securing free meals for Dayton children during the summer and, for several years, during the school year as well.
Social studies teacher Dave Fluke announced the students of the month and the winners for the year, Braeden Nowlin and Tatyanna "Tate" Ashley.
Ashley was one of three valedictorians who spoke, along with Emily Hardesty and Isabela Urraco. Salutatorian Guadalupe Juarez also addressed the crowd.
All four young women thanked and thanked again the people who have supported and taught them along the way.
"We didn't do this alone," Ashley said.
They shared memories of the past four years, including sports championships, classroom pranks and learning experiences.
Urraco concluded, "Let's get out there and change the world!"
Class president Cate-Lynn Jacks welcomed the crowd to the graduation of a diverse class that included future "artists, engineers, nurses, doctors, farmers, leaders...."
Like many of the speakers, Jacks included glowing remarks about Jamie Fluke, who has been the Class of 2019's principal since junior high school.
"She shows what a strong female leader looks like, and that it's OK to be emotional," Jacks said. "She is loved."
The Class of 2019 chose one of their teachers, Beth Wytoski, to deliver the commencement address. A Dayton High grad herself, she told students she knew at 16 that she wanted to hold public office, but she was embarrassed to admit her ambitions.
"Be unapologetically you," she advised students
In college, Wytoski said she ran for a student body position, and lost. She learned from the experience, though, and ran a better campaign the next year -- and lost. She tried again, and lost, but all those experiences helped shape her life.
Wytoski returned to her hometown and, at 29, was elected mayor. She finally found herself amongst people who love to discuss policies and procedures and the minutia of government just as much as she does.
"Find your tribe," she told students.
She also advised them to "be kind and courteous, because you have no idea what others are going through," to "fail forward," that they are stronger than they realize, and that they shouldn't take anyone for granted.
Wytoski, teacher and mayor, had one more quip. "Never burn the bridge that leads you home," she said. "It's really hard to get ODOT to build a new one."
In addition to the current graduates, the ceremony honored members of the Class of 1969. Several of the 50th anniversary grads returned to their alma mater for the ceremony.
"It's a good feeling that something lasted long enough for me to come back," said Ken Gould of the Class of '69.
When he graduated, the commencement was held in the gym — the old gym — rather than the stadium. He was the valedictorian.
"I spoke ... probably about opportunities and responsibility," he recalled.
After graduating, he went on the Lewis & Clark College, then became a salesman and manager with Ashgrove Cement Company. He returned to his hometown in 2006.
Members of the Dayton High School Class of 2019 are:
Estrella Shanel Aguirre, Kyle Douglas Albright, Paige Kelsey Alton, Melina Abigail Alvarez, Christepher Pete Arguello, Seth Takoda Ashcroft, Tatyanna Lynnell Ashley, Teresa Nadine Avalos, Logan Barth, Adelaide Rose Belinsky, Isabellah Maree Bernt, Cody Bittner, Madalena Jo Brown, Jerad Burge, Stephanie Ann Cave, Adriana Marie Ceja -Peron, Alissa Marie Cisneros,
Chloe Annemarie Cisneros, Kyle Bailey Cool, Miguel Jesus Corona -Villagomez, Lilliana Sue Criswell, Maria Esmerelda Cruz, Christian Donato Yanez, William Patrick Druery, Daniel Duarte Gutierrez, Michael Geovanny Duarte -Alvarez, Mike Duarte -Gutierrez, Isabel Duran -Castaneda, Emily Jean Elliott, Legin Cie Engle, Nigel Lee Engle, Lukas Skyler Findley, Damariz Flores, Olivia Mae Frederick,
Hailey Marie Fritz,Adriana Marie Garcia, Megan Marie Gilbert, Maddison Marie Goad, Gerrardo Isaac Guzman, Shylar Anne Halverson, Emily Anna Hardesty, Savannah Lee Harwood, Ethan Layne Hawkins, Jaysen Cameron Howard, Piper Jean Humphries, Natasha Anne Hunt, Genaro Alberto Islas, Cate-Lynn Adona Jacks, Cole Garrett Jacks, Mayra Jacquez, Jordan James Jennings,
Guadalupe Maria Juarez, Dylan Austin Layne, Bethany Abigail Leach, Alexis Lopez, Kendra Allison Malott, Jasmine Marie Martinez, McKenzielynn Maria Martinez, Baylie Louise Rose McLoud, Jorge Miramontes-Ceja, David Oscar Montanez, Emma Jo Monteith, Micaella Laura Montelongo, Naomi Morgan, Hailey Nicole Myers, Braeden Lewis Nowlin, Madyson Taylor Olmstead, Ramon Pantoja,
Maria Edith Pardo Cruz, Nicholas Campbell Prendergast, Annessa Marie Puello, Abigail Joy Rhea, Emma Francesca Rios, Kaya Josephine Rodrigues, Leonardo Martin Rodriguez, Anahi Rojas -Carrillo, Karla Veronica Rosas -Mora, Kaityn Rose, Enrique Jose Rubio, Bevin Lee Schrag, Caitlyn Christine Scoggan, Nicholas Paul Schuler, Sydney Hope Sims, Jade Magdalynne Smith,
Liam Reed Smith-Munoz, Magaly A. Solis,Elizabeth Diane Spriggs, Jennie Lynn Thompson, Isabell Kay Tillotson, Isabela Estefania Urraco, Yanet Isabella Villa, Ryan Douglas Wakefield, Kailey Diane Walters, Jaina Michelle Warnock, Noah Riley White, Alison Dee Williams, Christopher Michael Williams, Ember Ann Williams, Melaney Marissa Wilson and Madisyn McKenna Wissinger.