Student wins with speech about bullying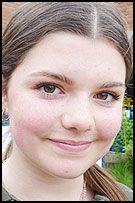 While on a family trip to the British Isles, 11-year-old Adeline Rich witnessed a bystander step in to stop a bullying incident. Three years later, she's still thinking about that man who did the right thing.
When she decided to enter the McMinnville Rotary Club's speaking contest for middle schoolers this spring, she knew what her topic would be: "Bystanders: We Need to Empower Them to Speak Up."
Rotary asks students to approach their topics from the perspective of the Four-Way Test that's a key part of the international organization: Is it true? Is it fair? Will it build goodwill? Is it beneficial to all?
Adeline had been hearing about the Rotary contest for years. She thought she'd give it a try.
Her parents, Casey Rich and Shannon Dunn, encouraged her. In fact, her father playfully took away her cell phone until she committed to making a speech, she said.
As she considered topics, she remembered that family trip.
Adeline and her family were in Galway, on the west coast of Ireland, when she saw a man harassing three young Muslim women. Another man stepped in and told the bully off.
"That was powerful for me," the eighth-grader said.
Bullying occurs everywhere, she said. And wherever there's bullying, she wants to see people step up to intervene.
Once she knew her topic, she applied the Four-Way Test.
Is it true? she asked herself. Yes, she said, bystanders can make a big difference by intervening.
Is it fair to give bystanders that much responsibility? Yes again, she decided, since "they may be the only ones who can help."
Will it build goodwill? Again, yes, because it will build mutual respect between the victim and the bystander.
Does it benefit all concerned? she wondered, asking the fourth Rotary question.
"Everyone benefits when bullying is stopped," she said.
Even the bully may benefit, she said. The bully might rethink his or her views and be kinder in the future.
Adeline and about 20 other students from Patton Middle School prepared for the school level of the competition; their counterparts at Duniway did the same.
The top three speakers from each building were chosen. At Patton, Adeline, Rosalia Hernandez and Emma Keister helped one another prepare for the next level.
"We practiced a lot together," Adeline said. She also practiced at home, memorizing her speech, refining her hand movements and developing eye contact.
The finalists presented to the entire Rotary club. Members judged them on their presentations, memorization and adherence to the Four-Way Test.
"I was nervous. I'm not a public speaker," Adeline said. "I usually stay behind the scenes," such as when she helped with costumes for the school play, "And Then They Came for Me."
In addition to drama, she plays soccer, and takes part in Builders, a middle school branch of the Kiwanis Club.
At the Rotary contest finals, Adeline was impressed by the other speakers, including Margaret Bowman, Ukiah Halloran-Steiner and Maria Martinez from Duniway. "They were so poised," she recalled.
But when the winner was announced, Adeline heard her own name. "I was so surprised! I went, 'OMG!'" she said.
She received a certificate and a $100 gift card to Third Street Books.
And more intangible gifts, as well: Winning the Rotary contest gave her confidence, Adeline said.
It's even made her consider joining a speech club when she starts high school next year.
"I really liked speaking. It was a really good experience," she said. "I'm excited to try it again."