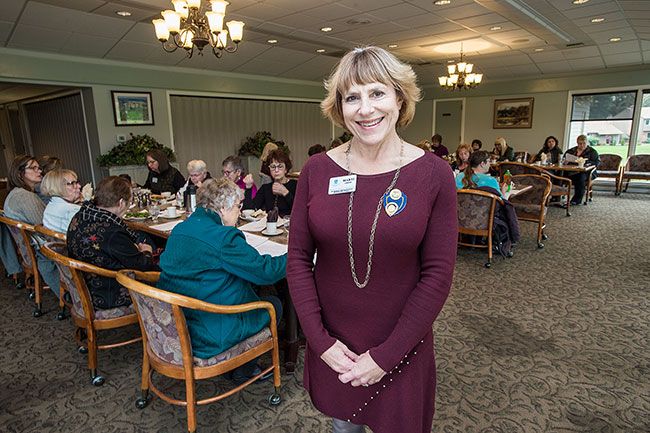 Stopping By: Leading with confidence
Marti Crook had always considered herself pretty quiet and not very outgoing.
Yet there she was, standing in front of a room full of her peers at a Venture Club convention — an organization for young women affiliated with Soroptimist International. As governor of the Venture's five-state region, she spoke to them and led them through activities and discussions.
With confidence.
"Venture helped me grow," Crook said. "I found out I was a leader."
And practicing her leadership as Venture governor, "I was so far stretched out of my comfort zone," she said. "That made me feel I could do everything." The McMinnville woman went on to use her leadership skills in the Soroptimist club, which is open to women of all ages.
Today, she is again governor of the five-state region, this time as a Soroptimist, leading the organization's efforts to fulfill its mission of "improving the lives of women and girls."
That mission has touched her personally.
"I can't even tell you how much my life has changed for the better because of Venture and Soroptimists," she said, reflecting on her many experiences in both organizations.
Crook is the second Soroptimist regional governor to come from McMinnville. Ruth Compton was the first.
She has been on the path to the highest post for several years, serving as regional secretary before being chosen governor-elect, the second-highest position and an automatic route to the top.
Anyone who has been president of a local club is eligible to run for district or regional office.
Most start as regional board members. Crook, however, became director for District 2, made up of 26 Soroptimist clubs in Oregon and southwest Washington. She ran unopposed for a second term.
Next, she ran for secretary of the region, which includes not only Oregon and Washington, but also Alaska, Montana and northern Idaho.
Two years later, she won the governor-elect position in a three-person race. During her two-year term, she worked closely with the governor in preparation for taking over July 1 of this year.
She was inaugurated in April at Soroptimists' biannual regional conference. There she revealed her theme, "Growing Stronger Together, Working as One."
She was pleased when her entire family traveled to the event in Coeur d'Alene, Idaho.
Crook is married to Michael Crook. She has two grown children, Mark Amerson and Carissa Felix. She has three grandchildren, 16, 2 and 2 months in age.
"I can barely go a couple days without seeing the grandkids," she said, saying she's fortunate they all live in McMinnville.
Crook moved to McMinnville herself after graduating from Yamhill-Carlton in 1974. Her family had settled in Carlton after her freshman year of high school; previously, she lived several places in Oregon.
As a high school student, she said, she dreamed of residing in Portland and studying to become a legal secretary. Instead, she married and settled in McMinnville.
No regrets. "That was great, too," she said, "and I still found my path."
She and her first husband were active in the Braids and Braves Square Dance Club. They took lessons, traveled and danced. She sewed her own elaborate square dancing skirts and, later, Halloween costumes for her children.
In 1989, her friend Kim Morris invited her to attend a meeting of a new young women's organization, Venture Club.

She'd met Morris when both were running on the Mix Masters under-40 Hood to Coast team. Crook was an avid runner then.
Later, joint problems led her to switch to CrossFit. She still works out at MVP Performance at 5:30 a.m. five days a week.
Her workouts helped her choose the "Growing Stronger" theme as regional governor.
"I take my training with me when I travel as a Soroptimist. That's what gives me energy," she said.
When she first joined Venture Club, it was open to women 18 to 35. Unlike the Soroptimists organization, Venture had no requirement that members fit into a management classification, such as business, education or communications.
The idea of joining a service club appealed to Crook. "I wanted to do something to help the community," she said.
It was a good fit. In addition to helping the community, Crook had a chance to practice public speaking and leadership.
She ran for offices in the local club and beyond before serving as Venture governor.
She couldn't have done it without McMinnville Soroptimist mentors, she said — especially Lee Niederer, who was a Venture Club adviser.
Niederer, retired from school finance positions in McMinnville and Yamhill-Carlton, is a longtime member of Soroptimist International. She now serves as regional membership chairman.
"Lee has such a great knowledge of and passion for Soroptimists," Crook said. "She gave me such support. She helped me in so many ways, with skits, speeches and more."
Skits have a special place in her memory. Venture members would perform skits when they attended Soroptimist events
"We'd go to Lee's house and create props. We had such fun," Crook recalled.
The humorous skits conveyed important messages, such as suggestions for recruiting more women to the organization. "We were trying to build membership, and we wanted to be like Soroptimists," she said. "They were our role models who were building future leaders."
Crook went on to join the Soroptimist Club — she was old enough, and Soroptimists no longer had the "classified" limitations.
The organization is open to all women — and men — with no age limit and no attendance requirements. Members need to pay dues and contribute to the group effort of helping women.
Crook said the benefits include making lifelong friendships, as well as helping the community and learning leadership skills. For more information about Soroptimists, visit the local club's Facebook page or website at www.simcminnville.org.
Like other Venture graduates — including the two regional governors who preceded her, she was prepared for leadership: She served as president of the McMinnville club four times, in addition to other roles.
Crook's position as Soroptimist regional governor will take her all over the Northwest, and beyond.
She will speak at district meetings and visit many of the clubs in her region. She also will host training workshops and other activities, "all about learning, leadership growth and fun."
She recently returned from the Federation International of the Americans convention, a gathering of Soroptimists from 21 countries who spoke six different languages. The event was held in Yokohama, Japan; the next one, in two years, will be in Bellevue, Washington.
Attending the convention was another learning experience for her, one of many she's had over her years in Soroptimist organizations.
"I traveled by myself for the first time," she said, describing the 11 1/2 hour flight to Japan. "What a growth experience!"
Like regional and district gatherings, the federation convention included award presentations, in addition to discussion of Soroptimist rules, needs and efforts.
"It was exciting to see the regional and federation awards that help women," she said.
Local clubs, including McMinnville's, award stipends that help women who are pursuing education or training in order to better support their families. The local club awards several thousand dollars; the federation gave out a $100,000 award this year. "Awesome," Crook said.
"It's very inspiring to be around like-minded women from all over the world whose aim is to 'improve the lives of women and girls.'"
That has been the mission of Soroptimist International for decades, she said, although it's become more focused since the late 1980s.
The organization runs programs that lead to social and economic improvement for women and girls, Crook said. Most of all, it supports education, which helps not only women, but their families.
The latter effort is especially meaningful to Crook. "I didn't have the opportunity to go to college," she explained.
Crook said she's excited about a new Soroptimist program, called "Dream It, Be It." The McMinnville club is planning to hold a Dream It, Be It event for secondary school students "to show them the path so they can reach a goal and have access to education."
That kind of mentorship would have helped her, Crook said. "I had a dream, but couldn't find a way to make it happen."
And yet, "in so many other countries, girls don't have any opportunity for education at all."
Soroptimists have been able to help many women, she said, "but for all we help, two million more need it."
Starla Pointer, who believes everyone has an interesting story to tell, has been writing the weekly "Stopping By" column since 1996. She's always looking for suggestions. Contact her at 503-687-1263 or spointer@newsregister.com.