Amity turns to Olsen as interim administrator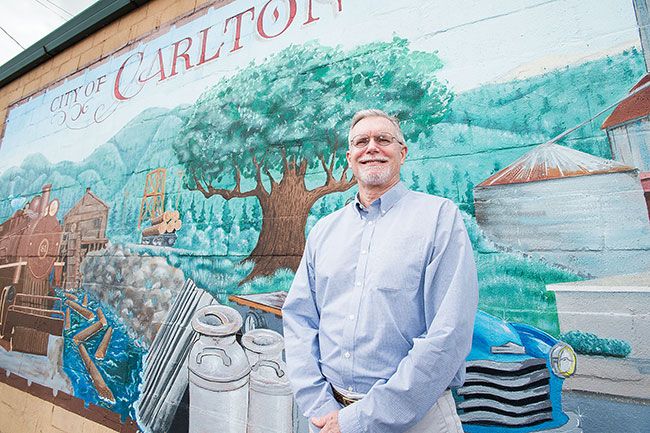 AMITY - Chad Olsen took about a six-month break after retiring last May as the Carlton City Manager before deciding he was ready to return to work, albeit in a part-time capacity.
The Amity City Council named Olsen interim city administrator Wednesday night. He and Don Otterman, who like Olsen is a retiree with a vast amount of city administration experience, were interviewed by councilors William Daley, Dawn King, Caralyn Miller, Max Walker and Mayor Michael Cape. Councilors Joshua Simonson and Rudy van Soolen were absent.
Otterman met the group first followed by Olsen. Each of the interviews lasted about a half hour.
They were first asked to provide some personal background information about themselves. They were then questioned about topics related to capital projects/sewer-water infrastructure, debt service/construction, contract negotiations, budget management, how they could assist with the recruitment of a full-time administrator, their management style, what they have to offer the city and why they're interested in serving the Amity community.
When the interviews were completed, Walker made a motion to name Olsen. It was seconded by Miller. A 4-0 vote made the hire official.
"I thought both of them were fantastic," Walker said. "I like the experience he (Olsen) has in the county. He has some connections."
Justin Hogue has resigned as city administrator and will go to work for Yamhill County. His last day in the office is Wednesday, Nov. 21.
"I wish the best for all of you," Hogue told the council and city staff at last week's regular meeting, during which time the council approved a law enforcement services contract with the Yamhill County Sheriff's Office and discussed the interim hiring process.
Cape had met Olsen and Otterman prior to that meeting and said he felt Olsen would be the best fit for the city.
He will work between 24 and 32 hours a week at an hourly rate of $40. Otterman was going to charge the city $50 an hour. Olsen will receive no benefits.
PERS (Public Employees Retirement System) Tier One/Tier Two members may be employed and continue to receive retirement benefits as long as the period or periods of employment with one or more participating public employers do not total 1,040 hours or more in a calendar year.
It's expected Olsen will work no more than six months as Amity searches for a full-time administrator. Olsen said he would feel comfortable leading the recruitment process.
He believes the key is finding the right match for the council, staff and city as a whole.
Olsen said he'a always liked small towns and his work history bears that out.
Olsen was the Carlton City Manager, February 2012-May 2018; St. Helens City Administrator, June 2007-January 2012; Rainier City Administrator, April 1996-May 2007; Corcordia, Kansas City Manager, April 1994-April 1996; Gillette Wyoming Assistant City Administrator, July 1990-April 1994; Manteco, North Carolina Town Manager, July 1988-July 1990; and Kent, Ohio management analyst/intern, August 1987-July 1988.
His sense of humor was evident when recalling the four years he spent in Wyoming.
"It was cold," Olsen said. "I think it was that 18-month winter that forced me out."
See Friday's print edition for additional details.